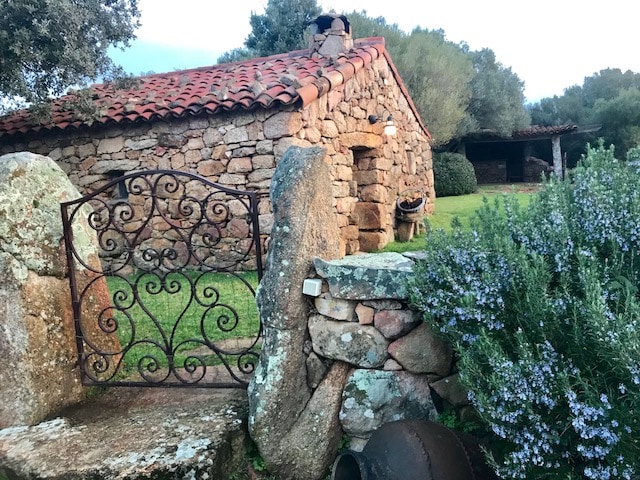 Exploring a Mountainous Mediterranean Island in the 2018 Jaguar E-Pace
Rally drivers and sports car enthusiasts are drawn to the diminutive isle of Corsica, located just off the southern coast of France. For many travelers, Corsica is all about the majestic views of the Mediterranean Sea, stunning scenic vistas of houses that appear to be growing off mountains, and quaint villages that provide a welcoming repast. However, this intimate island paradise is appealing to all who visit and especially an inspiration to photographers. Its collection of mountains is a hiker's paradise with 50 peaks reaching over 6500 feet; the tallest, Monte Cinto, kisses 8,878 feet.
While an attraction to vacationers, hikers, and shutterbugs, it's an absolute dream to motoring aficionados. Its tight European roads and ominous switchbacks are a siren song to car buffs to test their driving skills and their vehicle's prowess over the topography nicknamed the "Island of 10,000 bends." The "bends," in this case, means "turns" and, therefore, it was the perfect location to try out the all-new 2018 Jaguar E-Pace, from seaside to the highlands along tight, snaking roadways with ominous switchbacks and, of course, majestic panoramic vistas.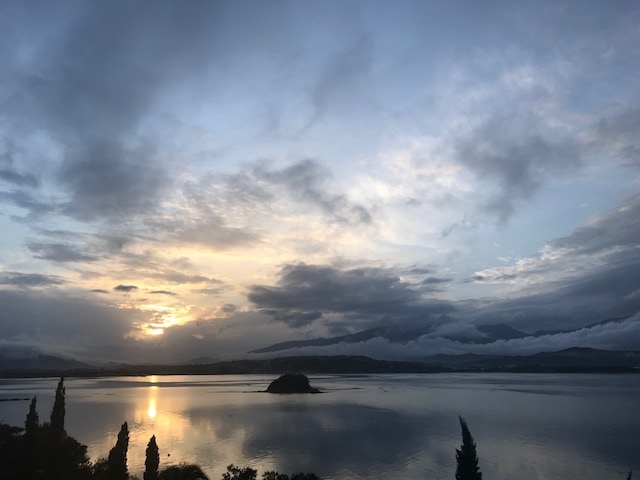 My first night's lodging had a view and ambiance that will stay in my heart forever. "You can see Sardinia in the morning!" exclaimed my host, as she deposited me on the top of a mountain in a lush verdant valley southern Corsica with a view to the ocean and this island. Domaine de Murtoli, specializes in an "original and authentic version of luxury." Its atypical approach to the hotel concept leaves guest rooms and suites behind and replaces it with 19 restored sheep dwellings and patrician houses; each is isolated and hidden along the ten kilometers of the property's private beach or set high in the heartland of the resort, surrounded by a landscape "reminiscent of a Garden of Eden." There are three dining areas that also have an original setting: a beach, a cave and a farm. You can top it off with a treatment or spend hours at Domaine's spa.
We drove along portions of the route used by the Tour de Course- the World Rally Championship's Rallye de France. It was not only fun, but it provided an opportunity to assess the powertrain and traction capabilities of this new compact. It also illustrated the comfort and technologies of the crossover that has been crafted to blend sports car traits with sport utility cargo and passenger-carrying capability, in a small, upscale British-designed package.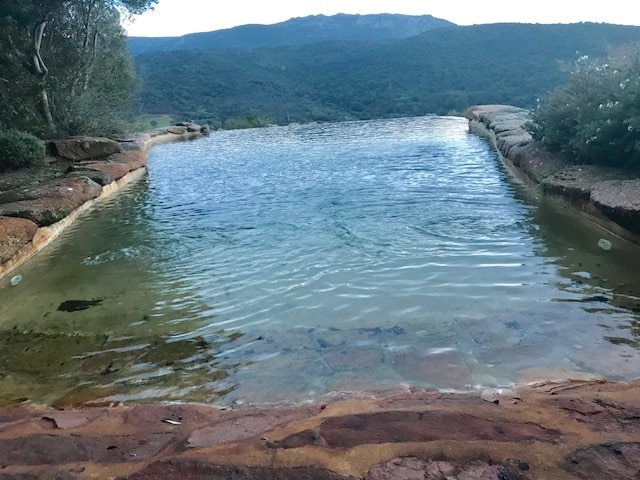 Corsica is also known as "The Beautiful Island" and described as a pink rock sitting in the Mediterranean Sea by Saint-Exupery, author of "Le Petit Prince." The island has belonged successively to Rome, the Vandals, the Moors, Byzantium, Pisa and Genoa before becoming French two centuries ago. Each has left its mark along the thousands of kilometers of coastline and in the legendary scrub lands.
Our final stay was in the seaside hotel Casadelmar, tucked into the harbor Porto Vecchio. Although very different from my shepherd's cottage, I was also smitten with this version of world-class lodging, with a heated pool, a spa and wellness center. Each room, suite and villa has a furnished terrace with an ocean view. Highlights were our meals prepared by a Michelin-starred chef and the property's private beach area.
If You Visit Corsica:
Domaine de Murtoli: An extraordinary property
The Domaine, located on 6,000 acres of wild and intact pastoral lands, redefines the concept of luxury. The site eschews decorative oplence, excessive design or sophisticated technology and is regaled for its traditional restored Corsican structures that include 17 former sheep dwellings and patrician houses that provide a "powerful and authentic look at the Corsican soul in all its splendor." The houses are in a lush green valley in the heart of the maquis or along the sea, hidden in ten kilometers of private beach. Each is isolated and integrated into the rough landscape; most date back to the 17th century with style and materials that matches the time period, with red floor tiles (known as tomettes) and chestnut wood beams. Among the hotel services are hiking, horseback riding, hunting and fishing.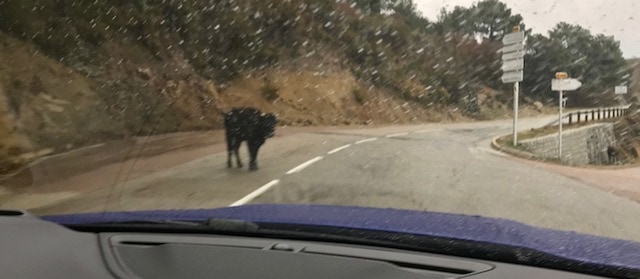 LE CASADELMAR
Le Casadelmar is a sleek and attractive hotel filled with natural light, with sweeping views. Located on a peninsula outside the town of Porto-Vecchio on the southwest coastline of Corsica, it overlooks the Mediterranean. The intimate, contemporary resort has been designed to blend seamlessly with the landscape and is surrounded by well-tended gardens. Rooms have clean, uncluttered lines and are accented by oversize windows, stone floors, and brightly colored fabrics that "reflect both the calm and liveliness of the Corsican lifestyle". Further facilities offered at the property include water sports facilities, meeting facilities and a tour desk.
Sidebar: The 2018 Jaguar E-Pace
The E-Pace follows Jag's bigger F-Pace, adding breadth to the heritage brand's lineup and hopes that it could become Jag's top-selling model, as skyrocketing growth continues in the CUV segment of automotive transactions. The all-wheel-drive model is available in two engine configurations and a collection of trims starting with the base E-Pace ($38,600), E-Pace S ($41,500), and E-Pace SE ($44,300); and high-performance R-Dynamic S ($47,250), R-Dynamic SE ($50,050), and R-Dynamic HSE ($53,100). A special E-Pace First Edition model comes in at $53,550-all have AWD traction.
A bold grille and LED headlights with signature J-blade daytime running lights give this "cat" an assertive attitude that's unmistakably Jaguar, with a short front, rear juts, and pinched style of the side windows that are reminiscent of the Jaguar F-Type's scheme. The pitch of the roofline meshes with the bold side window treatment making a sporty, purposeful appearance. The body sides have Jag's familiar fuselage-like profile; muscular haunches taper towards the rear and contribute to the powerful stance of the five-passenger model, while sharp creases along the front and rear fenders further emphasize its strength.
Slipping in to the premium interior, we were surrounded by the soft trim door casings, accompanied by sleek chrome door handles and top-grade leather. The fully-electronic instrument cluster sits behind the iconic Jaguar steering wheel is highlighted by paddle shifters. A 10-inch InControl Touch Pro infotainment system is standard, while an optional 12.3-inch HD virtual Interactive Driver Display and full-color head-up display provide safety without distraction. There is 61.7 cu.-ft. of storage space behind the first row, plus deep front and rear door pockets. The rear cargo area has a gear-holding capacity of 31.7 cu.-ft. A hands-free "Powered Gesture" tailgate makes it possible to approach the vehicle and place objects in the loadspace, without using the remote key fob. Illumination adorns the door handles and storage areas.
A turbocharged 2.0-liter four-cylinder engine produces 246 hp. and 269 lb.-ft. of torque, with 0-60 mph acceleration of 6.6 seconds. The twin-turbocharged four-cylinder that powers the R-Dynamic model makes 296 hp. and 296 lb.-ft. of torque and speeds to 60 in 5.9 seconds, with a top speed of 151. Both engines are mated to a new nine-speed transmission.
We drove the AWD E-Pace R-Dynamic S on pavement and along off-road tracks. Our top takeaways were its gorgeous looks, sporty handling and the at-the-ready power that benefits from crisp shifts delivered by the paddle shifters. Dynamic mode brings quicker shifts and also adjusts steering, throttle response, Adaptive Dynamics, AWD/Active Driveline, transmission shift strategy, dynamic stability control, and torque vectoring. In Eco mode, upshifts come earlier to improve fuel economy. Rain, Ice, and Snow Mode provides enhanced stability in low-grip conditions, as well as revises the settings for Dynamic Stability Control, throttle response, and transmission. Standard is All Surface Progress Control, a low-speed cruise control system that recognizes differences between road surfaces and improves handling in low-traction conditions. An all-new standard torque vectoring system reduces understeer and improves safety and stability in corners.
Also onboard is Jag's exclusive Activity Key, designed for buyers with active lifestyles. This optional wristband key has no moving parts, requires no battery, and is waterproof up to 59 feet deep. Jaguar's connected car features bring 4G LTE WIFI hotspot, connected navigation, and InControl Apps. Available is a Meridian premium surround sound audio system, with 15 speakers packing 825 watts. Satellite navigation (standard on S, SE, and HSE models) benefits from dead-reckoning functionality that positions the vehicle even when GPS signals can no longer be received.