A Preview Of The Food & Entertainment At Big Beat Las Colinas
Big Beat is ready to wow anyone looking for a good time. Billy Bob Barnett's newest entertainment venture adjacent to Toyota Music Factory in Las Colinas has all the necessary ingredients. Covering 90,000 square feet, Big Beat has six dining and drinking concepts surrounding a large plaza.
On a recent dine-around tour we started with real down-home southern-style comfort food at Texas Jam House, open 24/7 for breakfast, lunch, dinner or late night dining. A BBQ express window allows outside pickup for those who like to keep moving.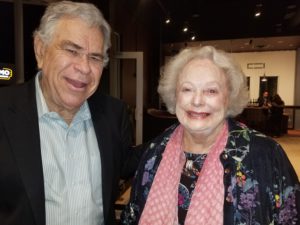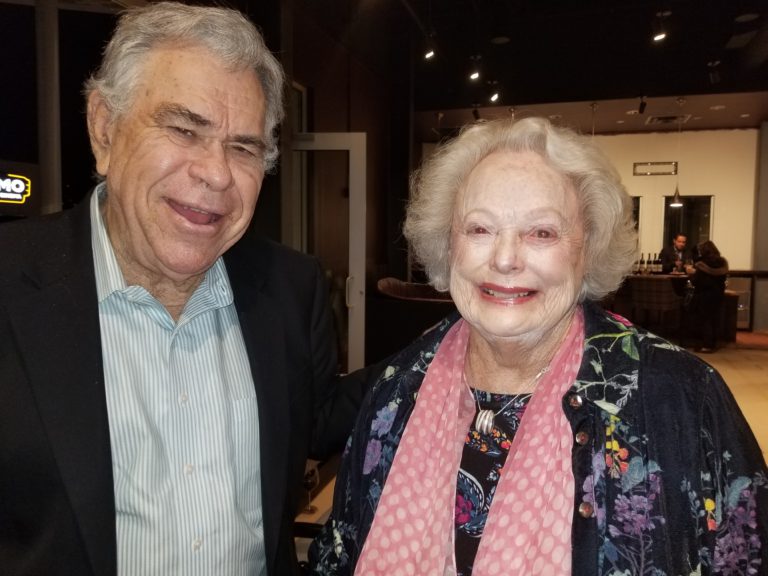 From his sister Wynona's fabled meatloaf (like she served to celebrities and politicians at her Goldthwaite ranch), chicken-fried steak, and melt-in-your mouth BBQ brisket, Billy Bob's got you covered.
Then take a walk or dance it off at one of two outdoor stages on the Texas Lottery Plaza before sampling one of Big Beat's other restaurants. All six restaurant concepts are led by Executive Chef Robert Madrid.
Feel free to take your drink along, open containers are allowed between locations. The plaza has 365 days of live entertainment plus a Ranchers' Market featuring seasonal produce, flowers and a coffee shop, inside a pavilion covered by a huge Texas flag. Since everything in Texas is bigger and better, Big Beat hosts the world's largest happy hour from 3-8 p.m. daily.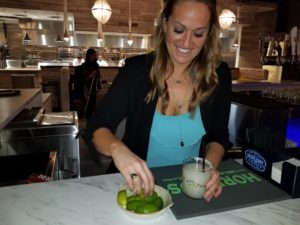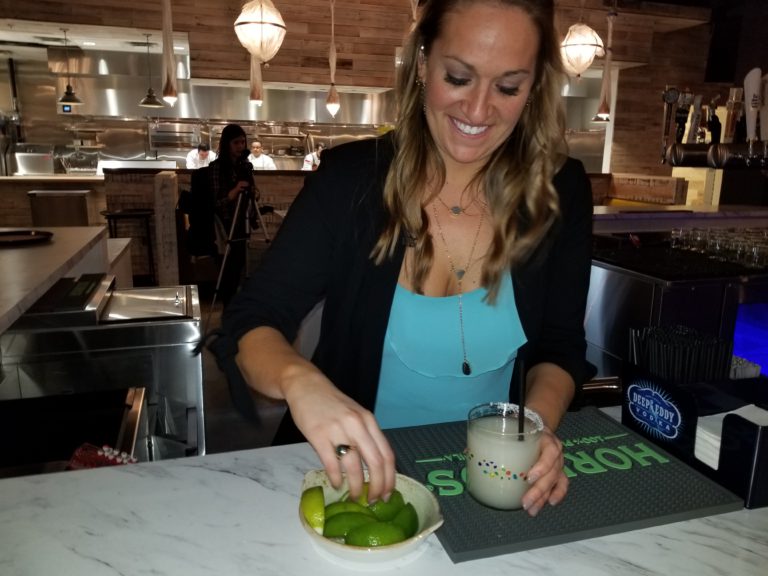 My husband and I next tried Bar Manzanilla, a coastal taqueria and tequila bar where top DJs spin tunes from 9 p.m. to 2 a.m. nightly. They featured great margaritas made with fresh limes, plus upscale nibbles like lobster tacos and spicy tuna tortilla bites. I could have happily nibbled a few more of those tuna tortilla bites.
Highway 61 South Plays Live Blues Music Nightly
Next up on our media tour was Highway 61 South, a blues club with live entertainment nightly. BBQ, burgers, bourbon and beer are on the menu at this intimate club. Highway 61's walls are covered with paintings of well-known musicians, such as our featured mural showing a younger Billy Bob front and center with the band.
We also tried Martini Ranch, a Vegas-type bar with a big dance floor and disco lighting. They offer craft cocktails, but their greatest feature is a huge patio and balcony that's ideal for watching live music on the plaza stage below.
We ended the evening at Texas C-Bar, where patrons are treated to VIP treatment with a huge wine collection (over 300 vineyards) plus a global Scotch menu. With gourmet food and great service as trademarks, C-Bar also features a 12-person chef's table, private wine rooms and a cigar lounge with piano bar from 9 p.m. to 2 a.m.
With seven live music stages, over 290 menu items, 160+ cocktails, deciding what to do next will be the biggest problem faced by visitors to Big Beat. If you don't have fun at Big Beat, it's your own fault!
Big Beat is scheduled to open later this month. For updated information, visit bigbeatdallas.com.