All About Bette Kicks Off North Texas Tour June 7 in Margo Jones Theatre at Fair Park
Bette is back! The Dallas/Fort Worth Tour begins June 7 through 10 in the Margo Jones Theatre at Fair Park. This marks the long-awaited return of ALL ABOUT BETTE: An Interlude with Bette Davis by Camilla Carr, starring Morgana Shaw and directed by Ryan Matthieu Smith.
Television's fabulous FEUD: Bette and Joan is an open invitation to watch the play as Carr's dazzling script delivers the complete Bette Davis in ALL ABOUT BETTE.
The Bette Davis who owned cinema for six decades, receiving two Oscars, 11 Oscar nominations, and a worldwide collection of 62 nominations, awards and honorary distinctions. ALL ABOUT BETTE was the hit of the Spoleto Festival in Charleston, SC (both actress and play) and internationally, at Bogata's Iberoamericano de Teatro, (the largest theatre festival in the world) where it received both Best Performance and Play Awards out of 200 plays and 50 countries.
Shaw's performance as "Bette" has left audiences breathless. "It's an honor to play this legendary icon, to bring her to life and share the complete person with the world," said Shaw. When asked what she likes most about Carr's script, she emphatically said, "Looking into Bette's heart. She was a strong woman, but the documentaries rarely show you the love she had for her family."
Carr's expansive and captivating script explores Bette's drive, commitment, obligations, altercations, opinions, loves, fears, successes and heartbreaks. "As an adaptor, it was deciding what not to use of the vast material available about Bette Davis," Carr said. "Then, determining the structure, which is sort of Shakespearean in that it often switches from horror to hilarious in a heartbeat. All entwined with an unravelling narrative thrust which culminates in what I hope is an unexpected and exhilarating ending."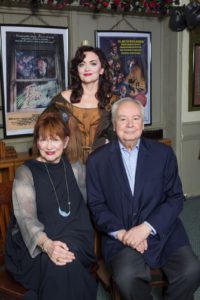 This tour is produced by seven-time Tony Award-winning producer, Michael Jenkins' Starlight Entertainment (producer of both the Spoleto and Bogata productions). The tour is produced in collaboration with Ken Orman's Dovetayle Productions, LLC and Ryan Matthieu Smith's Giant Entertainment.
"We have our Bette Davis eyes on touring the country," Jenkins said.
The play will be presented in Dallas at the Margo Jones Theatre at Fair Park, June 7 through June 10 at 8 p.m. It will also be seen in Fort Worth at Stage West on August 11 and 12 at 8 p.m. and in Addison at Stone Cottage on August 18, 19, 25, 26 at 8 p.m. Tickets are $30 at www.aneveningwithbettedavis.com.