"Always…Patsy Cline," a heartwarming musical about a friendship between the beloved country music icon and a devoted fan, opens Aug. 3 at Duncanville Community Theatre. The show, created by Ted Swindley, is based on a true story and licensed by Patsy Cline's family and estate.
Featuring many of her unforgettable hits, this humorous and emotional journey was inspired by years of friendship and correspondence between Patsy Cline and an avid fan. After they met at a Texas honky-tonk, a cherished friendship developed that continued until Patsy's untimely death.
Always…Patsy Cline Director
Jerry Ayers is directing the production, which stars Candice Maughan as Patsy Cline and Danielle Franklin as Louise Seger. Musicians in the Bodacious Bobcats Band include Candy Hooper as Joe Bob (Piano/Conductor), and Brett Becker as Billy Bob (lead guitar). Maren Flechsig is Ray Bob (fiddle), and Aaron North is Jim Bob (guitar). Noah McAfee is Jay Bob (bass), and Tom Fowlston is Bob Bob (drums).
The play's action takes place at Louise's kitchen table, and at varous places from Patsy Cline's career. These include the Grand Ole Opry, the Arthur Godfrey Show, the Esquire Ballroom, and a Houston radio station. The time is the past (circa 1957-63) to the present.
Director Jerry Ayers is a professionally produced playwright as well as an award-winning costume designer. He most recently served Grand Prairie ISD for eight years as the Theatre & Dance Coordinator. He has directed over 130 productions for educational, community (including many at DCT), and professional theaters. He is also an active DCT Board member.
Cast Members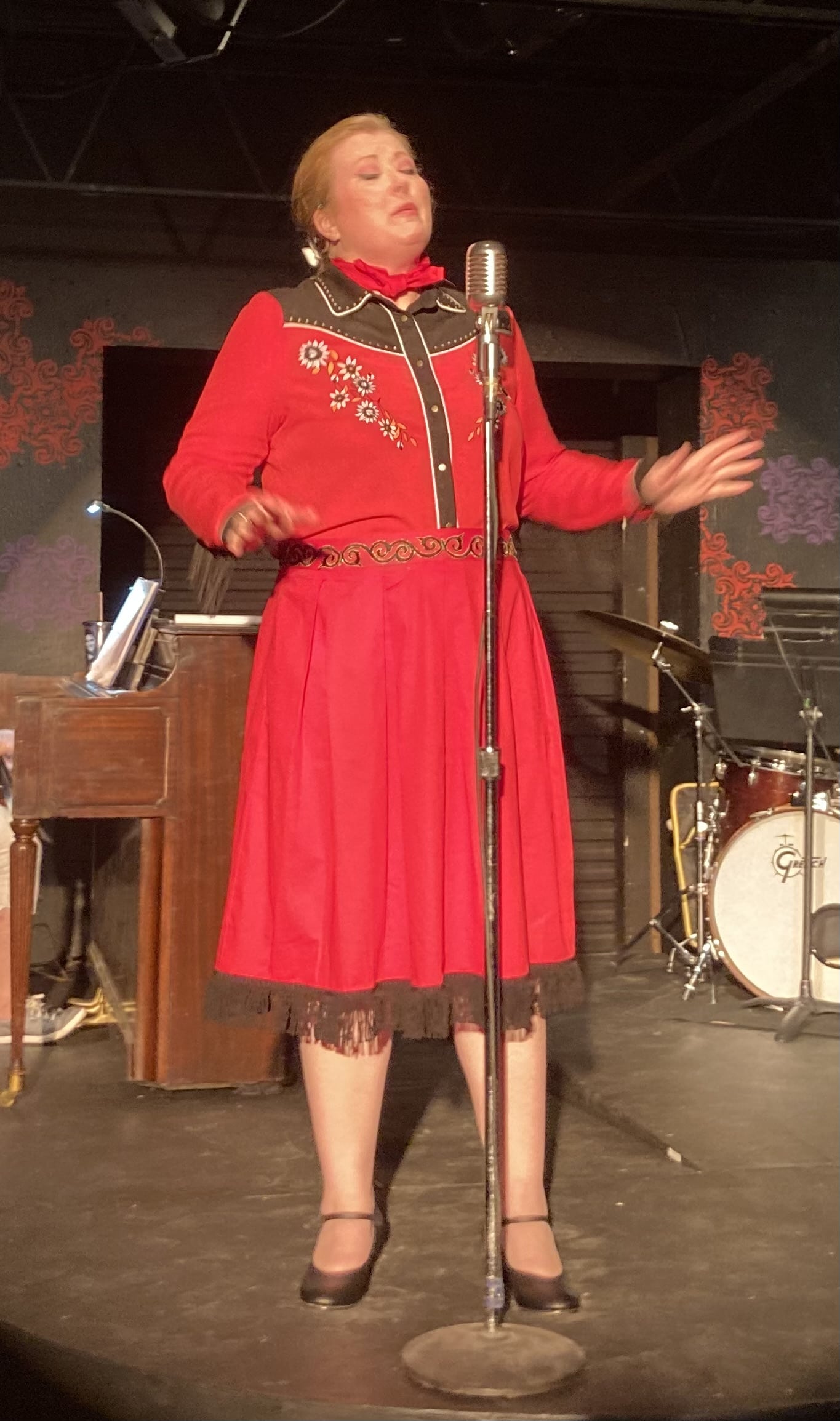 Candice Maughan (Patsy Cline) has been a music educator in Texas for the past 15 years. She currently serves as head choir director at Nimitz High School while also pursuing a PHD in Music Education. She has performed with the Fort Worth Opera, the Louisiana Opera, and many others, and first performed at Duncanville Community Theatre in the Marvelous Wonderettes. Candice considers it an honor to portray the iconic Patsy Cline, and is thrilled to share the stage with Danielle Franklin once more.
Danielle Franklin DDS (Louise Seger) is a general dentist with a private practice in Duncanville for the past decade. She has also been active at DCT since 2019, starting as a lighting technician and quickly moving on to starring onstage roles. She was recently seen in the Marvelous Wonderettes, where she performed alongside Candice Maughan, and 100 Years of Broadway. She is excited to perform with Candice again, and help bring the beautiful Patsy Cline story to life. She is an active DCT board member and the City of Duncanville's 2022 Woman of the Year.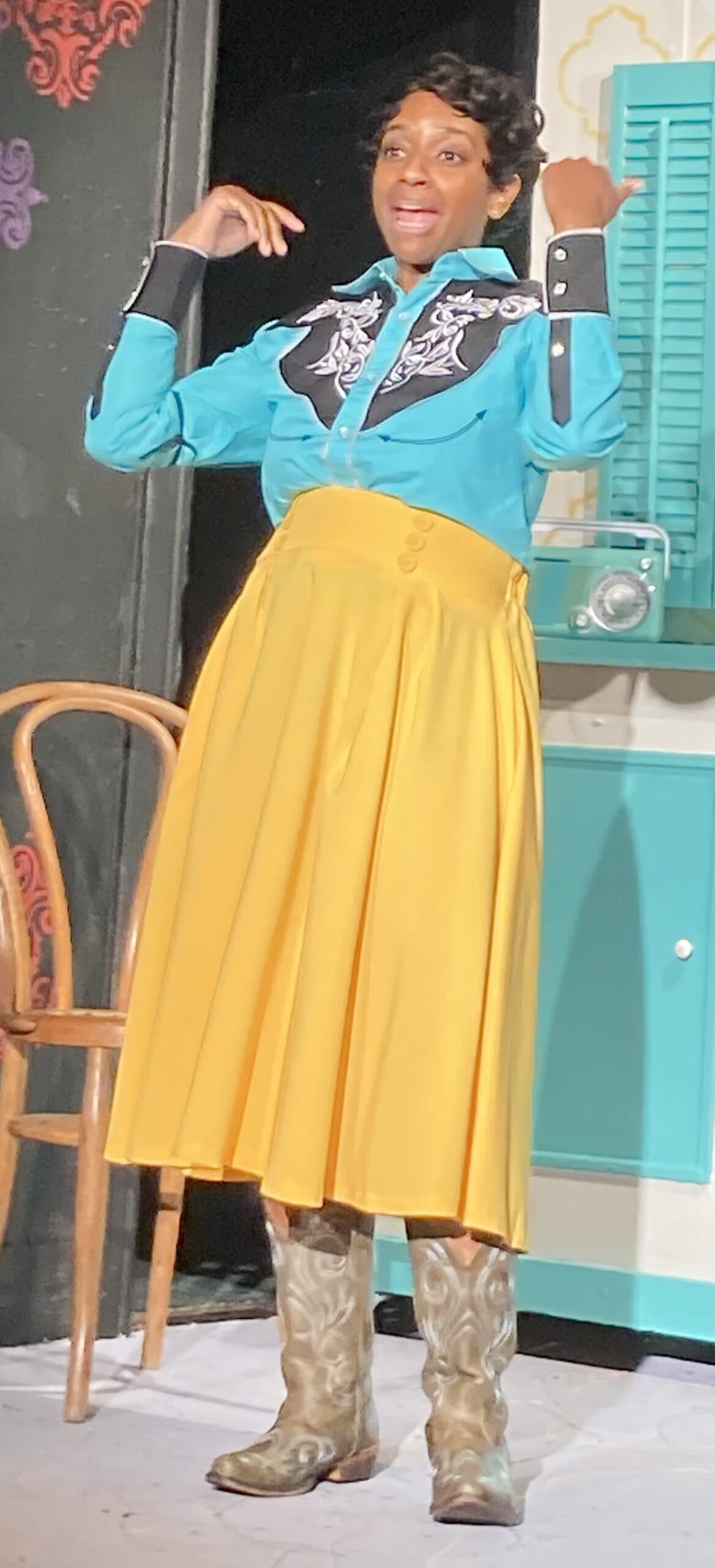 DCT Production Staff
The production staff includes Wendy Acosta, production manager; James McKey, sound operator; and Victoria Ayers, lighting crew. Set, costume and lighting design are by Jerry Ayers. Joe Skrivanek is the master carpenter.
The set crew includes Wendy Acosta, Velyncia Caldwell, Danielle Franklin, Erin Golden, Rebecca Hackney, Juanda Tate, and Heather Winkelman. Box office crew includes Velyncia Caldwell, Erin Golden, Elisa Guse, and Janet Jordan. Dawn McCallum, Polly Rains, Tommie Rains, Joe Skrivanek, Connie Walker, Pat Weaver, and Heather Winkelman are also included.
DCT Administration
Amy Jackson is executive director, Heather Winkelman is associate director, and Joe Skrivanek is technical coordinator of DCT. Board members include Jerry Ayers, Amy Jackson, Janet Jordan, Danielle Franklin, Janet Jordan, Kevin Paris, Polly Rains, Judy Smithey, Connie Walker, and Pat Weaver.
Performances of Always Patsy Cline will be Aug. 3-5 and 10-12 at 8 p.m. The Aug. 6 matinee performance has already sold out. Duncanville Community Theatre is located at 106 S. Main Street in Duncanville. Tickets are $15 a person, and reservations are recommended by calling 972-780-5707 or by emailing boxoffice@dctheatre.org.