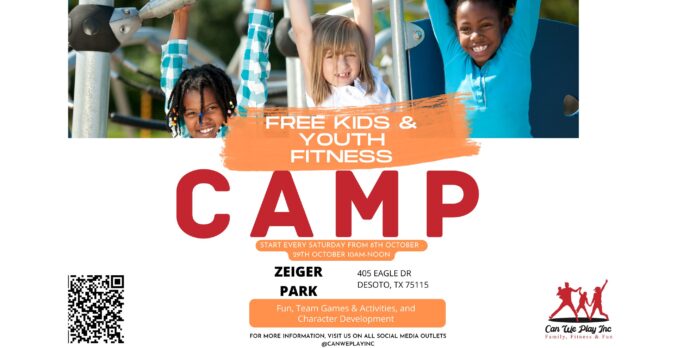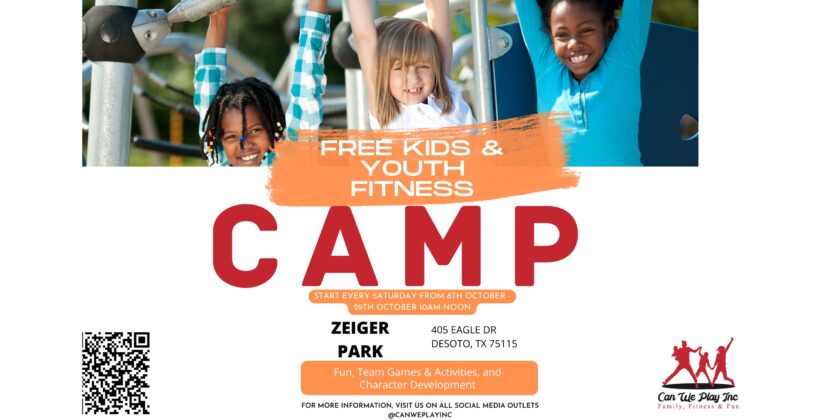 We are excited to announce the start of our annual fundraiser for our 1st Annual Kids & Youth Fitness Camp sponsored by Can We Play Inc 501 (C3) nonprofit located in DeSoto, Texas on October 8, 15, 22 & 29, 2022 each 
Saturday
 from 10:00 am – 12 Noon @ Zeiger Park in Desoto.
We are prepared to engage up to 50 kids, ages 5 through 16, with competitive team game activities, enriched with character development.  Each session includes a light breakfast, activities, and lunch. The goal is to encourage all kids, no matter their age or size.
Parents are also welcome to come and engage. Each week participants will learn the Beyonce "Let's Move" dance.  "Let's Move" was a public health campaign led by Former First Lady Michelle Obama. This campaign aimed to reduce childhood obesity and encourage a healthy lifestyle in children.
About Can We Play Inc
Can We Play Inc." is a 501(C3) nonprofit organization in Desoto, Texas – USA, and is dedicated to promoting the concept of "A healthy lifestyle which helps strengthen family bonds" by teaching families how to stay active together and get outside while encouraging family cohesiveness. The organization offers diverse experiences and opportunities for people to develop new physical and social skills in a fun, friendly, cooperative, and safe atmosphere, under the guidance of experienced and compassionate coaches. Our various fitness programs contribute to physical, emotional, educational, social, and cultural growth and development. We are a team of different backgrounds with one common goal. "Can We Play Inc." will serve all the individuals in our area by promoting mental and physical well-being.
Click this link to donate https://bit.ly/canweplay