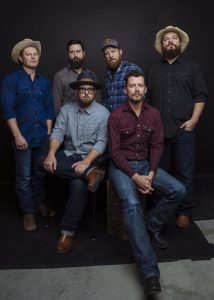 Turnpike Troubadours Tour Comes To DFW
Turnpike Troubadours are definitely on the way up. Seen recently on Austin City Limits, set to air on PBS stations, the Oklahoma group is touring in support of their new album. "A Long Way From Your Heart" has received widespread acclaim. Garden & Gun called it "the band's most accessible but richest offering to date" and lead singer/songwriter "Felker has evolved into a Red Dirt Springsteen."
Their singer/songwriter-inspired roots rock features thoughtful ballads performed by fine musicians. Turnpike Troubadours are also praised for their rousing live shows like the one at Billy Bob's this weekend. The band has received coverage from numerous publications, including Rolling Stone Country, American Songwriter and CMT to Playboy, Noisey and The Wall Street Journal.
The fourth album, Long Way From Your Heart, reached #3 on the Country Albums Chart, #1 on the Independent Chart, #1 on the Folk Chart, #5 on the Current Albums Chart and #20 overall on the Billboard. Singer/guitarist Evan Felker is the front man, cofounder, and primary songwriter for Turnpike Troubadours. Others in the band are  Evan Felker, RC Edwards (bass), Kyle Nix (fiddle), Ryan Engleman (guitar), Gabe Pearson (drums) and Hank Early (pedal steel).
Many of the unforgettable characters featured in the band's songs are based on residents of Felker's hometown of Okemeh, OK, population 3,300. Felker said, "It feels like going home to see that those characters are still alive in a way that movies and literary writers have always done. It feels good. There they are, all based on people that I know and love. They're composite characters based on real people."
New Album Challenges Listeners To Dig Deeper
"A Long Way from Your Heart" was produced by Grammy winner Ryan Hewitt, resulting in an album that rewards listeners who are willing to dig deeper.
"I love what we as a band have turned into and how we treat songs," Felker says. "That's something we've grown into––adding some sort of oddly theatrical element to the musicianship to help the story along, to sum up where or who the character is to give him a little bit of landscape. It's not just an acoustic guitar and a guy telling you what somebody's doing."
Billy Bob's Texas, which claims to be the largest honky tonk in the world, opens its doors at 6 p.m. Turnpike Troubadours performance starts at 10:30 p.m. General admission tickets are $20 and pit tickets are $30. Visit billybobstexas.com for tickets or more information.