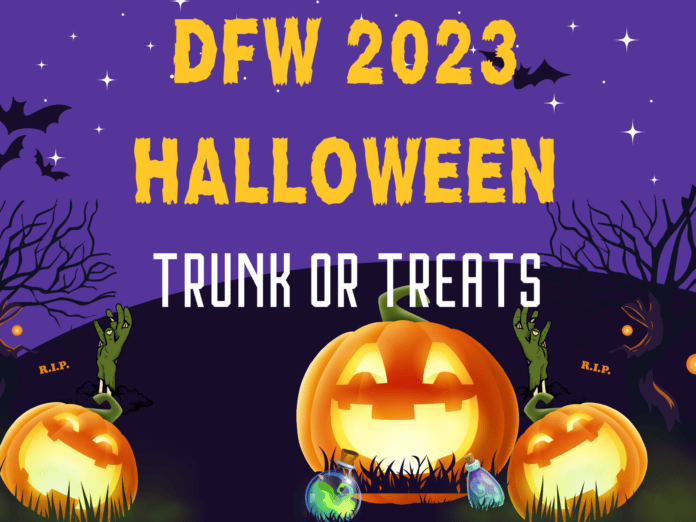 FMC Midlothian October 29- 3pm
800 FM-663, Midlothian, TX 76065
Come join us on Oct 29th at 3pm for Trunk or Treat in the Patch!
Sweet Treats! Bounce Houses Trunk contest! Fellowship and Fun!
This is a community event, so please share this with others, invite your friends and neighbors, and have some fun! Please no scary costumes, as this is a family-friendly environment!
SWRCC 2nd Annual Trunk or Treat DeSoto October 29 5-7pm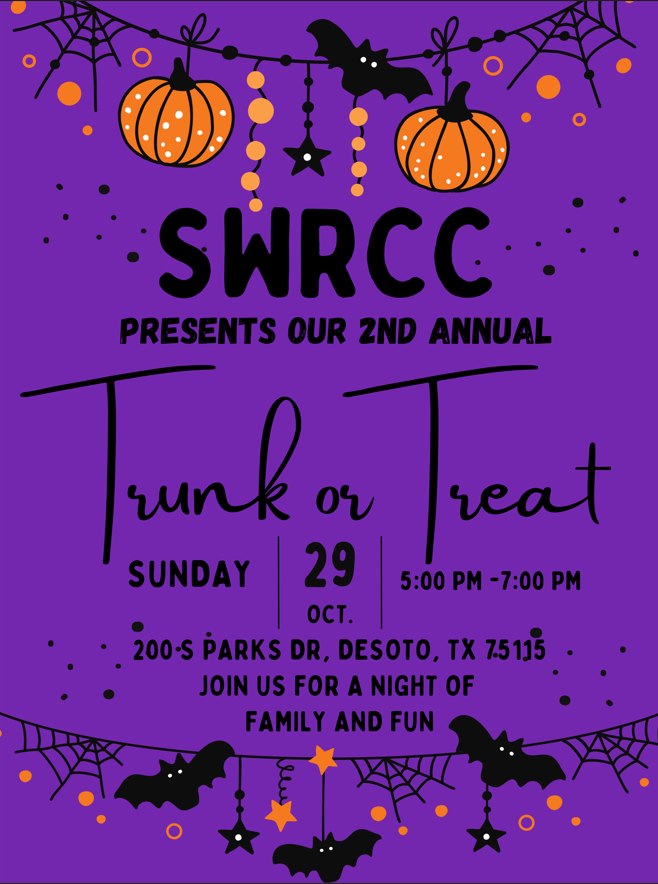 Get ready for a spooktacular time at the Southwest Regional Communications Center, TX 2nd Annual Trunk or Treat!
Join us for an evening of family-friendly Halloween fun on Sunday, October 29th, from 5pm to 7pm at 200 S Parks Drive. It's going to be a fangtastic event you won't want to miss!
This is a FREE event, and everyone is welcome, so invite your friends and family to come along! Don't forget to wear your spookiest or silliest costume and be ready for a ghoulishly good time.
Sunday, October 29th, 5pm – 7pm Location: 200 S. Parks Drive
Central Baptist Church Trunk or Treat October 29 4-6pm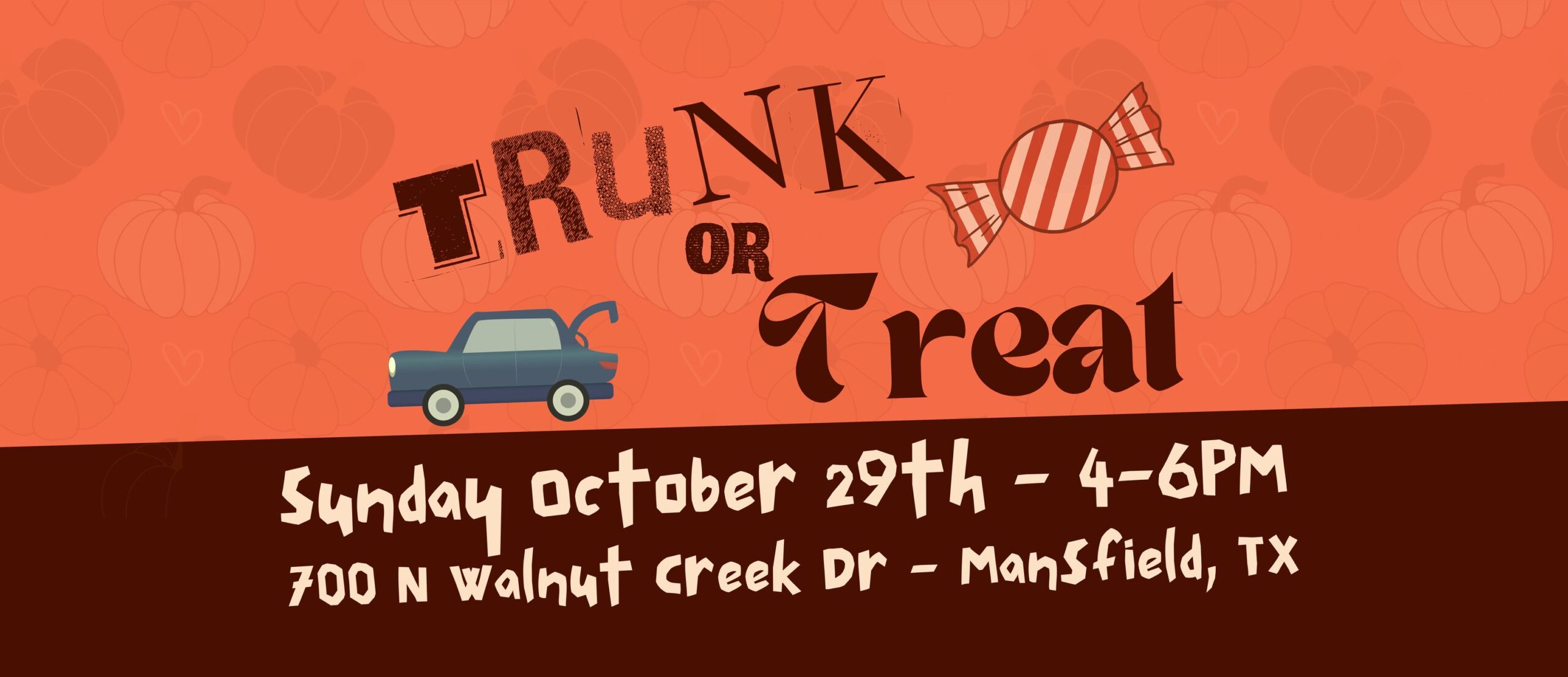 Free community event! Join us at Central Baptist Church on October 29th from 4 to 6 PM for an evening of fun and of course, candy! We would love to have you and your family join us for this event!
700 N Walnut Creek Dr, Mansfield, TX 76063-3208, United States
Falloween at Hillside Village October 28 4pm
Join us for our 3rd annual FREE Fall-O-Ween event! Activities include children's costume contest, DJ led games, and trick – or – treating at some of your favorite stores. Registration begins at 4pm and the first 250 children who are present will receive a FREE trick -or treat bag! While supplies last.
Children's Costume Contest – We are so excited to see all the amazing children's costumes at this year's Falloween Event! Hillside Village had so many great costumes last year that we came up with a couple of guidelines. See website for more details.
Participation & Costumes:
Children must check in within 10 minutes of competition start time and will be given an entry number. Children are allowed in enter (one) competition/category based on their costume. Judge awarded prizes in the following categories: Original, Scariest, and Group
Vote Favorite Decorated Store Front:
Stroll through the shopping center while trick-or-treating your favorite stores*, then return to Village Green to drop your vote off for best decorated store. *Participating stores only
Judging Criteria:Creativity, attention to detail, level of difficulty, construction quality and authentic to theme/character.
In the event of inclement weather, the event will be cancelled.
Scare on the Square Downtown Cedar Hill October 28 6-8pm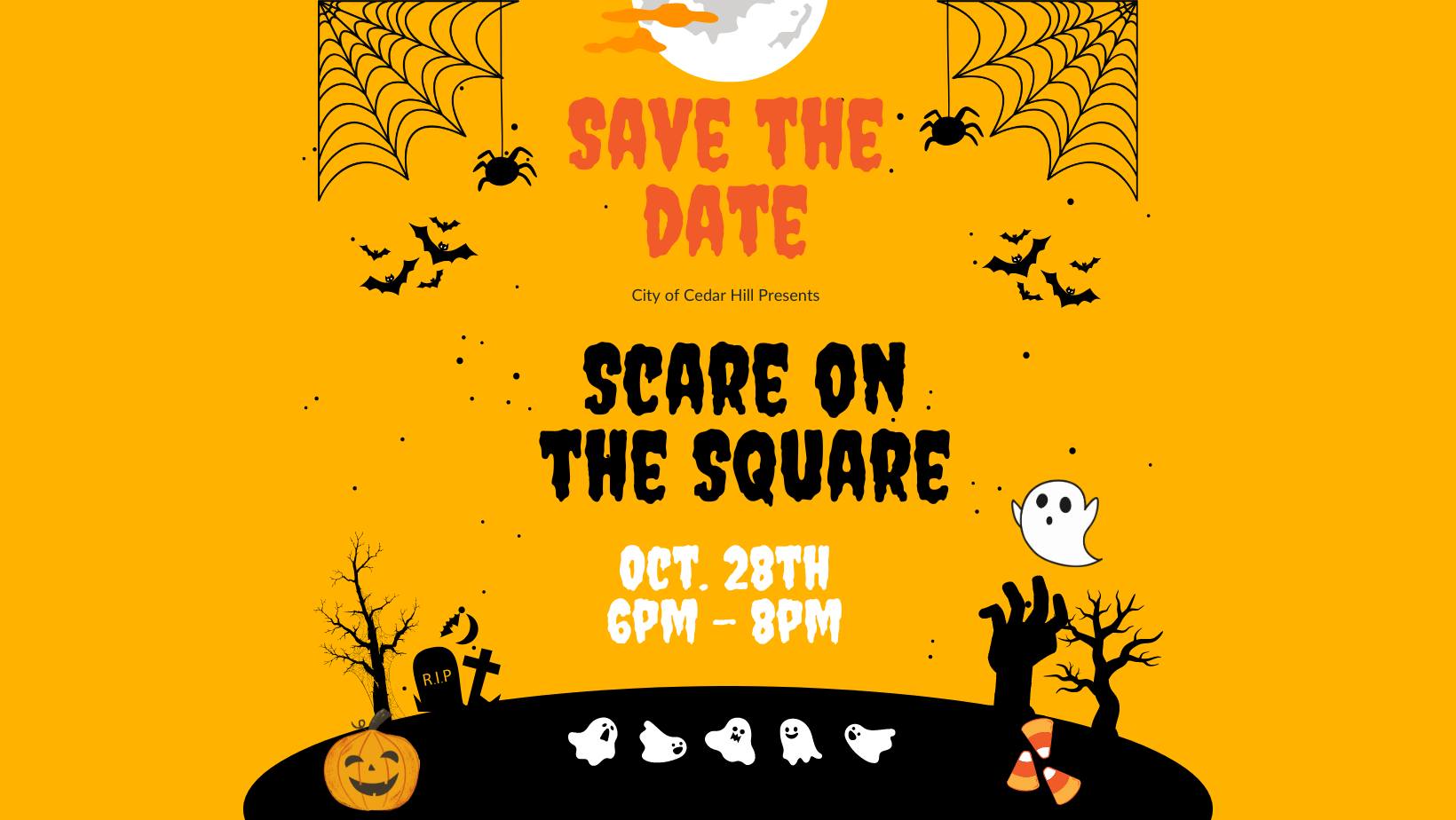 Downtown Cedar Hill 502 Cedar St, Cedar Hill, TX 75104
A FREE family event featuring a Trunk-Or-Treat and plenty of Halloween fun!
Midlothian Downtown Trick or Treat Tuesday, October 31, 2023 4pm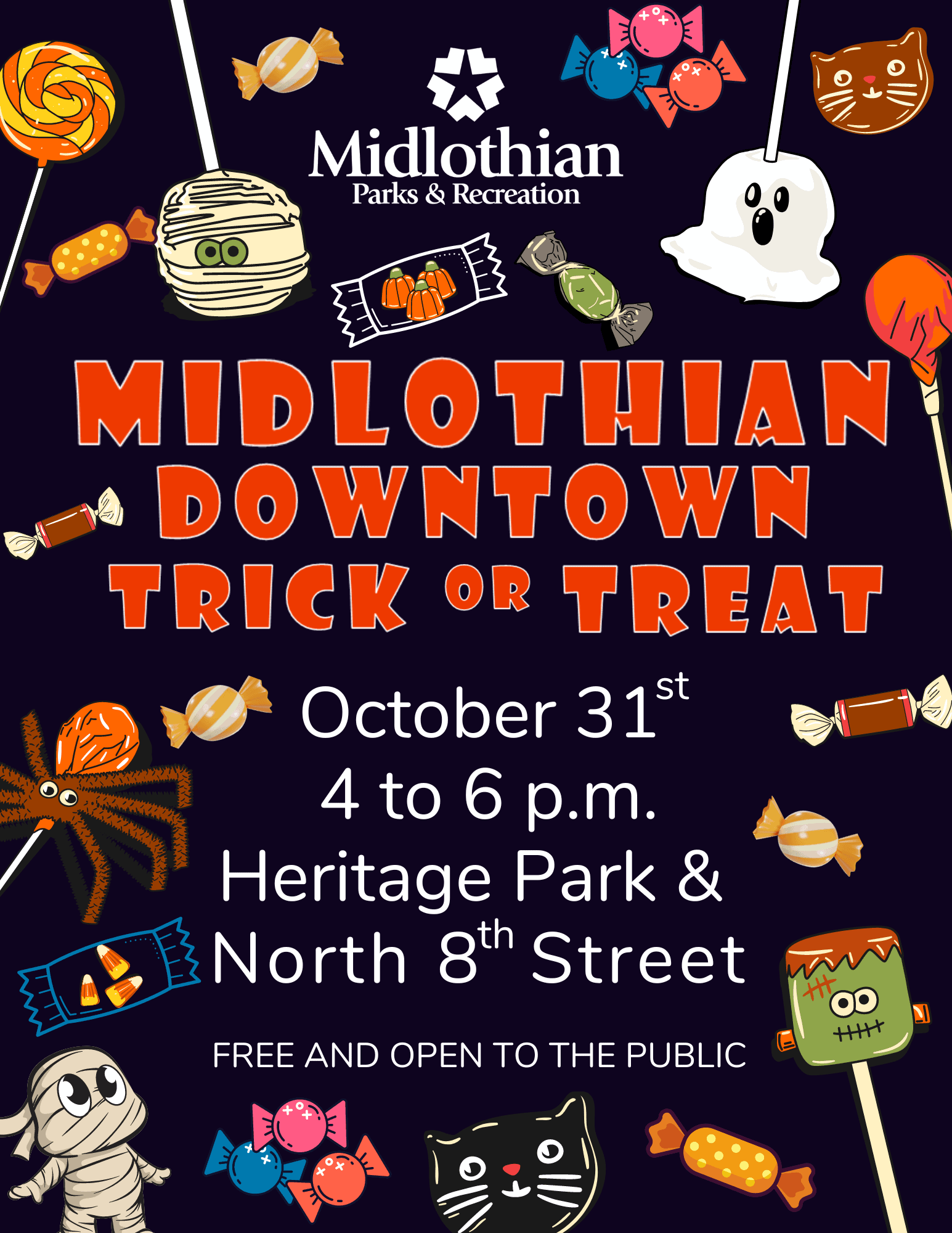 Courtesy of our generous downtown merchants, Downtown Trick or Treat is free and open to all.
Downtown Trick or Treat is free and open to all thanks to our generous downtown merchants. The procession around N. 8th Street and through Heritage Park begins at 4 p.m. North 8th Street will be closed to through traffic from Main Street to Avenue D during the event.
Businesses may set up tables at Heritage Park to distribute candy on a first-come-first-served basis. All candy must be commercially pre-packaged. No other food or drink may be distributed at this event. In the event of severe weather, the event will be cancelled. Festivities will continue in case of light rain.
Glenn Heights Fall Festival October 28 5-8pm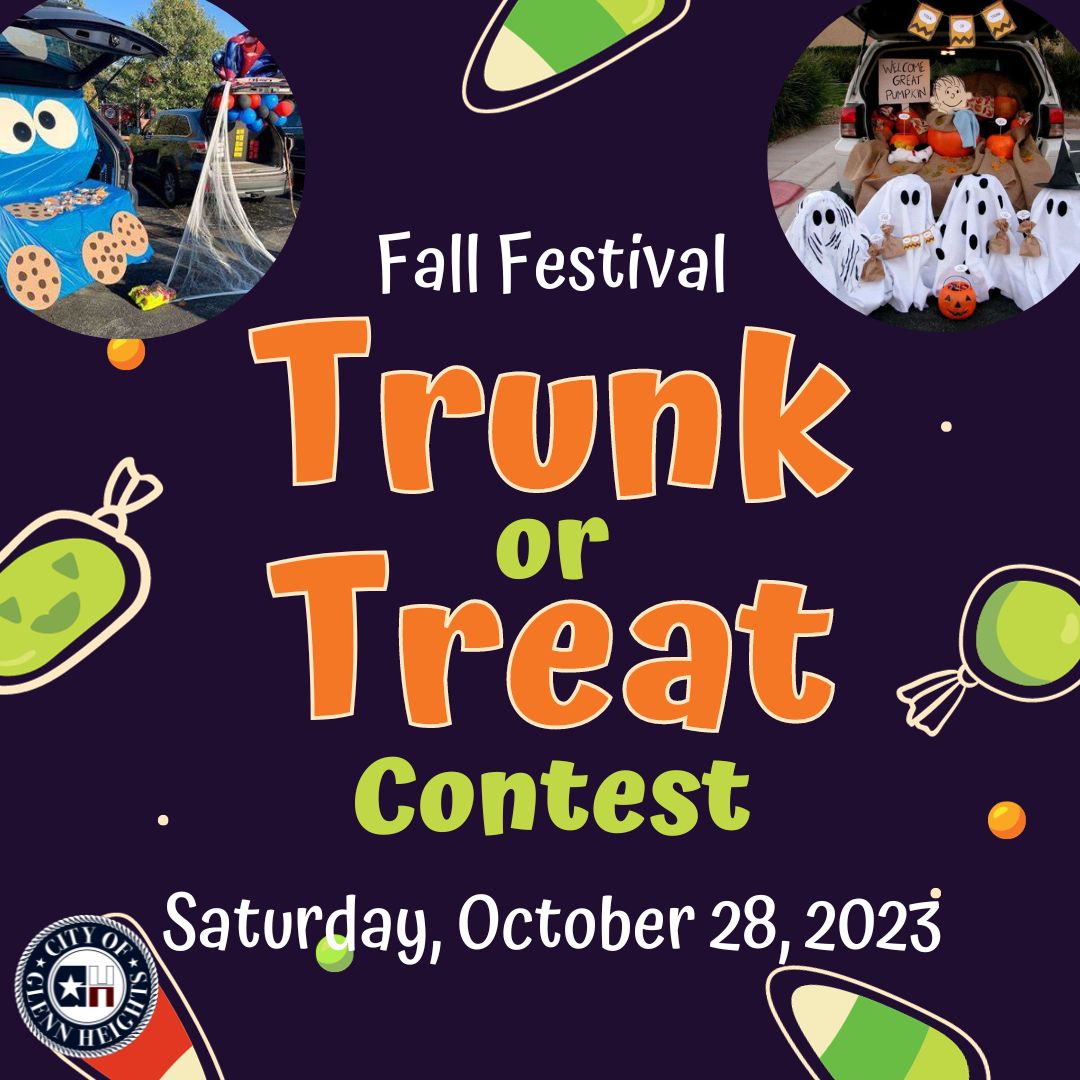 Fall into Fun at our Glenn Heights Fall Festival
We've extended our event 1 hour to an experience like no other! Join us on Saturday, October 28, 2023, from 5-8 PM.
Stroll through our pumpkin patch for the perfect photo op!
Hop on our delightful hayride!
Savor delicious festival food and treats!
Enjoy music and explore a variety of amazing vendors!
Be a Chili Connoisseur- You're the judge in our epic Chili Cook-Off!
Get ready to vote in the thrilling Trunk or Treat Contest – You decide the winner!