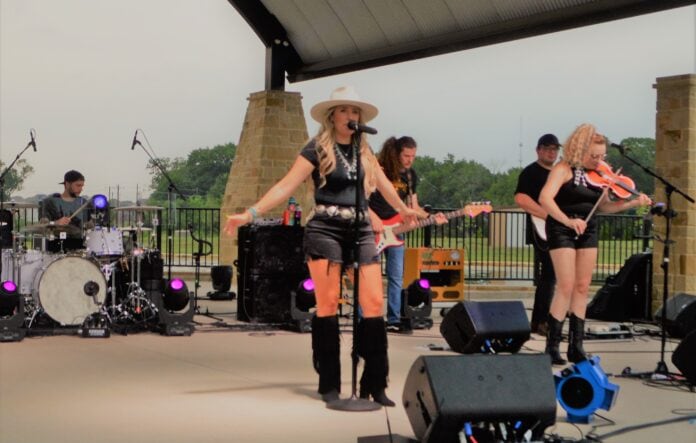 Suppose you attended last Friday night's Amanda Kate Ferris concert at Midlothian Community Park. In that case, you might have been disappointed that she didn't primarily play '90s country cover tunes, but it is unlikely.
The singer-songwriter, who hails from Midlothian, TX, delivered a two-hour set of mostly original material, including her new hit single, "Pedal Steel," which ranked No. 23 for airplay on the Texas Regional Radio Report (T3R) list of Top 100 Songs the week of June 14, 2023.
The "Pedal Steel" EP dropped in March, featuring these tracks: "Baby Don't," "Tequila & Jesus," "When I Think About You," and "In This Town." These songs, according to Cowgirl Magazine, "Honor Ferris' Texas Country roots and captivating vocal while reflecting upon her Western influences, love of country music history, and authentic ranch lifestyle." The popularity of her music has earned Ferris a nomination in the 2023 Texas Country Music Awards for Female Artist of the Year and Emerging Artist of the Year. The winners will be announced at the awards to be held in November at Billy Bob's in Fort Worth.
During the concert, Ferris shared how happy she was to move to Midlothian with her husband and daughter two years ago. She said the town has extended the kind of hospitality and care you would expect from a small town, and she couldn't have hoped for a more welcoming place to live.
The audience ranged from 8 weeks old to people in their 80s, and despite the heat, more than 400 gathered to enjoy the live music, food trucks, family, and friends. Those who weren't Ferris fans when they arrived became fans before the night was done.
Sponsored by Sunrider Manufacturing and Midlothian Community Development Corporation, the concert is the first in the free Summer Beats series, which the Midlothian Parks and Recreations Department organizes.
Next up on July 28 will be ScanT, a fun and lively tribute to 80's hair bands. The Royal Dukes, a variety dance band, will provide the summer's final concert on August 11. Note that all concerts are held on Fridays and begin at 7:30 p.m. Bring chairs and blankets for lawn seating. Food for purchase will be available, and outside food, drink, and coolers are allowed.
For more information about the concerts and other special events, visit www.midlothian.tx.us /SpecialEvents.
If you missed the concert or are huge fans of Amanda Kate Ferris, you can catch her at Union 28 on July 8th when she opens for the Chad Cooke band.