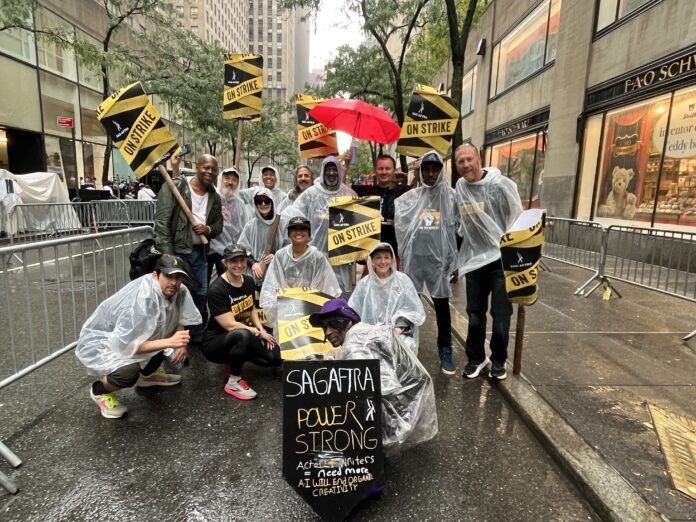 In the shadows of uncertainty in Hollywood, there is one thing we know for sure,: the continuing saga of unresolved labor disputes looms on for actors and writers with seemingly no end in sight.
Last week was another day of intensive negotiations. Both the Screen Actors Guild (SAG) and the Writers Guild of America (WGA) are deeply entrenched in a labor dispute, and to add to that, contracts have now expired, and frustrations are escalating.
It is safe to say the film and television industry faces a challenging road ahead.
Let's look at the situation and what is next for SAG and WGA for a potentially favorable outcome.
Months of negotiations have yet to yield any resolution that satisfies both parties. The issues involve everything from fair compensation to working conditions and creative control. And what else? Each side holds firm on their demands, leaving the film industry in limbo. A limbo that has productions delayed, talent uncertain of their futures, and viewers eager for fresh content.
As negotiations continue, the solidarity among members of SAG and WGA has been a lesson critical to a favorable outcome for each. Union members must stay resilient and united, reminding themselves and the industry of their worth.
Writers and actors also must consider the personal and professional implications of their decisions and, in some cases, may decide to work under expired contracts. In contrast, others join picket lines in support of their unions.
One thing is for sure: nothing is certain, meaning individuals are being affected by the strike with a disruption in their income that is a real changemaker for many.
The film industry's future hangs in the outcome of these labor disputes. However, a favorable outcome for all parties involved will mean critical considerations moving forward.
If negotiations continue to falter, the involvement of professional mediators and arbitrators may be necessary to break the impasse and facilitate a resolution. It might also be helpful for both unions and studios to explore creative solutions to address the core issues. This might include revenue-sharing models, innovative compensation structures, or improved working conditions.
It has also been said that maintaining public awareness and support for the unions' causes is vital. The entertainment industry relies on its audience's goodwill, and public sentiment can influence negotiations. And in the long run, a favorable outcome should not just address immediate grievances but should set the stage for future issues that need to be addressed.
The ongoing stalemate in negotiations between SAG, WGA, and the industry's major studios creates a cloud of uncertainty since the film and television industry is a vast ecosystem that thrives on creativity, collaboration, and the dedication of writers and actors. And while a favorable outcome is possible, negotiations, exploring solutions, and maintaining unity is the only way to face the evolving entertainment landscape.