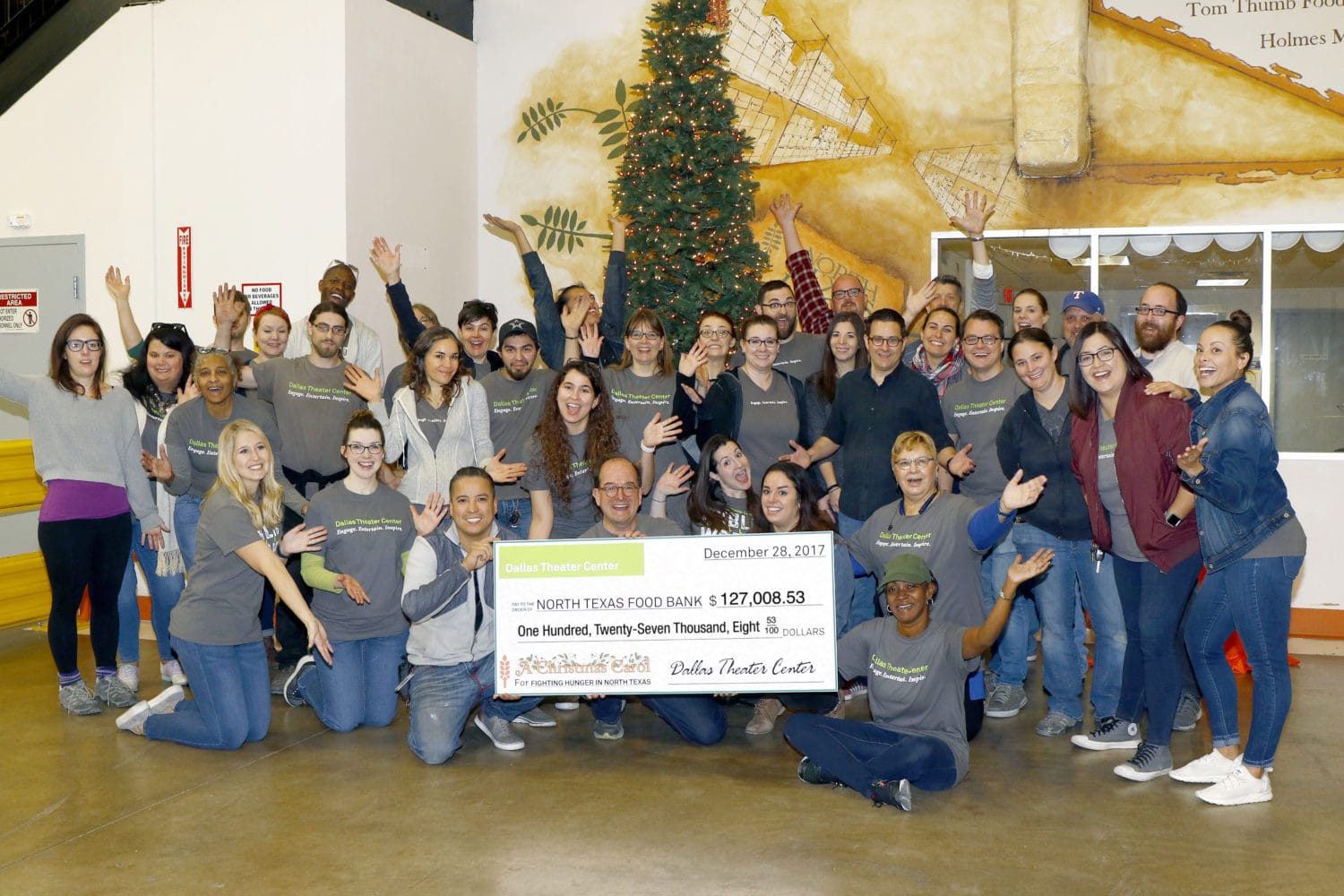 Dallas Theater Center Presents Record-Breaking Check to North Texas Food Bank
Dallas Theater Center broke their record for donations to North Texas Food Bank again this year. The company collected $127,008.53 during the Nov. 22-Dec. 28 production of Dickens' "A Christmas Carol." This marked the tenth consecutive year for DTC to collect donations along with non-perishable food items during performances of their holiday classic.
"Year after year, the patrons that come through our doors during the holidays make all of this possible," said Leah Harris, manager of DTC's Public Works Dallas. "In our 10 years partnering with the North Texas Food Bank, we've seen the willingness of people to give from their hearts flourish in order to fight hunger in North Texas. This successful partnership is truly a team effort. DTC's Guild and Host members volunteered their time each night to oversee the collecting process, our Project Discovery teens brought boxes of canned goods, and our actors volunteered after each show to collect donations. From top to bottom, a true community is formed around 'A Christmas Carol,' and it makes all of us immensely proud to work at Dallas Theater Center."
Show patrons donated $90,280.38 while an anonymous donor gave an additional $36,728.15, matching the amount given from Dec. 19-28. The total collected will provide 381,025 meals for North Texas residents.
"This year's production of 'A Christmas Carol' and the support generated for the NTFB took our breath away," said Trisha Cunningham, President and CEO of NTFB. "The reality is that there are more than 800,000 food-insecure people across our region. These are working parents, our local seniors and children that go to school alongside our kids, who are struggling to find that next healthy meal. This generous donation from patrons of the Dallas Theater Center, coupled with a gift from an amazing anonymous donor, will help put meals on the table for our neighbors in need and will help the Food Bank fulfill our vision to create a hunger-free, healthy North Texas."
In addition, DTC's Project Discovery participants contributed a record-breaking amount of 1,310 items for the Project Discovery "Fight Against Hunger" food drive. Arlington High School donated 195 items, along with other participating schools: Bryan Adams High School, David W. Carter High School, Faith Family Academy of Oak Cliff, Garland High School, Lamar High School, Lancaster High School, Seagoville High School, Skyline High School, South Garland High School, Uplift Luna Preparatory, WH Adamson High School, Wilmer Hutchins High School and Woodrow Wilson High School.
Project Discovery allows students and teachers to experience and study live, professional theater. Using theater as a catalyst, the program increases student engagement and makes theater more accessible to students, regardless of their ability to pay. Nearly half of Project Discovery participants will see a professional theater production for the first time while in the program, and more than 90 percent of participants indicate an increased level of confidence in attending theater and sharing opinions about their experience.
DTC administrative staff, production crew and cast members of A Christmas Carol also spent a day volunteering at one of the Food Bank's two Dallas facilities. For more information on how to donate or volunteer at NTFB, please visit www.ntfb.org.