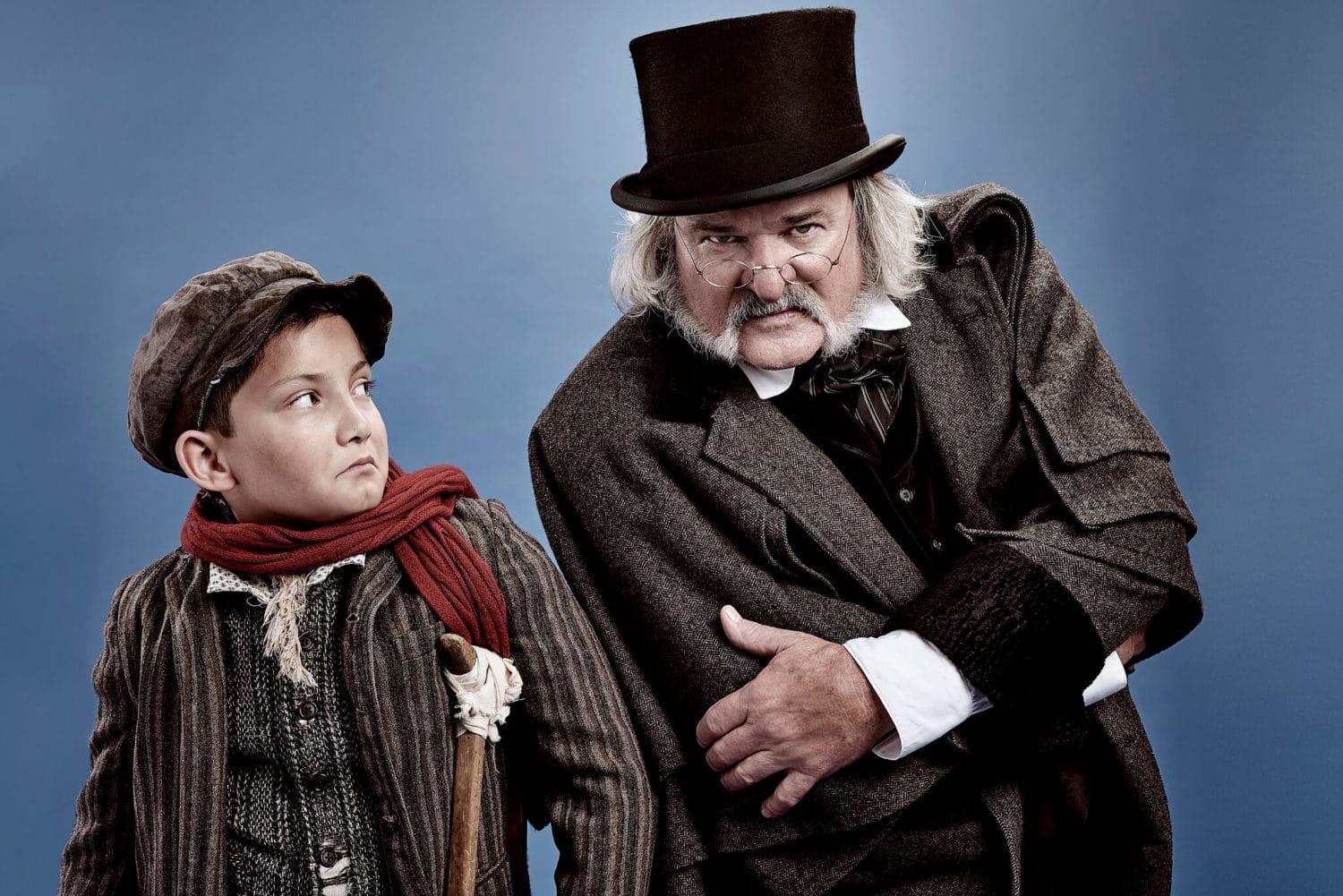 It seems like everyone's favorite curmudgeon, Ebenezer Scrooge, is suddenly turning up everywhere. He's no longer content with dominating holiday productions like DTC's annual "A Christmas Carol" Nov. 22-Dec. 28 at the Wyly Theatre.
Scrooge is featured in Bleecker Street's critically-acclaimed film, "The Man Who Invented Christmas," along with his creator Charles Dickens. Then there's Samantha Silva's new book, "Mr. Dickens and His Carol," that just hit your local book store.
My theory as to why Scrooge is such an iconic symbol of the Christmas spirit is that he symbolizes redemption for everyone. If such a tight-fisted tyrant can become loving and generous overnight, maybe there's hope for all of us.
Dallas Theater Center's Scrooge will be played by Brad Leland, who was featured as Buddy Garrity on NBC's long-running TV series, "Friday Night Lights."
"A Christmas Carol is a story filled with redemption and hope, and mixed with the most mischievous and colorful parts of literary tradition," said Lee Trull, Director and DTC's Director of New Play Development. "I am thrilled that my friend Brad Leland, of Friday Night Lights fame, will bring Scrooge's journey to our stage. After a life amassing wealth and secluding himself from all humanity, Scrooge is reminded that joy was once a palpable thing of his past, and that by opening his eyes to the pain and need of those in the present, he has a chance and hope of making a positive impact on the future."
Joining Leland in the cast are Brierley Resident Acting Company members Ace Anderson (Topper/Young Marley/Second Gentleman); Chamblee Ferguson (Bob Cratchit); Tiana Kaye Johnson (Mrs. Dilber/Mrs. Fezziwig); Liz Mikel (Mrs. Cratchit) and Alex Organ (Fred/Undertaker's Man). Additional cast members include Ian Ferguson (First Gentleman); Kristen Lee (Belle/Lucy); Beth Lipton (Ghost of Christmas Past); Will Power (Jacob Marley/Old Joe), Jahi Kearse (Mr. Fezziwig/Ghost of Christmas Present) and Samantha Rat Rios (Martha Cratchit). Southern Methodist University student Ana Hagedorn will play the role of Sister.
Members of the youth ensemble include Madison Michelle Verre as Fan/Hunger, Nina Ruby Gameros as Tiny Tim, Donovan Covarrubias as Peter Cratchit, Aidan Singh as Boy/Poverty, Sophia Teyolia as Fan/Hunger, Josiah Gamino as Tiny Tim, Omar-Sol Teyolia as Boy/Poverty, Bella Saucer Ehring as Belinda Cratchit, Mark Hancock as Peter Cratchit and Ria Marsh as Belinda Cratchit.
A Christmas Carol begins on Nov. 22 with a Pay-What-You-Can performance benefitting the United Way of Puerto Rico and runs through Dec. 28. Press Night will be Nov. 29 at 7:30 p.m. Single tickets to the show are on sale now at www.DallasTheaterCenter.org and by phone at (214) 880-0202.
This production will take full advantage of the Wyly Theatre's flexibility, with the audience placed in the center of the action happening all around them. Tony Award-winning set designer Beowulf Boritt brings Dickens' vibrant world to life. Jen Caprio returns to DTC with her fresh interpretations of traditional Victorian costume designs. Also returning to DTC is Tony Award-winner Jeff Croiter as lighting designer; Broken Chord as sound designer; Valerie Gladstone as wig designer and Jeremy Allen Dumont as choreographer.
DTC is working once again with North Texas Food Bank (NTFB) to help those in need across North Texas. During performances of A Christmas Carol, DTC will provide a location in the Wyly lobby for patrons to donate canned goods to NTFB. Members of the cast will also collect monetary donations after every performance. Over the last ten years, DTC has presented more than $500,000 to NTFB to aid in the fight against hunger.
DTC's Come Early will take place one hour before every performance and DTC's Stay Late presented by Wells Fargo will take place after each performance. DTC gratefully acknowledges the support of Executive Producing Partner Kimberly-Clark Corporation. Major support of this production provided by Hoblitzelle Foundation, The Meadows Foundation, and Hillcrest Foundation.