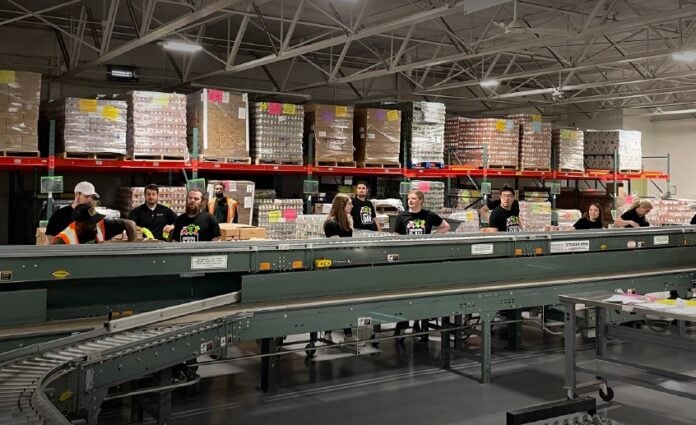 September 28, 2023 (Dallas, TX) –The North Texas Food Bank (NTFB) announced today that it received a $100,000 grant from Link Logistics for infrastructure improvements and food purchases. Link Logistics is a leading national last-mile logistics real estate company and a key food bank partner.
"The team at the North Texas Food Bank is thankful to our partners at Link Logistics for providing these critical funds," said Maurice Wilson, North Texas Food Bank chief operating officer. "This gift will fund important improvements at our warehouse and allow the North Texas Food Bank to provide needed support to a key feeding partner – Crossroads Community Services."
The grant will allow NTFB to make infrastructure improvements at its Plano-based Perot Family Campus warehouse with new insulated roll-up doors, lowering the cost of heating and cooling the warehouse while improving efficiency. Funds will also be used to purchase shopping carts for Crossroads Community Services Community Market in South Dallas. A key hub partner for the NTFB, Crossroads' Community Market addresses food insecurity and equitable access to nutritious food in a food desert area in South Dallas. Lastly, a portion of the grant will be used to provide North Texas families, children and seniors access to 90,000 meals.
As a firm dedicated to supporting the communities where it operates, Link Logistics has committed $4 million to address hunger, education and other needs since 2022. Additionally, Link Logistics gives businesses of all sizes space to grow, with more than 5 percent of the U.S. GDP flowing through its portfolio.
"Link Logistics is committed to investing in our communities and we take great pride in our support of the North Texas Food Bank, recognizing the invaluable work they undertake," said Luke J. Petherbridge, Link Logistics chief executive officer.
To learn more about how to support the North Texas Food Bank visit ntfb.org.