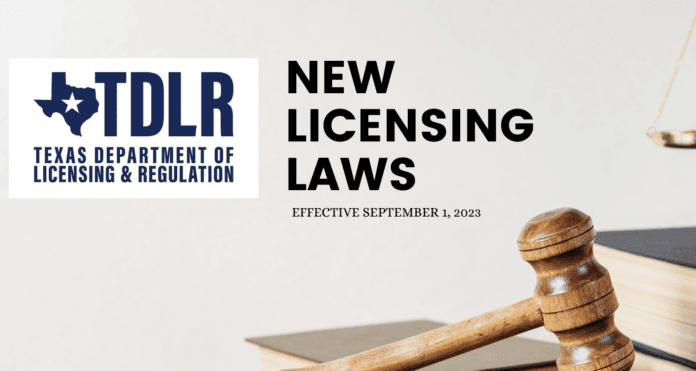 AUSTIN – New laws – including ones giving TDLR the authority to shut down massage establishments where human trafficking is suspected, redefining who is a dog or cat breeder, and attaching the Texas Board of Veterinary Medical Examiners to TDLR – will go into effect on September 1.
 To administer these changes, in some cases the agency must first develop rules for implementation. Some bills include specific direction to TDLR on the rules the agency must adopt and the deadline for adoption. The rulemaking process gives the public an opportunity to provide comment and feedback at TDLR advisory board meetings.
The public can also participate in the process when proposed rules are published in the Texas Register and at meetings of the Texas Commission of Licensing and Regulation when the rules are discussed and brought up for a vote. The rulemaking process can take several months to complete.
To keep informed about proposed rule changes, TDLR urges the public to sign up for email updates tailored to specific licensing programs: https://public.govdelivery.com/accounts/TXDLR/subscriber/new. Select "important notices" for the programs of interest.
Among notable new laws involving TDLR:
SB 1414 attaches the Texas Board of Veterinary Medical Examiners (TBVME) to TDLR for the next four years. During this time, TBVME will serve as an advisory board to TDLR, and TDLR will provide TBVME with policy-making and administrative oversight, guidance, and support. At the end of the four-year attachment, TBVME will return to its independent agency status.
SB 876 redefines who is a dog and cat breeder by lowering the threshold for the number of breeding dogs or cats to five or more intact females, and does away with the minimum requirement of sales in a calendar year. Currently, any person with 11 or more adult intact female dogs or cats who breeds them and sells or exchanges at least 20 animals per year must be licensed and inspected. The bill contains a new exception for dogs raised for breed or conformation shows. The law goes into effect on Sept. 1, 2023, and newly affected breeders must have a TDLR license by Jan. 1, 2024.
HB 3579 allows TDLR's executive director to issue an emergency order halting the operation of any massage establishment if law enforcement or TDLR believes human trafficking is occurring at the establishment. The law goes into effect Sept. 1, 2023.
SB 1001 creates a regulatory framework for electric vehicle charging stations, giving TDLR the responsibility for charging station inspections and making rules for the installation and operation of electric vehicle supply equipment. The bill also provides consumer protections and consumer complaint procedures. (This law went into effect on June 18, 2023. TDLR has until Dec. 1, 2024, to adopt rules.)
HB 2313 requires transportation network companies, also known as rideshare companies, to provide human trafficking training to their drivers regarding awareness and how to report suspected trafficking.
HB 2016 prevents someone from getting a massage therapy license if they have been convicted of, entered a plea of nolo contendere or guilty to, or received deferred adjudication for sexual assault and aggravated sexual assault. Although current law provides for license ineligibility for some offenses, it does not explicitly prohibit licensure for sexual assault or aggravated sexual assault offenses.
HB 1391 establishes a new career and technology education (CTE) program for individuals that will create a pathway to licensure as a residential wireman. TDLR will establish standards for the program, including classroom and practical requirements and allowing on-the-job training to count for the practical component. The State Board of Education will approve the educational components.
HB 1859 creates an opportunity for high school students or community college students to receive HVAC certification by lowering the minimum age from 18 to 16 to apply for a registered technician license. Anyone under 18 will be required to work under the direct supervision of a licensed ACR contractor or a certified ACR technician.
SB 478 gives TDLR the authority to approve more motorcycle operator instructor training courses. Currently, to become a certified motorcycle instructor in Texas, a person must complete the motorcycle operator training instructor preparation course, which the Texas A&M Engineering Extension Service offers exclusively. Some provisions of the bill become effective September 1, while the entire bill becomes effective Jan. 1, 2024.
SB 1213 establishes an 11-member Mold Assessment and Remediation Advisory Board at TDLR. The new board is designed to provide valuable expertise and perspectives from mold assessors and remediators, home building contractors, the insurance industry, and the public. The law became effective May 29, 2023, and board members must be appointed no later than Dec. 1, 2023.
For a full list of laws affecting TDLR licensees, please see the TDLR website: https://www.tdlr.texas.gov/legislation.htm.