Almost any golfer who's ever played the game has said quite a few prayers.
The new disc golf course in Midlothian might actually make things a little easier as was built directly next to the First Baptist Church on land the church owns. The church is on about 43 acres with a creek in the middle.
The neighborhood adjacent is named Creek. Hence, the name of the course is Creek Bend Disc Golf Course.
"We felt like this was a good project for our own members and to provide for folks from the community to play as well," said Jason Golden, Executive Pastor at FBC Midlothian.
So they brought in Ryan Vanderburg, a video/record producer based out of Midlothian. One of his biggest video clients is the world's largest disc golf media channel, JomezPro. He's produced many documentaries and other videos for them, and is himself a lover of the sport.
"I've been an avid disc golfer since 2016 and have since made my career by elevating the sport all over the world via video production and producing disc golf content for JomezPro, ESPN and CBS," Vanderburg said, who now also designs courses, including Creek Bend.
"What got me into designing courses was likely going on this trip to LaPaz Mexico which I produced, shot, directed and edited the documentary for the Paul McBeth Foundation," he said.
At the time, he was on staff at FBC Midlothian as a worship leader and musician and church leaders approached him about designing and heading up the installation on their property as a way to use much of their unused property for community outreach.
"Since I myself play at a lower professional level, I've always had a keen eye for designing courses," he said. "It took six to eight months of planning, walking, flagging fairways and trees and changing our minds several times before we settled on the layout that we have now. It's the best possible layout you can fit on the property, having both short tee pads for beginners and long tee pads for advanced players. There is really no course like it in this area."
Nine Disc Baskets
Next to the course is the church's counselling center – also called Creek Bend.
The 18-hole course opened Jan. 1 and features nine disc baskets. Golfers have their choice of two tee boxes. It has been a popular addition to the community, Golden said.
"We've had a lot of people who come from all over to play," he said. "It also is a nice calm place to just walk."
Creek Bend is open to all of the community at zero cost – as long as people aren't there during church service hours (Sunday morning / Wednesday evening) all are welcome.
Vanderburg said this is not the first time he's designed a course connected to a church.
"You actually do see disc golf courses connected to a church fairly often. In fact, Crossroads of Life in Duncanville has a phenomenal disc golf course on it that has been there for over a decade. I also designed a simple church course where my grandfather-in-law pastors at Hampton Road Baptist in Glenn Heights," he said.
Vanderburg said Creek Bend adds another opportunity to an already popular sport in the area.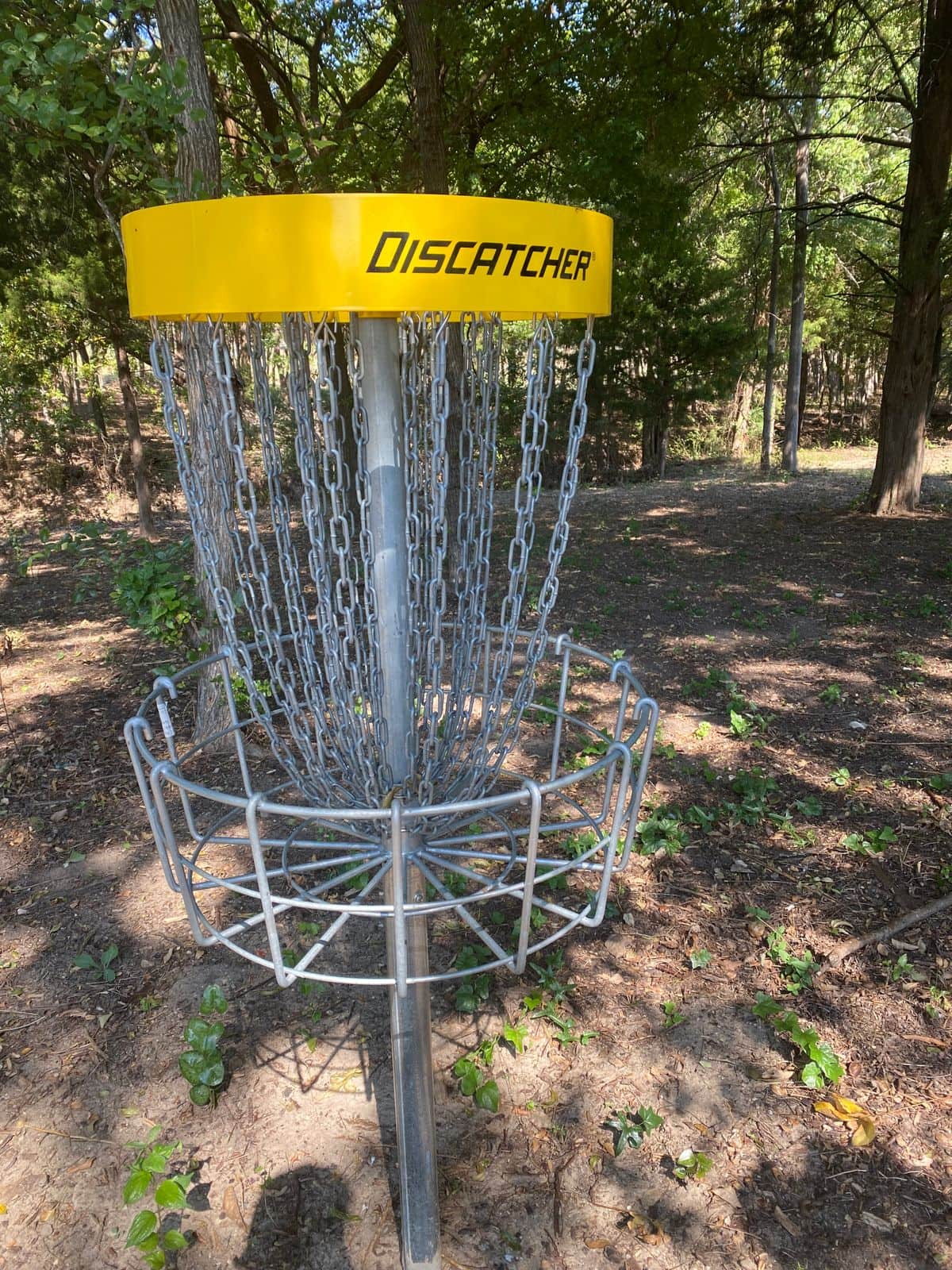 "Cedar Hill has some of the best courses in the Metroplex and Waxahachie has a decent little course," he noted as examples. "The Midlothian city council had been wanting to install one but never found enough property to put one in. Once they heard that we were interested, they came on board and helped fund it."
As of now there are no leagues or tournaments on the books for Creek Bend, but Vanderburg said that is going to change once a second bridge is built on the course.
"I have already had several companies reach out to me wanting to sponsor tournaments at the course. Once the fairways get more worn down and trimmed up, there will be a weekly league that meets," he said.
And just like one good shot in traditional golf brings a player back, Vanderburg said with one good throw in disc golf, people get hooked.
"I've seen it happen countless times. You get out in nature, the barrier to enter is very low and as you walk, hike and discover the course before you, conversations with friends and loved ones are bound to flourish," he said. "Not only that, but the competitive side pushes people to be better. You can push yourself to be the best player in the world and sign a 10$ million contract, like Paul McBeth, or you can simply stroll a beautiful nature trail and throw discs through the woods and next to streams.
"I've known people on the brink of suicide and deep in depression have their lives turned around by jumping into the regular activity that is disc golf. Pair that with a welcoming community and you have the world's most perfect game – the game of the future."
Vanderburg said to get started, head to JomezPro on YouTube and start watching. You can pick up a starter pack from a local sporting goods store, then download the UDisc app on your phone, find a local course, start on the first hole and try to get your disc on the basket in as few throws as possible.
"It's that easy…at first," Vanderburg said with a chuckle.