Positive Attention For Athletic Program
When Cedar Hill Lady Longhorns basketball player Jadyn Atchison heard the news that Deion Sanders would be joining her in Boulder, Colorado next year, she was excited.
While Atchison will be playing college basketball for the Lady Buffaloes, she believes the hiring of Sanders as the school's next football coach will impact the entire sports scene at the University of Colorado.
"Definitely. Deion Sanders is going to bring a lot of attention for Colorado," Atchison said. "We're going to be part of a legacy and history. Not just for football, but for basketball or any of the sports that we have. A lot of positive attention."
Sanders, an NFL Hall of Fame defensive back and former Dallas Cowboy, was hired late last year by Colorado after much success at Jackson State University. In his three seasons (the first a short spring season due to the COVID-19 pandemic) he led the team to a record of 27-6, including 12-1 this past season, the most wins in program history.
But Sanders also raised the level of exposure for JSU and all Historically Black Colleges and Universities. In April 2022, Jackson State became the first HBCU to have its spring football game televised live nationally on ESPNU.
Playing at the next level
Of course, Atchison is bringing some attention herself as she enters rarified air – and not only because of the altitude in Colorado. While several Lady Longhorns have gone on to play at the highest level of college, NCAA Division I, she is entering even more elite territory with a school from a Power 5 Conference (Pac 12).
"Honestly, any time a player signs to play at the next level it is a big deal to me. Colleges are not just handing out scholarships on any level, the way some people think," Cedar Hill coach Nicole Collins said. "But to be in the class of a Power 5 school says a lot for her and the direction our program is headed. I do believe having players with that type of success and future does help open the door for other players to follow in her footsteps."
Atchison said there was an instant connection with the UC campus.
"When I first got there, it just felt natural. A genuine vibe. This is where I want to be," she said. "The team feels like family, and it felt like I was already on the team. The coaching staff is comprised of genuine people."
To play for a Power 5 program has long been a dream of Atchison. It all started when she attended an afterschool program because her mom was at work.
"I'd pick up a basketball and compete with the boys," she recalled.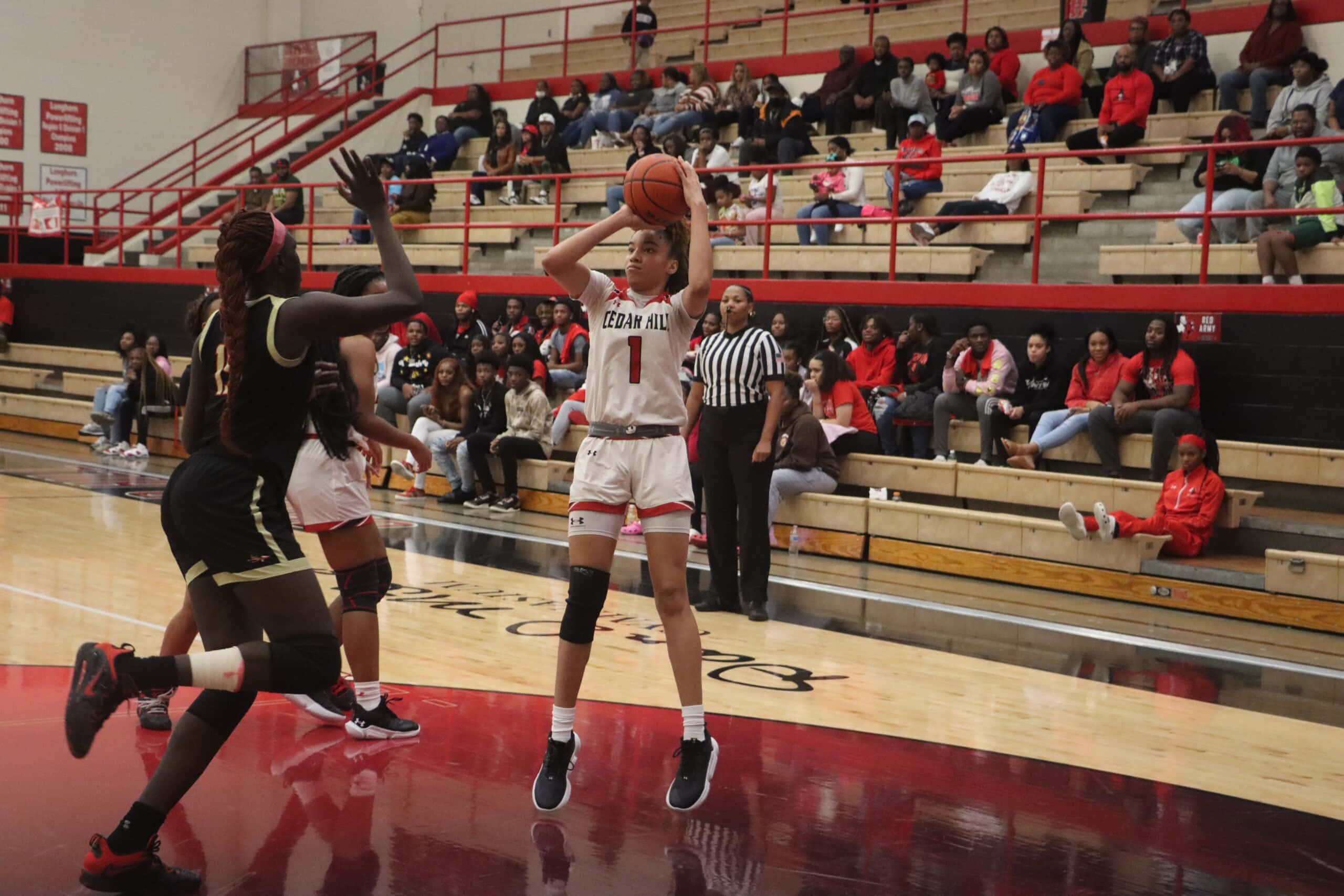 Basketball is a family thing
She also became interested in the game through her aunt who played overseas in China.
"She helped me out a lot. She showed me stuff to work on when I was younger and always talked about basketball with me," Atchison said. "I joined a church league, and that's when I really gained an attachment to basketball."
She plans to major in business for two major reasons. She wants to be her own boss and she wants to focus on clothing for tall women. She is 6-foot-1.
"I don't like working for other people. Being your own boss, you can do what you want and help people on your own time," she said. "They have jeans for tall women, but they're really expensive."
With the future of the Pac 12 Conference in question thanks to USC and UCLA leaving, so is Colorado's future in the years ahead. Texas and Oklahoma are leaving the Big 12 for the SEC, so it is possible the Buffs and Lady Buffs could return to the league they left in
2010.
Such a move would mean Atchison would play more games in Texas with opponents such as TCU, Texas Tech, Baylor and Houston.
Leaving a mark at Cedar Hill
"It's possible they could go to the Big 12. It depends what Coach Sanders does," she said. "It doesn't make a difference to me. I just want to hoop."
In the meantime, she is hooping in her final season with the Lady Longhorns. She said she is playing like how she wants to be remembered and she believes her team has a chance to contend for a state championship.
"She has definitely left her mark here at Cedar Hill. She's been a huge part of winning teams and a team determined to do something that has never been done before," Collins said. "As a senior, she is learning how to carry the mantle for her team and lead them down an unknown, but exciting path.
"She has a great personality and is a big goofball, so has been enjoyable to coach and watch grow as a young lady."