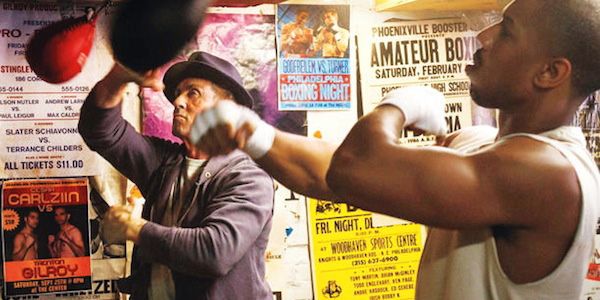 Starring: Michael B. Jordan, Sylvester Stallone, Tessa Thompson and Phylicia Rashad
Production: M-G-M, Warner Bros., New Line Cinema, Chartoff Winkler Productions
Rated: PG-13 (for violence, language and some sensuality)
Opens: November 25, 2015
Spinoffs beware because this one might actually live up to its name. As in, not just another extension of a movie that had good box office numbers the first time around or in the "Rocky" franchise case a few times around. It has been almost 10 years since Rocky Balboa's last chapter, in this one he isn't fighting, but we see there is still a lot of fight left in him.
When Apollo Creed's illegitimate son Adonis Johnson played by Michael B. Jordan shows up in Philadelphia to ask Rocky to help learn to fight it's a tough sale, but predictable he does come around. Adonis didn't know his famous father who was a world heavy weight champion, but the son certainly got the fathers inkling to kick some butt. He does it well and in the final match of the movie he fights a world champion for his last fight. Everyone thinks it is a predictable lose for Adonis, except for Rocky and Adonis. While he doesn't win he does prove himself and we know the rest is history.
Director/Co-writer Ryan Coogler of "Fruitvale Station" notoriety is at the helm here and this is the first Rocky film not to have been written by Stallone, but Coogler keeps to the winning formula. Another shout out to the film's music score, which hits high notes and is a variety of music that does not have the Rocky theme written on it at all except in just one case, very subtly. Those famous Philly steps that won Rocky his place in history also make an appearance in "Creed," but we had to be reminded and it was worth it.