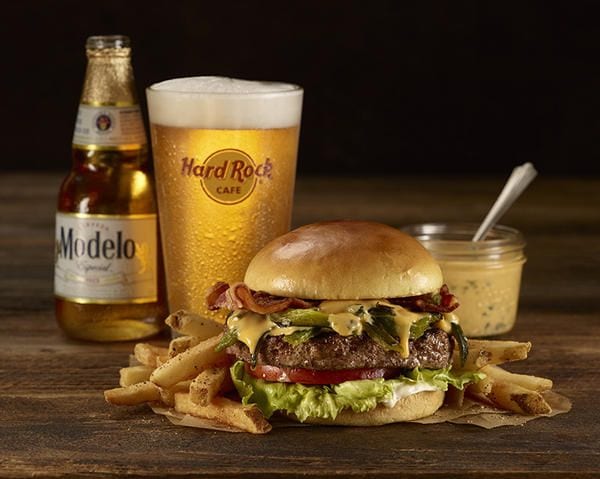 Hard Rock Cafe Dallas Brings The Heat With New Burger And Beer Pairing
Hard Rock Cafe Dallas is honoring New Orleans' classic flair with its latest burger and beer pairing, the Modelo Especial duet (see attached photo). To create an authentic pairing that celebrates the city's larger-than-life culture, Hard Rock joined forces with New Orleans native, Chef Aaron Burgau, to craft the Modelo Especial Bacon Cheeseburger. The limited-time burger will be paired with Modelo Especial, the number two imported beer in the U.S., produced by Constellation Brands, and it will be available at cafes around the nation through Sunday, January 3, 2016.
Hard Rock Cafe's Modelo Especial Bacon Cheeseburger features a Certified Angus Beef® patty drizzled with Modelo Especial-infused beer cheese and topped with Applewood-smoked bacon, grilled poblanos, garlic aioli, lettuce and a tomato slice served on a brioche bun.
The burger will be served with Hard Rock's seasoned fries and a side of Modelo Especial-infused beer cheese, allowing guests to enjoy the beer's clean, crisp flavor in every bite.
"We enlisted Louisiana native, Chef Aaron Burgau, to create a unique burger to perfectly match Modelo Especial, and draw on Chef Aaron's deep Louisiana culinary influences for the pairing," said Darryl Mickler, Senior Director of Research and Development at Hard Rock International. "The moderate hop notes of Modelo Especial complement the richness of the Modelo Especial-infused beer cheese and light heat of the grilled poblano."
The new Modelo Especial duet marks the fourth of Hard Rock's year-long line of burger and beer pairings, including the Rebel Legendary™ Burger, Goose Island Tropical Bacon Burger and Samuel Adams OctoberFest Schnitzel Burger.
Each limited-edition burger was created with a specific beer in mind, taking the culinary beer trend to the next level by infusing beer into the burger recipe.
"Hard Rock is famous for its legendary burgers and unique culinary flair, and we are proud to partner with the brand and Chef Aaron Burgau in order to create a burger and beer pairing that allows our Modelo Especial beer to shine," said Raul Ruiz, senior brand manager, brand marketing for Constellation Brands Beer Division.
"There's no better place to highlight this partnership and new pairing than the legendary city of New Orleans, with its vibrant food and drink scene and historic atmosphere."
Hard Rock's Modelo Especial burger and beer pairing is available at cafe locations nationwide through January 3, 2016. Guests can stop by Hard Rock Cafe to try out the latest items or visit www.hardrock.com for more information.