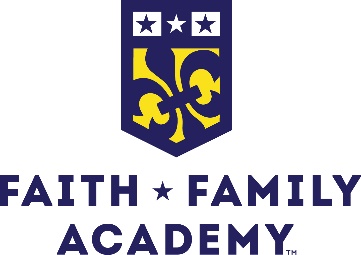 Dallas, TX — Faith Family Academy is honored to announce that its Navy JROTC (NJROTC) unit and its 160 plus cadets have earned the Distinguished Unit Award with Honors. This is the first NJROTC unit in the country at a public charter school after being promoted in March 2021 in only its third year.
This is also the first NJROTC unit at any school to earn the Distinguished Unit Award with Honors in its first year. Furthermore, the unit is one of only two Texas schools selected to pilot the inclusion of 8th graders for course credit for the 2020-2021 school year.
This prestigious award is based on superior performance and outstanding achievement in academics, physical fitness, marksmanship competitions, cadet involvement and community service. NJROTC cadets completed almost 4,000 hours of school and community service during the 2020-2021 school year.
"Faith Family Academy's NJROTC worked as a unit and surmounted pandemic obstacles to achieve the prominent and highly respected Distinguished Unit Award with Honors for the school year 2020-2021," said CDR Mike Hale, NJROTC Area Manager, Area Ten. "The fortitude and tenacity of these cadets are remarkable, and I congratulate them all for a job well done."
"The Distinguished Unit Award with Honors affords Faith Family Academy's NJROTC unit to nominate up to three eligible cadets as candidates to the U.S. Naval Academy, U.S. Military Academy, and U.S. Air Force Academy," said LCDR John Klag, Faith Family Academy. This tremendous accomplishment reinforces Faith Family Academy's mission to educate, empower, and inspire every child for lifelong success. This achievement is shared with the cadets' families, the district, and Faith Family Academy's administration.
For the 2019-2020 school year, Faith Family Academy's Navy National Defense Cadet Corps (NNDCC) unit, which is a forerunner program to NJROTC, was selected as the Most Improved Unit in Area Ten (the State of Texas) and was recognized by the Area Ten Manager with the Unit Achievement Award.
Faith Family Academy earned an "A-District" rating from the Texas Education Agency – higher than every public school district in our service area! We empower students, cultivate a supportive environment for faculty and staff, and foster strong community relationships. A comprehensive curriculum combined with character development, outdoor education, bilingual and dual language programs, technology focus, and an emphasis on the arts are proof of our relentless focus on student success beyond the classroom – all at no cost to families. Call (214) 375-7682 or visit faithfamilyacademy.org for more information.