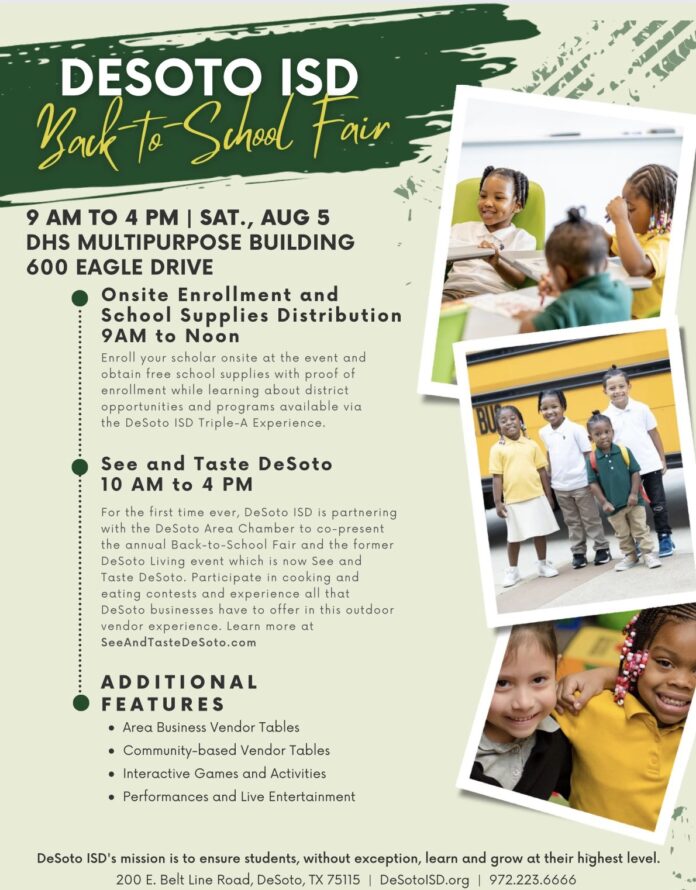 (DeSoto, Texas) – DeSoto Independent School District invites families and communities to the DeSoto High School Multipurpose Activity Center on Saturday, Aug. 5 at DeSoto High School to attend the district's annual Back-to-School Fair from 9 a.m. to noon, where the district will distribute more than 2,000 free backpacks and school supplies to families in DeSoto ISD. A bonus to this year's fair includes the DeSoto Area Chamber's See and Taste DeSoto event which will take place from 10 a.m. to 4 p.m. in conjunction with the annual school kickoff event.
DeSoto ISD Superintendent of Schools Dr. Usamah Rodgers is excited to support families as they prepare for the first day of school set to take place on Aug 14 and embark on the district's Triple-A Experience, the district holistic and well-rounded approach to education through academics, arts, and athletics.
"We are so excited about this upcoming school year," said Rodgers. "Our teachers and leaders have been hard at work all summer to ensure we are ready and prepared to create deeper and more impactful learning experiences for our scholars and their families rooted in sound and consistent instructional practices and customer service."
"Our goal is to be responsive to all of our families and community members, how we can be more responsive, more engaged, more accessible," said Rodgers. "We want to create a welcoming environment to build partnerships with our stakeholders which will, in turn, deepen support for our scholars."
The first step towards this effort is hosting a combined event to allow current and prospective residents and families to experience the offerings of both the greater DeSoto business community and the ISD.
This year's event will provide current and prospective DeSoto ISD students and families enrollment support and tech access to resolve enrollment as well as backpacks and school supplies thanks in part to a generous donation from community partners. In order to access the free school supplies, families will only need to provide proof of enrollment in the district.
"It is always great to see our families access resources to prepare students for school. As educators, it's important that we collaborate with our community to ensure that we are doing everything we can to eliminate barriers to education while also welcoming families back to school for a new school year, communicating that we are not only ready to receive students but ready to meet student's needs so that they can the best scholars possible," said Rodgers.
As part of this year's DeSoto ISD Back-to-School Fair, the DeSoto Area Chamber will host the former DeSoto Living which is now called See and Taste DeSoto but which will include live entertainment, games, prizes, and information regarding area businesses and attractions.
Since 2017 the DeSoto Area Chamber has brought you the DeSoto Living Festival and The Taste of DeSoto. This year we decided to take the best of both and create a reimagined and reinvigorated experience for the DeSoto Area. This all-day festival is for every citizen of the DeSoto Area.
The DeSoto Area Chamber and the City of DeSoto have partnered to bring the city of DeSoto & surrounding communities a fun-filled day of entertainment, great food, friendly competition, and so much more. Keep scrolling to learn more!
For those interested in engaging in the See and Taste event, vendor and sponsorship opportunities are available. Visit the DeSoto Area Chamber Website for more information.
"We are ecstatic about what's happening here in the DeSoto Area Chamber, City of DeSoto, and DeSoto ISD," said DeSoto Area Chamber President Vanessa Sterling. "The DeSoto ISD Back-to-School Fair is a testament to the bold vision and leadership we have here in our schools and community and a testament to what our students deserve. The opportunity to partner with our schools to provide a full view of our community's offerings is such an exciting turn for this year's DAC event and we can't wait to have some fun with our residents."
About DeSoto Independent School District
DeSoto ISD is a public independent school district serving more than 7,400 students and 1,000 employees. The district comprises 10 campuses serving students from early childhood through graduation. DeSoto ISD's mission is to ensure students, without exception, learn and grow at their highest level. The District's 2021 Be The Future Strategic Plan focuses on equity, access, and excellence in an effort to provide a holistic and well-rounded educational experience to students and families in DeSoto, Glenn Heights, and Ovilla.
For more information about DeSoto ISD, visit www.desotoisd.org.
Source: DeSoto ISD Press Release