Blue Goose Cantina invites North Texans to come out and enjoy the cooler autumn weather on one of their spacious patios. To celebrate patio season, they're introducing two new margarita flights—one frozen and one on the rocks. The margarita flights are available at any of their seven Blue Goose locations (Grand Prairie, Frisco, Highland Village, Plano, McKinney, Grapevine, and Fort Worth) for $20.
The new Margarita flights are in addition to Blue Goose Cantina's already extensive drink menu, and can be enjoyed with their famous fajitas, top shelf Queso, enchiladas, or tacos. At a late lunch at the Blue Goose Cantina in Grand Prairie recently, I paired a Frozen Margaritas Flight with some delicious Ginger Lime Fish Tacos.
Ginger Lime Fish Tacos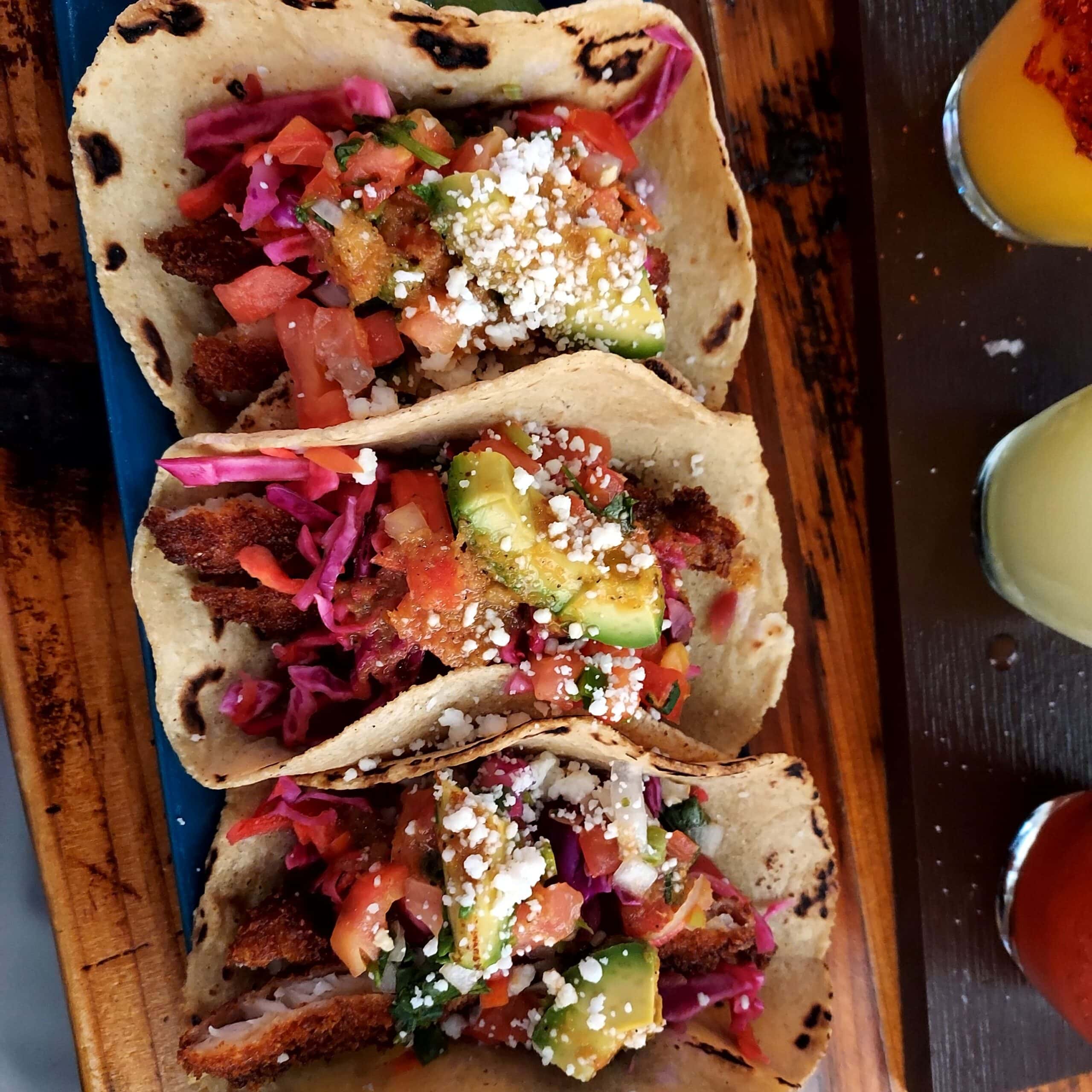 My fish tacos ($12) were one of the most colorful items on the menu, and tasted as good as they looked. Ginger Lime Fish Tacos feature fried Tilapia on three open-faced corn tortillas with Haas avocados, pica de gallo, Queso, and a red cabbage/carrot mix, drizzled with a zesty garlic sauce. My husband ordered one of the new fall menu items, the Birria Queso Tacos ($15). Three corn tortillas are dipped in Guajillo sauce and griddled with cheese, then filled with tender Beef Birria, onions and cilantro and served with Spanish rice and consommé. We also shared a serving of freshly-made Guacamole.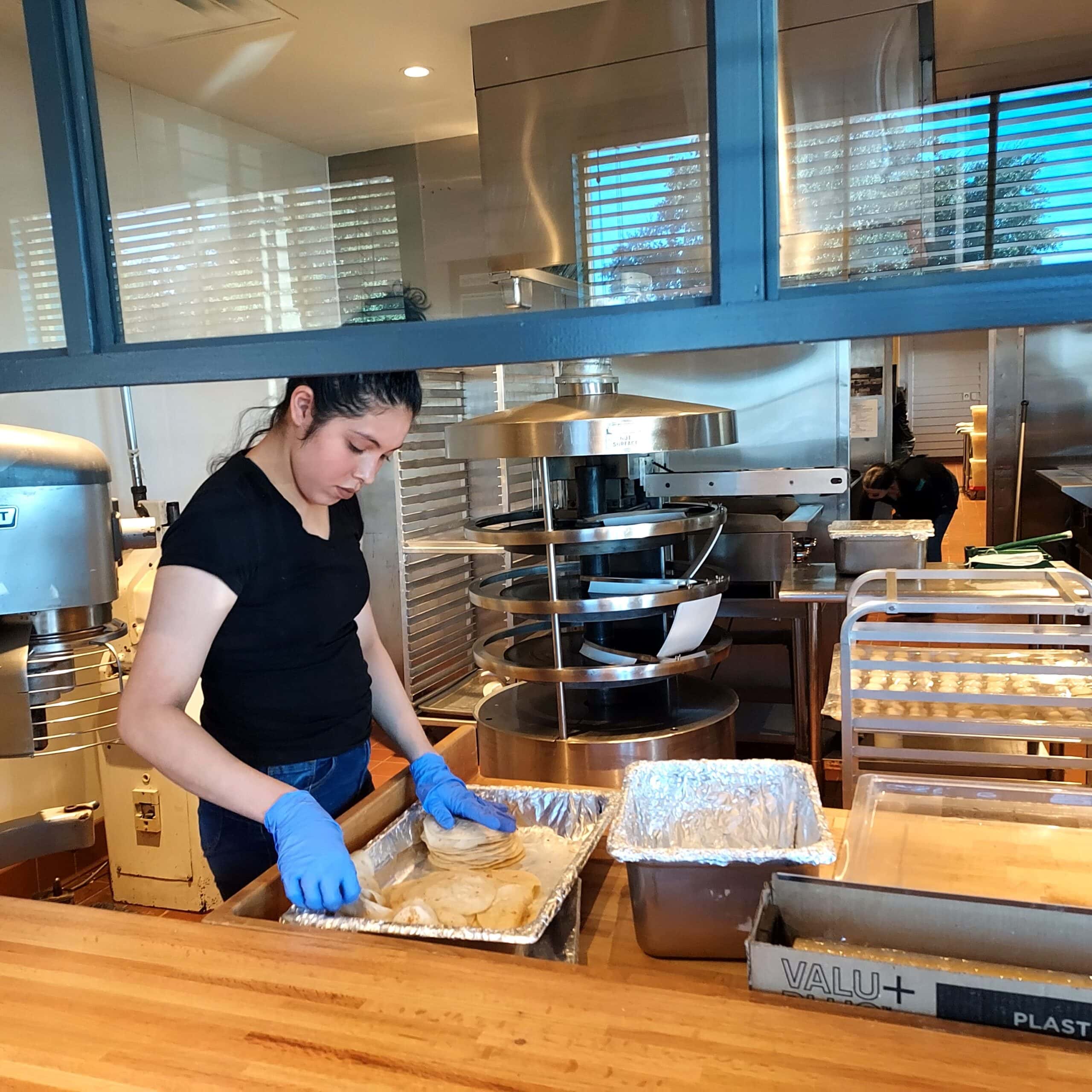 Tortillas are made daily at the Blue Goose Cantina so they're always fresh. The first thing guests see upon entering the Grand Prairie Blue Goose Cantina are tortilla-makers demonstrating their craft. Because they're made in-house, the crisp tortilla chips and salsa served with every meal are a cut above other Tex-Mex restaurants.
The Aye Papi Mango (a frozen margarita blended with fresh mango) was my favorite, refreshing and not too sweet. The original Blue Goose frozen margarita and the Diablo (swirled frozen margarita and red sangria that claims to be "the strongest frozen margarita in North Texas) rounded out the frozen flight.
General Manager Zeke Hernandez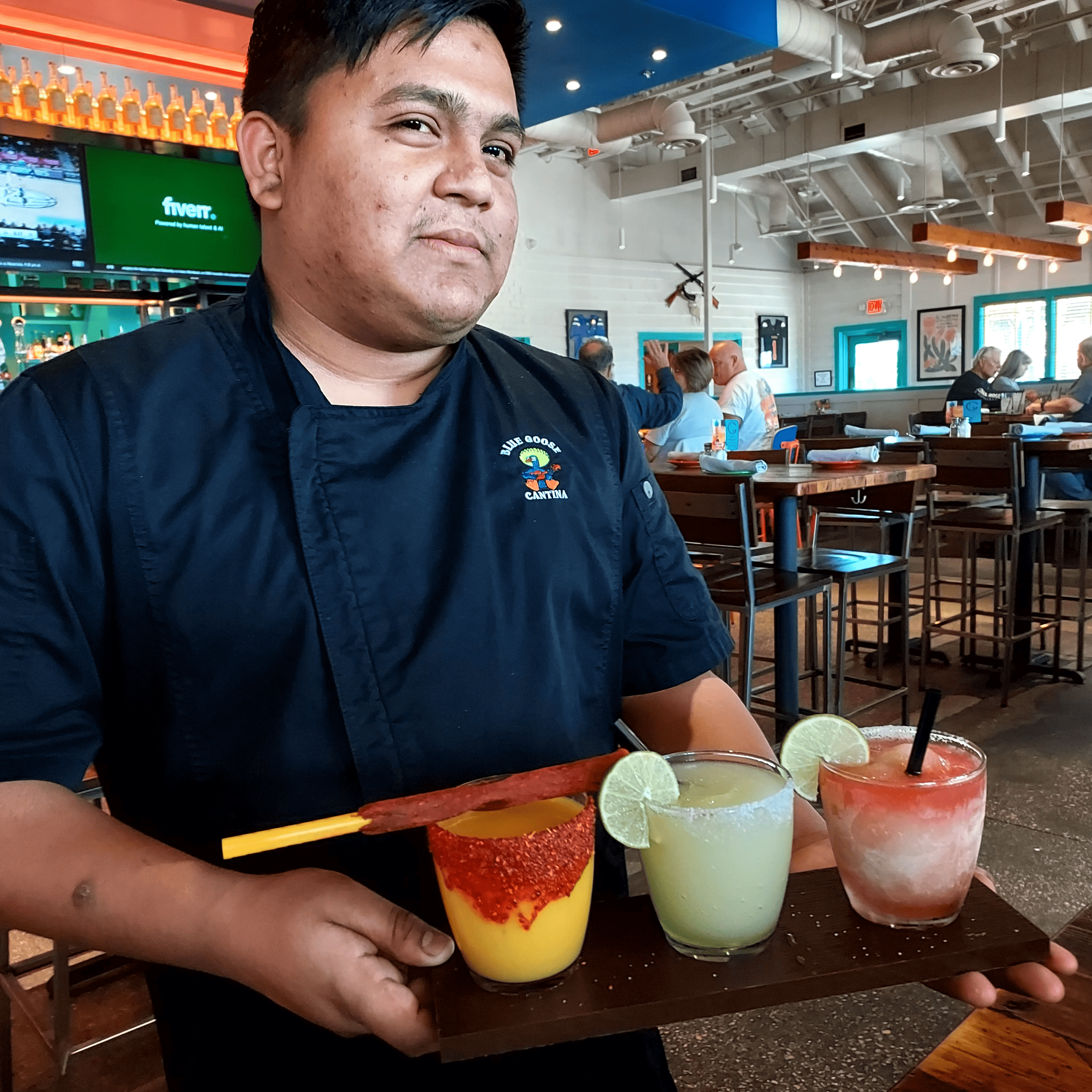 General Manager Zeke Hernandez at the Grand Prairie Blue Goose Cantina said the Diablo is one of their top selling margaritas, second only to the award-winning Hibiscus Margarita from the Rocks Margaritas Flight. The Hibiscus Margarita features Lunazul Blanco tequila, lime juice and hibiscus cordial over ice, and was voted Best Margarita during the 2022 Fort Worth Margarita Festival. Rounding out the Rocks Margaritas Flight are The Rock (their classic margarita) and a Mango Margarita (Lunazul Blanco tequila, mango puree, fresh lime juice, agave nectar, and Jalisco orange).
Blue Goose Cantina
Blue Goose Cantina has offered their made-from-scratch Mexican food, great cocktails, and top-notch service to North Texans since 1984. A division of Peterson Management Group, it's a family-owned and operated restaurant management company. For more information, including menus, news, and promotions, please visit BlueGooseCantina.com.
The Blue Goose Cantina in Grand Prairie opened several months ago, and is our go-to place for a relaxing lunch with terrific food and service. Located at 2536 West I-20 frontage road in Grand Prairie, hours are Mon.-Fri. 11 a.m. to 10:30 p.m., and Sat.-Sun. from 10 a.m. to 10:30 p.m. Happy hour is the perfect time to try one of their new Margarita Flights, from 2:30 to 6:30 p.m. Mon.-Fri. For information or reservations, please call 469-909-2583.