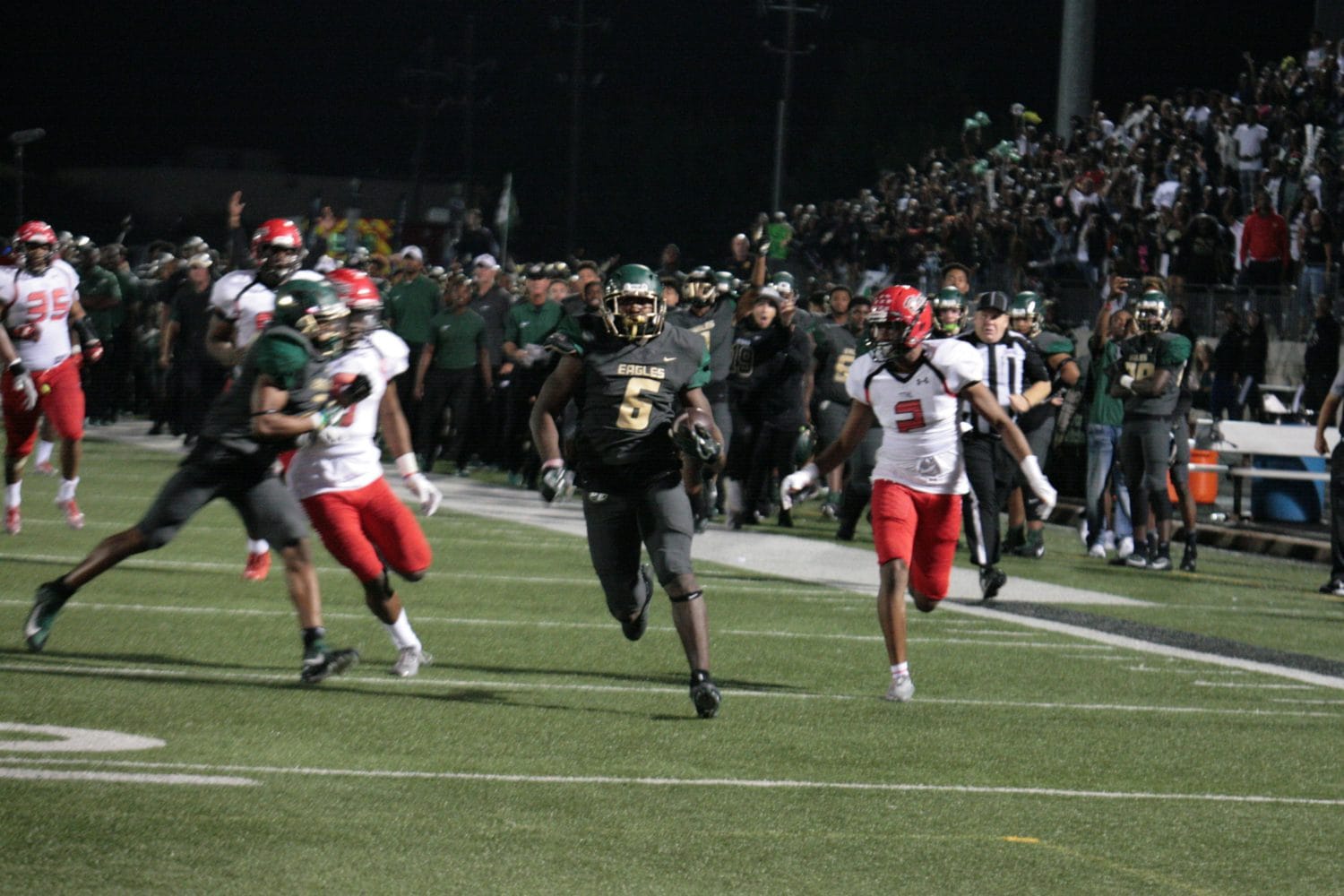 Bob Alpert Suburban Bowl Tonight At Eagle Stadium, 7 p.m.
DESOTO—Friday night lights always shine bright in DeSoto, but one team is going home a bit dimmer. Both Duncanville and DeSoto have undefeated records leading up to the 2017 Bob Alpert Suburban Bowl so that means the sparks are definitely going to fly.
While I respect my fellow sports commentator I am more than secure in my expectation for DeSoto to walk away with the win. And there is one reason for that.
Defense.
For the last 10 years or so, DeSoto has struck the most fear into opponents with its offense. The Eagles have had a deep collection of defensive stars, but the offense has been the headliner.
I'm not predicting a blowout. In years past maybe. The first half of last year's faceoff was tight, before a season ending injury that took out Duncanville's starting quarterback.
In 2015 during Samples first year it was even tighter. The game was a defensive battle with DeSoto holding a 7-0 lead until the start of the fourth quarter. A field goal extended the lead 10-0. That match up ended DeSoto 16, Duncanville 14.
Coach Todd Peterman says he feels good about the team's chances. And with a state championship under their belt the pressure is off and now all they have to do is play DeSoto Eagle brand football.
"We feel good right now we are relatively healthy. Our defense is looking pretty stout and the offense is coming along."
It wasn't until deep into post regular season play that folks outside of the Best Southwest realized that the Green and Gold defense was more than stout. It's nary impregnable.
Remember the fourth quarter of the 2016 Championship game against Cibolo Steele it was efforts of Tyler Jackson, Gemon Green, Isaiah Stewart and Kolby Watts accounted for the stops that cemented DeSoto's championship.
To put a finer point on it I'll use the words of Duncanville Head Coach Reginald Samples himself. "Offense wins games, but defense wins championships!"
Creation Of The Bob Alpert Suburban Bowl
The DeSoto versus Duncanville rivalry goes back over thirty years with both teams producing multiple NFL players. Bob Alpert coached Duncanville's first Football State Championship in 1998. A few short years later in 2001 he retired. Following a bout with leukemia, Bob Alpert passed away January 8, 2004.
Entertainer and businessman Troy Peoples started the memorial game in 2005 and named it in honor of the great Bob Alpert.
Since 2004, DeSoto has won eight of the ten Suburban Bowls. During lapses after 2009, the University Interscholastic League district realignment took place. This sent DeSoto to the East Texas district with Longview and Tyler schools.
Focus Daily News Presents 2017 Suburban Bowl Trophy
In 2012, DeSoto came back in the district and the Suburban Bowl was born. In the past, the memorial trophy would travel from school along with a year's worth of bragging rights for the victor. After the 2008 game, the trophy vanished and was never recovered.
Now to solve this matter, there is a new trophy that goes to the winner each year. The winning team will forever keep their award in the winner's trophy showcase. This trophy is sponsored by Focus Daily News, the official newspaper of record for the cities of DeSoto and Duncanville.
In 2014 Focus Daily News sports writers began the tradition of honoring the game's MVP with individual medals to be awarded for posterity.