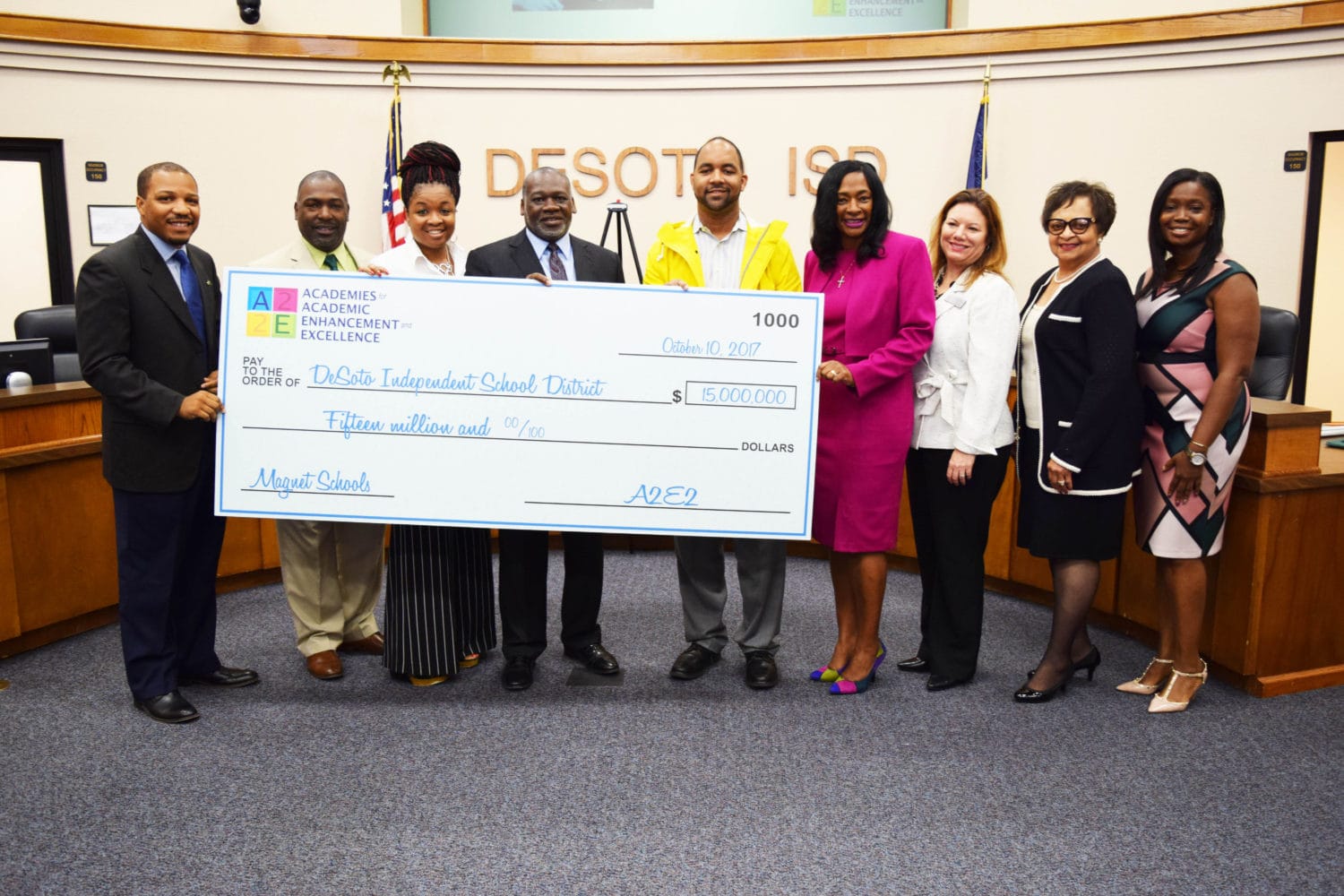 DESOTO—Officials from DeSoto Independent School District recently announced the receipt of a $15 Million grant. The endowment from the United States Department of Education Magnet Schools Assistance Program was specifically designed to support magnets and special programs in the district. Moreover, the grant serves as a tool to assist in the diversification of the district's student population.
"DeSoto ISD is thrilled to have been awarded this grant," said Superintendent Dr. David Harris. "This funding will support the growth, enrichment and development of a range of college- and career-focused magnet programs aimed at providing more robust and well-rounded programs to provide higher-quality educational experiences for all of our students."
Primarily, the goal of the Academies for Academic Enhancement and Excellence, or A2E2 grant, is equality, excellence and effectiveness for all students. The project will support the professional development, instructional and support activities for the DeSoto ISD Magnet A2E2 initiative.
"DeSoto ISD dedicated lots of time and energy to obtaining this grant with the goal of ensuring that the district continues to forge ahead in creating an environment that reflects the world around us," said DeSoto ISD Executive Director of Magnets and Innovative Programs Debbye Garner. "As a district, we are diligent in addressing areas in which we can grow and improve and this grant is a huge step in moving our work from concept to fruition."
The program includes a number of higher education partnerships with Texas Instruments, University of North Texas and a number of other entities.
The A2E2 grant will also support diversification of the district student population. DeSoto ISD is a majority minority district. DeSoto ISD's student population is 77 percent African American, 17 percent Latino and 3.4 percent Anglo. The grant seeks to encourage greater diversity among district students with the goal of enriching student learning experiences and cultural interaction, awareness and engagement.
Embracing Continued Diversity
The funding came under the auspices of the United States Department of Education Magnet Schools Assistance Program. These grants assist in the desegregation of public schools by supporting the elimination, reduction and prevention of minority group isolation in elementary and secondary schools with substantial numbers of minority group students.
"DeSoto ISD is an inclusive district that embraces the idea of diversity and wants to ensure that we are creating an educational environment that embraces and nurtures students and families of every color and creed. In DeSoto ISD, we pride ourselves on our ability to provide opportunities and platforms for students to achieve and succeed regardless of race, class, color or religion," said Dr. Harris. "Here, diversity makes us stronger, and we are proud to have been issued a grant that will support that and the development of our programs."
In order to meet the statutory purposes of the program, projects must also support the development and implementation of magnet schools that assist in the achievement of systemic reforms and provide all students with the opportunity to meet challenging academic content and achievement standards.
Innovative Programming
These projects will support the development and design of innovative education methods and practices that promote diversity and increase choices in public education programs. The program supports capacity development–the ability of a school to help all of its students meet more challenging standards–through professional development and other enrichment opportunities that enable the continued operation of the magnet schools at a high level of performance after the funding ends.
"DeSoto ISD understands that, to truly prepare students for life after graduation while providing real-world applicable experiences, we must increase and embrace diversity from a range of aspects," explains Dr. Harris. "We are committed to the basis upon which the grant was written and will work with district and community leaders and representatives to ensure that we have a plan and framework in place to grow in this area."
The program supports the implementation of courses of instruction in magnet schools that strengthen students' knowledge of core academic subjects and their grasp of marketable vocational skills.
In partnership with Project Lead the Way, the College Board, Texas Instruments, Vernier Technologies, the University of North Texas, SureScore, Agile Minds and the EGT Institute, the district will receive roughly $2.5 million per year over the course of five years towards magnet programs serving students in grades K through 12 at seven DeSoto ISD campuses which include The Meadows iSTEAM Magnet Academy Elementary, Frank D. Moates Blended Learning Magnet Academy Elementary, Woodridge Fine Arts Magnet Academy Elementary, Ruby Young Medical and Environmental Sciences Magnet Academy Elementary, DeSoto East Medical Magnet Academy Middle School, Curtistene S. McCowan Fine Arts Magnet Academy Middle School and DeSoto High School.