Last May, we packed our bags and boarded a plane to Rome, excited to explore Italy and Greece with a cruise on the NCL Escape followed by several days sightseeing in Rome. This was my first time in Italy, and I had big plans to experience the city, Italian food, landmarks, and more. Of course, things didn't go exactly as planned, and while we had a phenomenal trip, my exploration ended due to an unexpected positive Covid test.
Fortunately, we were able to return to Europe this summer for a 12-night cruise and spend an extra few days in Rome. We had an absolute blast. I wanted to share a little about our experience and some things we learned.
Expect & Prepare For Crowds
Everyone is traveling right now, EVERYONE! Small crowds, big crowds, insane crowds on ferries, trains, landmarks, etc., expect crowds and prepare for them. Last summer, we purchased a Pacsafe anti-theft sling pack to secure our wallets, phones, and miscellaneous items while walking around ports. We loved the versatility of wearing the pack on our front or back, and the locking zippers gave us peace of mind for extra security. Plus, it wasn't too big or small, and we could wear it to the Vatican, Pantheon, etc., without issues.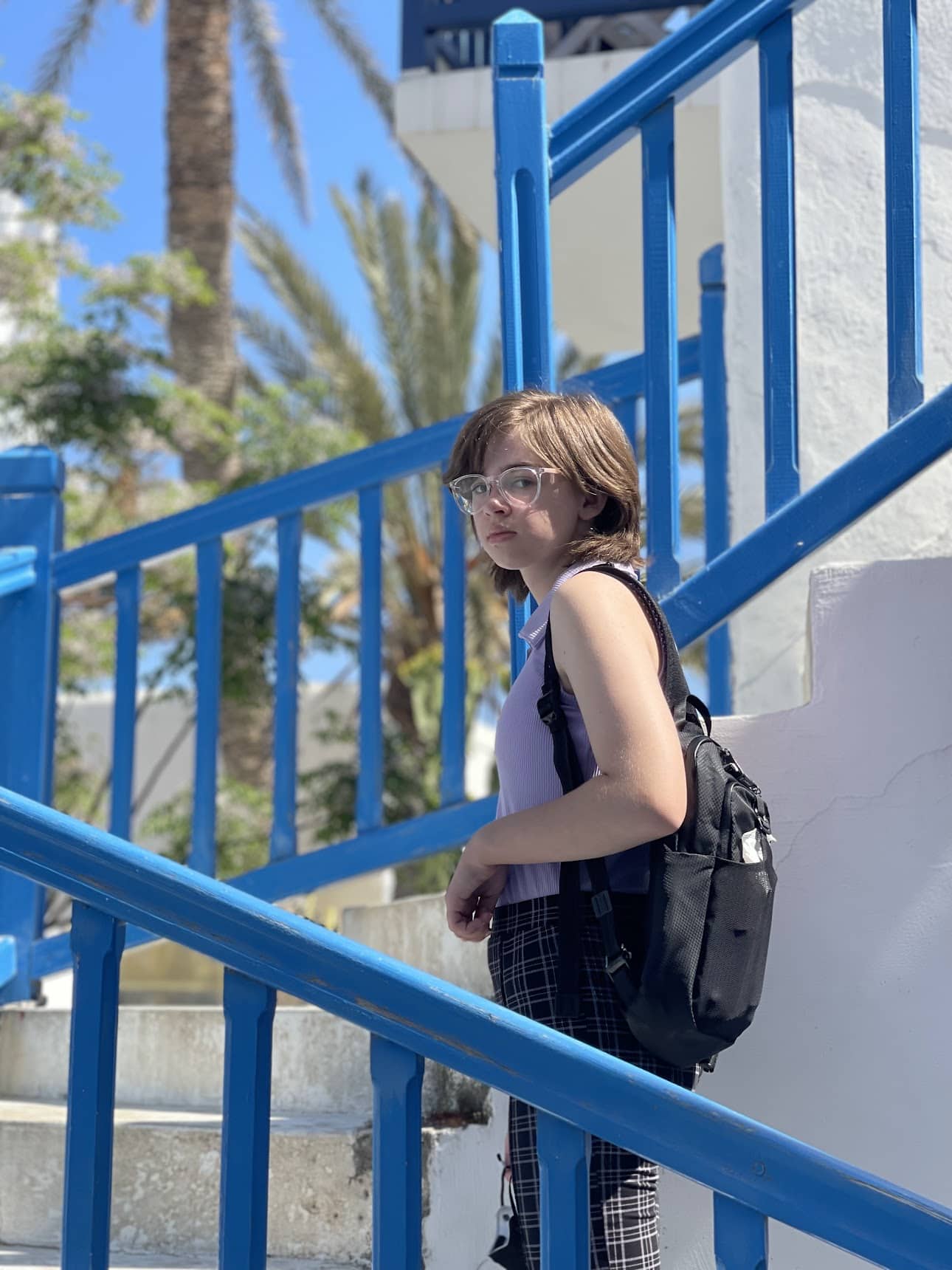 Nothing ruins a vacation like being pickpocketed, so we also wore Pick-Pocket Proof® Adventure Travel Pants from Clothing Arts as an extra precaution Pick-Pocket Proof® Adventure Travel Pants from Clothing Arts. These pants are perfect for travel with lightweight, wrinkle-resistant, moisture-wicking fabric. With eleven total multi-secure pockets: 5 triple secure & 6 double secure, there's plenty of space for your phone, id, cash, and more. My husband and I have a pair of these pants and love how comfortable they are.
While docked in Villefrance we took an extremely crowded train to Monaco. We were packed in with barely an inch separating us, so it would have been easy for us to have been pickpocketed without realizing it. But with everything secured in our pick-pocket proof pants and PacSafe bag, we were able to focus on navigating the crowded train without additional stress.
On our most recent trip, I washed them in the sink with some SOAK detergent and draped them over the shower door, SOAK detergent draped them over the shower door, and there were no wrinkles to worry about.
It Will Be HOT, Cold & Maybe Rainy
Weather is about as predictable as a toddler. Our trips to Italy were about the same week in May, just twelve months apart. In May of 2022, the heat was intense, to the point where both kids suffered from heat illness while touring Herculaneum and sightseeing in Rome. On the flip side, this May, the weather was almost perfect for sightseeing in Spain, France, and Italy, even with some rain showers in Naples and Rome.
So, bring a lightweight rain jacket, a small umbrella, and performance fabric clothing to help with the heat. We usually wore Under Armor, Columbia, or performance shirts from Vineyard Vines. For pants I wore lightweight hiking pants from REI which were great for all weather conditions.
During our most recent visit, we experienced the warmest day in Marseilles, France. We walked several miles from the shuttle stop to Le Panier, then to a Starbucks near the Le Vieux Port. As the sun shined down on us, we began to feel overheated. Fortunately, we had the COOLIFY 2S wearable air conditioner with us, which could lower our body temps. This was a game changer for us, as my teenage daughter overheats within minutes of walking in temps over 70 Fahrenheit. Its 360 cooling effect with the fan was enough to cool me off without overwhelming me. It was so comfortable to wear I even forgot it was on while going back through port security. And I love that I can control the settings via the app. The carrying cases is another bonus-we just clip it on to our pack when not in use.
Also, make sure to stay hydrated. I purchased a refillable water bottle at the London airport and kept it with me while my son carried his BruMate rehydration bottle. At first, we were skeptical about drinking water from the water fountains in Rome, but it was some of the coldest, freshest water we drank.
It's All About The Footwear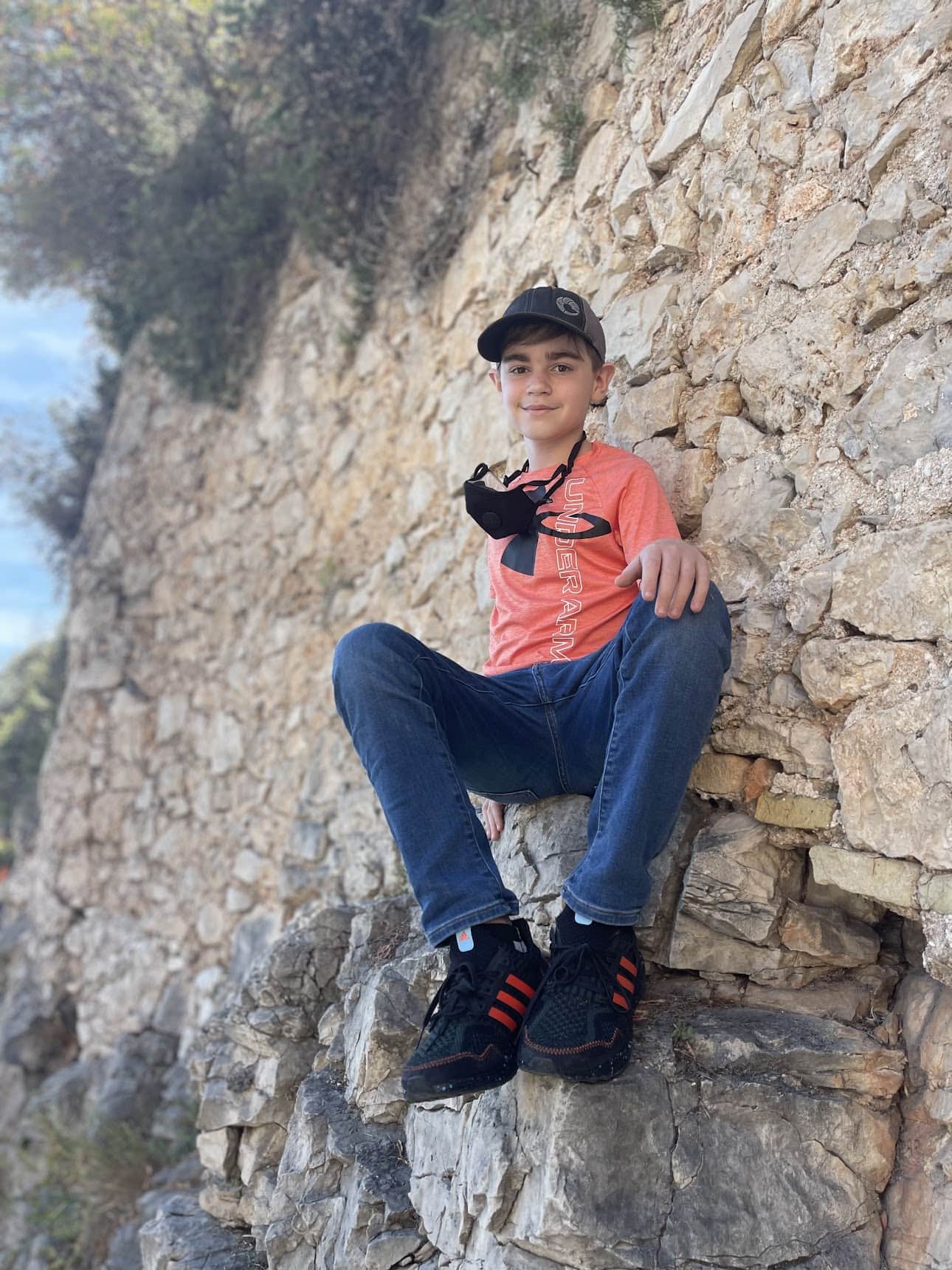 I promise not to scream this but read it as if I am yelling at you, okay? Pack your shoes for comfort rather than for fashion. You will walk a lot, one day, I clocked 13 miles uphill, taking stairs, on cobblestone streets, and they were a challenging 13 miles. We all packed two pairs of sneakers, and we alternated our shoes. My most comfortable sneakers are Adidas Ultraboost; even after averaging over five miles daily, I had no discomfort or blisters.
Remember to consider the role your socks play too. My daughter wore her Bombas socks, and I wore my Feetures with zone-specific compression for superior comfort and support.
Packing Tips
Fact: we are notorious for overpacking, I am not disputing this fact. For this trip we were gone for approximately three weeks and took four checked bags, three backpacks, a briefcase and two carry-on bags. This is where I remind you to allow room to bring back souvenirs, which in our case was pasta, olive oil, balsamic vinegar and cheese. Yes, I brought an entire carry-on bag of pasta home with me, no regrets.
In reality we could have taken less bags and still been okay, but I like to be prepared. To save space we used compression packing cubes from Suited Nomad, but there's still the 50lb per bag weight limit to remember. We've tried several different brands of packing cubes and Suited Nomad are my favorite. They are made well, are durable and are backed by their Lifetime Performance Warranty.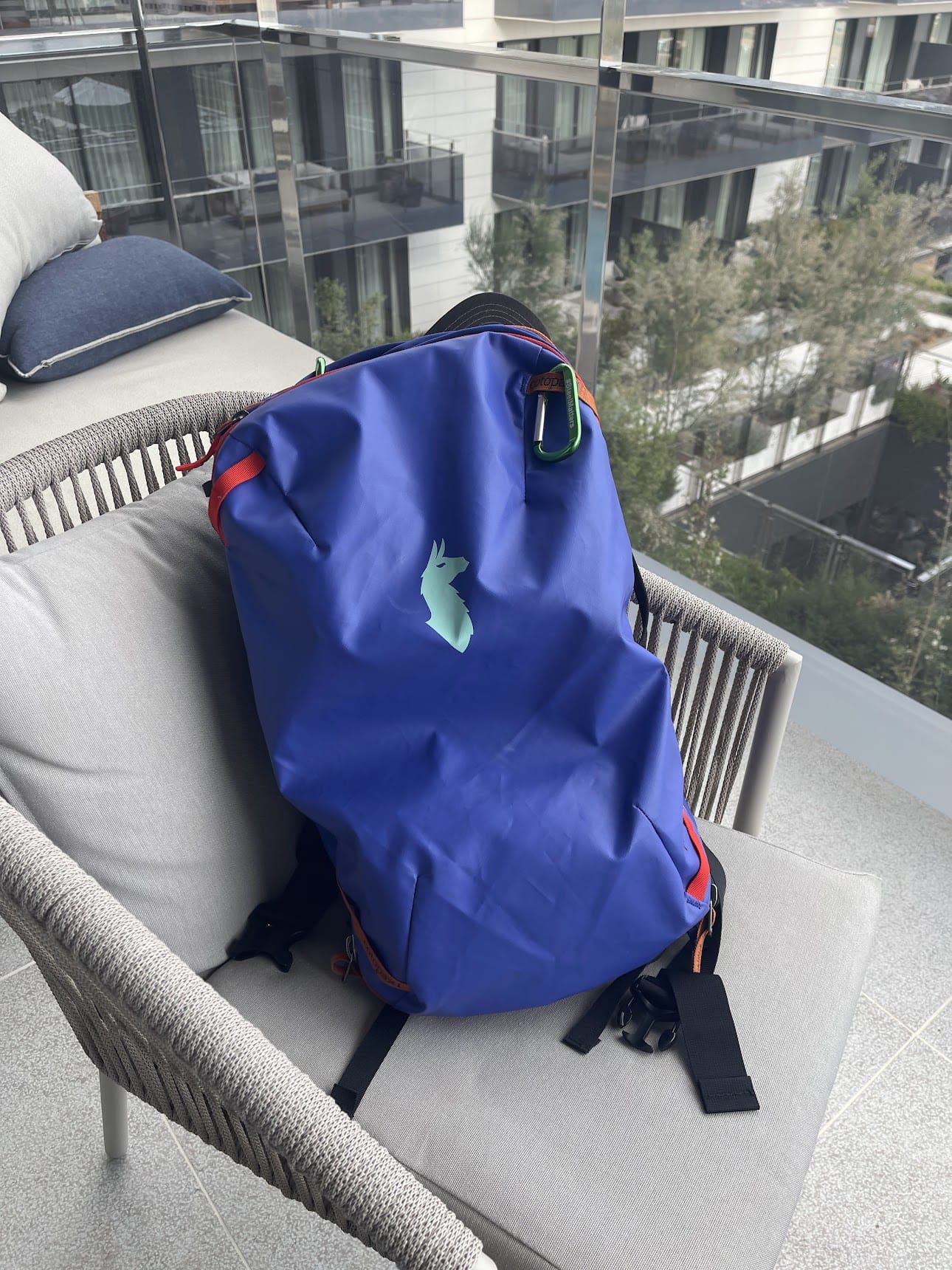 One of the questions people ask  what brand of luggage do you recommend/use? And, well its complicated because I feel like I am still searching for what works best for our individual needs. We use a few different brands at the moment including Away, Samsonite and Briggs & Riley. For carry-on bags we use Cotopaxi, Thule and North Face. Basically, I am still searching for a brand that fits all of our needs and holds up the abuse of travel.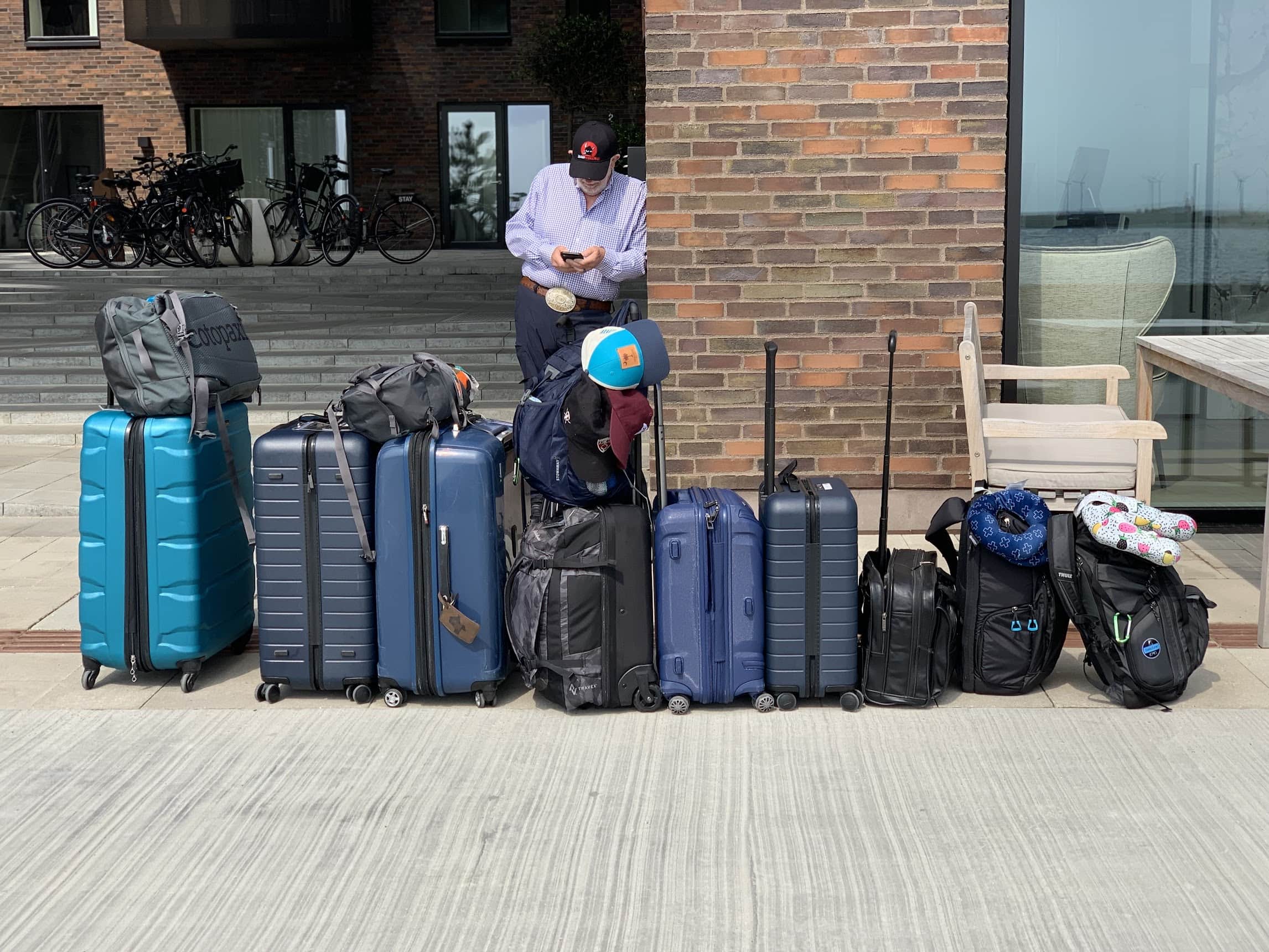 For carry-on I love the Cotopaxi Allpa 35L travel bag. On our most recent trip my son used it to carry a packing cube with clothes for 3-5 days, plus his snacks, kindle, headphones and water bottle. It fit under the seat on the airplane, which was great when he spilled lemonade all over his pants on our 10 hour flight. I just unzipped the bag, pulled out a clean pair of pants and tucked the damp ones in a ziploc bag then back into the bag. At 12 years old he's kind of small, but the bag was easy for him to manage even when fully loaded.
I use a Thule bag because I carry my laptop and DSLR with an extra lens, plus an external phone charger, first aid kit, headphones, etc. For clothes I use the Away bigger carry-on bag, great for keeping essentials with me and not worrying about those dreaded lost bags. Speaking of which, thanks to weather in DFW we missed our connection in Newark and were re-routed through Heathrow. As we boarded the plane in London I was notified via my AirTags two of our suitcases were in a different terminal than our plane. And as our luck runs, they did not make it to Barcelona with us.
Fortunately, I knew where they were and with the location on the app, British Airways was able to get out bags delivered two days after we landed. This is where I share another travel tip: when taking carry-on and checked bags I always pack essentials for 2-3 days in each persons carry-on. Then, I mix and match clothes in all of the checked bags, so if my daughter's bag is lost she still has some clothes in my suitcases, etc.
I'm also searching for the perfect toiletry bag for my husband. We bought him a nice leather one several years ago, but it takes up too much space and is just clunky. So, if you have a recommendation, let us know.
Other Tips & Tricks
Planning to take a long trip or travel overseas, here are some items we recommend you pack with you.
External phone charger-we used our phones a lot to take photos, book rides, and navigate the city and our batteries drained faster than a keg at a college party. My favorite external charger is the myCharge portable charger. It weighs 7 ounces, includes cables and fits well in my pocket.
Universal Travel Adapter-
EPICKA Universal Travel Adapter One International Wall Charger AC Plug Adaptor with 5.6A Smart Power and 3.0A USB Type-C this is also great for use on cruise ships where there are limited outlets. We recommend one per person so everyone has enough outlets for all of their devices: phone/laptop/kindle/headphones, etc.
Peak Design Tech Pouch– At first I thought a tech pouch was just another bag to keep up with, but now I am obsessed with how easy it is to manage my cords/chargers, etc. I put my charging cables, my GoPro charger, extra batteries, SD cards, etc. in it and then just put the pouch in my carry on bag. No more mess of tangled cords falling out of my bag.
Smart Traveler Enrollment Program (STEP)
If you are a U.S. citizen, we highly recommend you register your trip with the U.S. Department of State's Smart Traveler Enrollment Program (STEP) so they can better assist you in an emergency, i.e. you lose your passport. We received a notification about protests in Barcelona and were able to avoid areas where demonstrators might disrupt business/traffic.
This article contains affiliate links. Purchases made through these links may earn us a small commission.