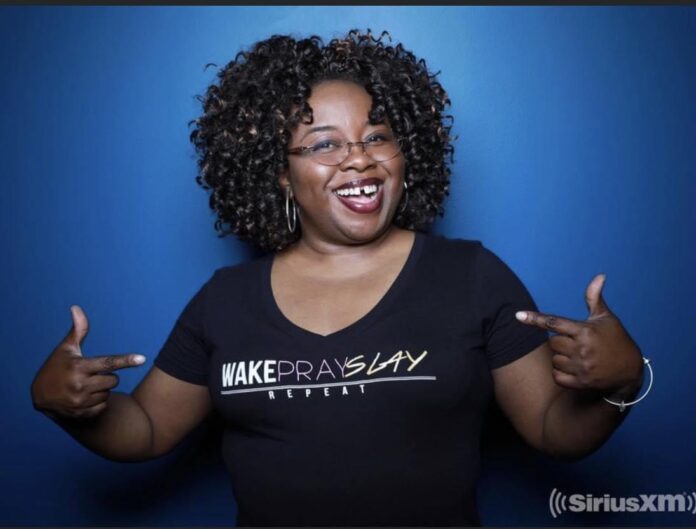 (CEDAR HILL, TEXAS) Miko Mathews, or as she's known to her radio listeners, Gina Rodgers, starts her day earlier than most people.
The weekday morning show host of Kirk Franklin's Praise on Sirius XM Channel 64, Mathews records the spoken segments of the six-hour program each night. Then, she wakes up at 5:15 a.m. the following day to refine it.
Within two hours, she's in her classroom on the second floor of Cedar Hill High School.
Mathews began teaching Journalism at "The Flagship" last month as a way of giving back, as she continues in her three-decade long broadcast journalism career.
"Coming from East Texas, I never knew anybody who looked like me or sounded like me on the air," Mathews said. "That is why I am grateful to be in the journalism space."
Mathews was born in Los Angeles but raised in tiny Kellyville, between Jefferson and Texarkana. Kellyville is so small that several Texas travel websites label it as a "ghost town."
It didn't have its own high school, so Mathews and her siblings would have to travel 11 miles roundtrip to Jefferson, a Class 3A high school.
She attended Panola College in Carthage before heading to the University of North Texas where earned a Bachelor's Degree in Music in 1995.
Her talent, and ability to network and make connections led to an internship with Tom Joyner. At each position, she continued to succeed and later worked for ABC Radio, Radio Disney and The Touch. She was an entertainment reporter for the latter.
"I wrote entertainment news for 14 years," said Mathews, who eventually rose to  an Executive Producer position.
The radio industry eventually brought Mathews to New York City.
It was in New York that Mathews was hosting two different radio programs. She couldn't have the same name on two stations in the same market.
"I came up with Gina, because I knew a lot of women named Gina, and Rodgers because Mr. (Fred) Rogers had just passed away," Mathews said.
She went on to write scripts for the John Tesh Show. The popular Jazz musician used to have a talk show.
The class primarily focuses on photojournalism and yearbook, but Mathews hopes to add an element of podcasting in the future.
"I am still in the radio industry, and that is the unique perspective that I bring to the space of education," Mathews said.