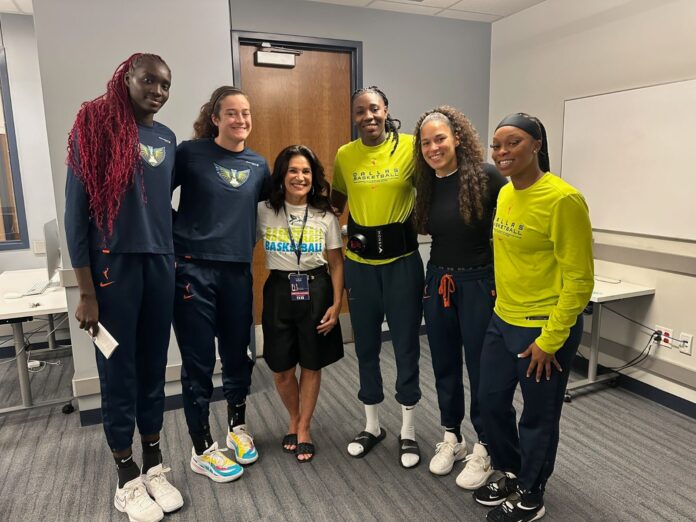 Combining Her Love For Basketball and Love For the Lord
Pastor Becky Hennesy of Trinity Church in Cedar Hill loves two things very much: the Lord and basketball.
And she has found a way to combine the two as team chaplain for the Dallas Wings of the WNBA.
"I offered to start a Bible study 14 years ago at Cedar Hill High School when Andrea Robinson became the coach. Myself and a team of different people over the years kept the Bible study going," Hennesy said. "When the Tulsa Shock moved to Dallas, they were looking for someone to be a chaplain. They called the Fellowship of Christian Athletes to ask if they knew anyone in the Dallas area, and mine was one of the names that came up."
She is now in her seventh season with the team. Her duties include praying with the team and creating relationships with the front office.
"Every WNBA Team has a chapel at their home games an hour before the games. We have a 10-minute chapel every home game," she said. "We do a devotional and stay in contact with the players if they want us to. High school, you have a lot more time and impact."
She also counsels players if they reach out to her, she said.
"I had coffee with one this week, and we talked about some life things," Hennesy said.
Though she is no longer a chaplain for high school teams, she is good friends with Robinson, who is now at DeSoto, and Cedar Hill coach Nicole Collins.
"I show up for the games and minister to the coaches through texting, lunches, and relationships," she said.
Ministry Runs In The Family
Hennessy is a co-pastor at Trinity with her husband Jim. They have been with the church for 29 years.
She realized she wanted to be a pastor at age 17. She is originally from Cleveland, Ohio. She met Jim at Central Bible College in Springfield, Missouri.
"I went to Bible School and thought I'd become a missionary. I met Jim, and he really wanted to become a pastor," she said.
Her father-in-law and both of her brothers are also in ministry.
"Kind of a family thing," she said with a smile.
And she was never an athlete until she reached her 50th birthday. Now, at age 65, she competes in marathons and triathlons.
"I'm a late bloomer," she said.
And yes, she is a big Dallas Wings fan.
"We don't miss a game, also, for the Cedar Hill and DeSoto Girls Basketball Teams. We cheer them on, too," she said.
But who does she cheer for when they play each other?
"That's hard. What I do is sit behind Cedar Hill for the first half and DeSoto for the second half," she said. "I support both teams, and the coaches know I'm there for both teams."