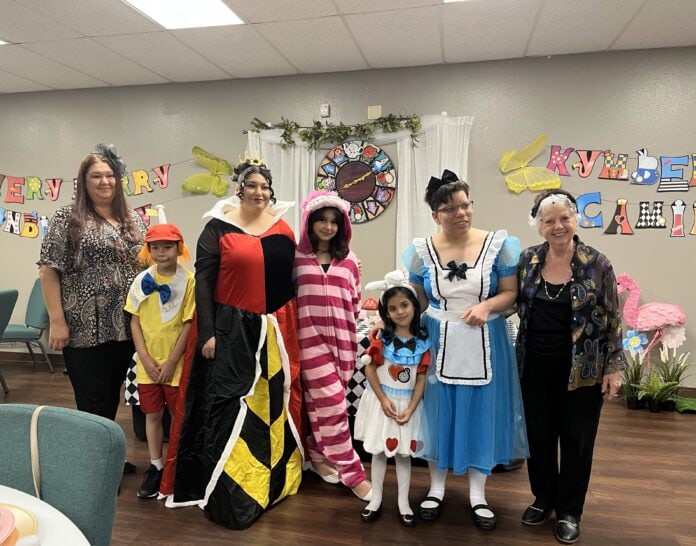 Joy Brumbach of DeSoto took her granddaughter Kymberlee somewhere special recently for her birthday.
Wonderland.
Kymberlee, 22, is mildly autistic with developmental delays. She loves all things Disney, including "Alice in Wonderland."
"The idea for the party came from Kymberlee. She had been watching the movie and thought it would be a great theme party," Joy explained. "I have been decorating cakes for many years, so she knows she can get almost any design she asks for.
"We had an opportunity to purchase almost all the Alice in Wonderland 70th anniversary characters at the Disney store last summer and began to build our idea for a party on that."
So Kymberlee began inviting people to her party. While space in the house was limited, that didn't matter to an excited Kymberlee.
"I had to remind her many times that we did not have room to invite everyone she met," Joy said with a laugh.
Joy started working on folders of ideas after Christmas, searching for ideas from party websites and Pinterest. She ordered an Alice costume – which Kymberlee wore, of course.
"It was so much fun to see her reaction to all the aspects of the decorations being created, the invitations being printed, the cake and cookies being baked and decorated, all the food being prepared," Joy said. "One of the most fun aspects of the party was passing out the invitations, which were accompanied by cookies decorated like teacups and a little tag that said 'Eat Me.'"
A Joint Celebration
In fact, Kymberlee's party was held in the fellowship hall of their church – and it ended up being a joint celebration. While Kymberlee was inviting everyone at church to her Alice party, Joy learned that another child was also wanting an Alice party, so she invited the mother, Christine Lugo, to co-host. Camilla Lugo was turning 6.
"Their family was as excited as we were, and we had such a good time making all the plans. Christine has decorated for many parties for her family and friends, so her expertise was very valuable," Joy said.
Joy herself has created many theme parties. She said some of the more fun ones have been a cowgirl party and a Dr. Seuss party – and, of course, the Alice party.
"I made beautiful cakes and gave theme parties for my son and daughter as they grew up. My two grandsons have had a lot of fun cakes," she said. "My husband and I pastored churches for many years, so I had opportunities to have many elaborate parties for the church children as well as supervising many weddings and receptions."
Joy and her late husband adopted Kymberlee when she was a year old.
'A very merry unbirthday'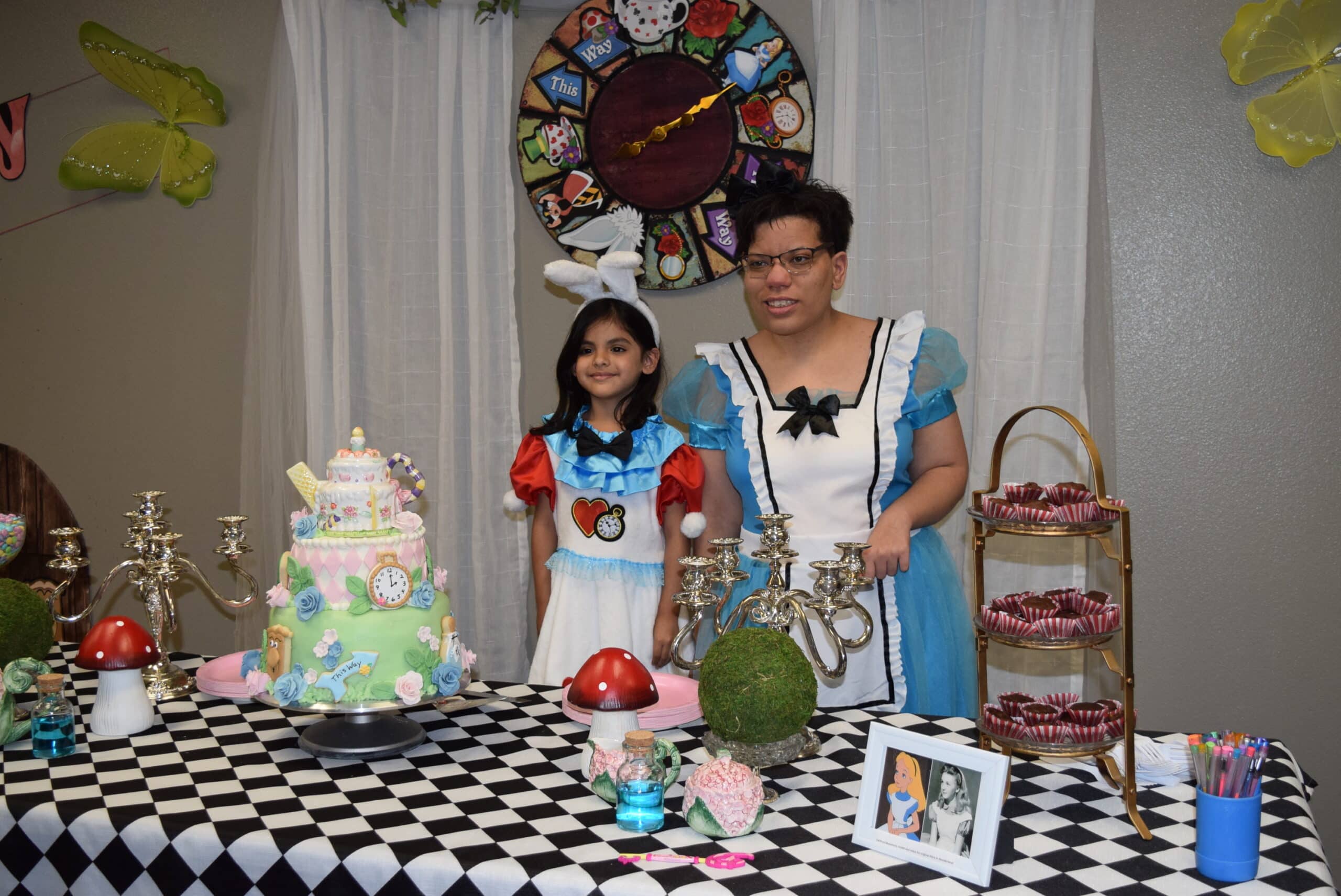 Joy and Christine attempted to create as many scenarios as they could from the movie "Alice in Wonderland." This included the door with the talking handle, the caterpillar with his hookah, the talking flowers, the Queen's croquet set with flamingos and hedgehogs, the card soldiers, a Cheshire Cat, and a standup Mad Hatter for picture opportunities for the guests.
"I made a huge clock with the Alice symbols and table decorations to resemble the red rose trees in the Queen's courtyard," Joy said. "We had the direction signs that confused Alice in her journey. Large signs were on the wall wishing everyone 'A very merry unbirthday.'"
According to the Mad Hatter, 364 days a year are everyone's "unbirthday."
Centerpieces were made of red roses, the "Alice in Wonderland" characters, flamingos, teacups and saucers, tea containers, and a bottle with tag labeled "Drink me."
While Kymberlee dressed as Alice, other children dressed as the Queen, the White Rabbit, the Cheshire Cat and Tweedle Dee. Most of the women wore tea party dresses and hats.
"As I look back, I smile at the thought of Kymberlee and Camilla greeting guests at the door of the church in their costumes," Joy said.