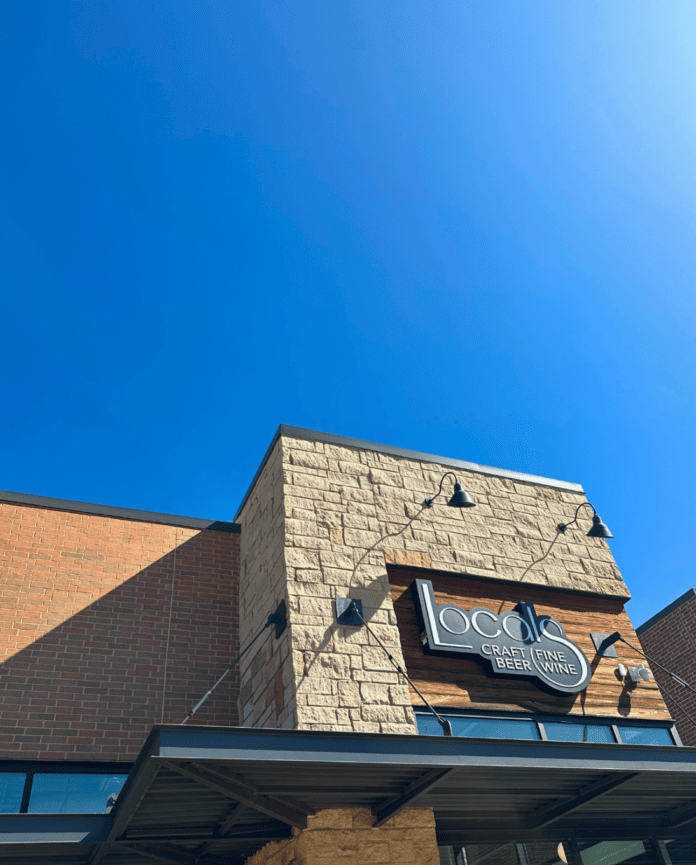 FARMERS BRANCH, TX [November 7th, 2023] — A sophisticated wine, beer and cocktail lounge and retail store, Locals, is set to open in Farmers Branch this Friday, November 10th.
On 13050 Bee St. in Ste.100 and 120, Locals will bring a new dimension of nightlife and community to Farmers Branch through an extensive drink menu, small bites and a take away menu with a plush and contemporary design and exclusive experiences.The retail store, Locals Craft Beer and Fine Wine, will be open 10 a.m. to 10 p.m. Monday to Sunday, while its neighboring cocktail lounge counterpart, Locals Lounge, will be open 4 p.m. – 12 a.m. Tuesday through Friday, 11 a.m. to 12 a.m. on Saturday, and 11 a.m. to 10 p.m. on Sunday.
"It is such an incredible opportunity to bring a place like Locals to Farmers Branch," said Traci Williams, Co-Owner of Locals. "Our mission was to create a space that serves as a haven of connection and a catalyst for friendships and shared memories, so we are eager to open our doors and invite our friends and neighbors in for a one-of-a-kind experience."
An Immersive Experience
Designed with wine, craft beer and spirit connoisseurs in mind, Locals invites patrons to indulge in the finer things in life. Locals Craft Beer & Fine Wine offers an exquisite selection of over 250 labels with 1500 total bottles of handpicked wines like Pendulum Cabernet Sauvignon, Pale Rose 21, Sena 09 and La Scolca D'antan 08 to taste at the tasting bar or take home. The store will feature local craft beer favorites like Manhattan Project's Key Lime Pie Bikini Atoll, 3 Nation's Royal Blood and Peticolas' Velvet Hammer in addition to other craft beers from hard-to-find, small-batch breweries from across the nation.  Locals Lounge, right next door, will offer original cocktails including the Remember the Alamo, the Something Pretty, and the Little Jewel on Bee, as well as traditional and seasonal charcuterie boards and light bites.
Guests can expect to embark on a journey of flavors that will tantalize their palates and expand their horizons. Whether one is a seasoned palette-explorer or a curious novice, Locals aims to cater to every taste and preference.
Aesthetic Excellence
The interior of Locals provides a blend of modern luxury and welcoming charm. Created with meticulous attention to detail, the ambiance exudes warmth and relaxation, making the lounge an ideal spot for intimate gatherings, social outings, or simply unwinding after a long day. With cozy seating arrangements and ambient lighting, Locals strikes the perfect balance between comfort and elegance. In addition, the Locals concept is divided into two spaces. While the lounge is designed for a more traditional cocktail bar experience, the retail market is dedicated specifically for group events, exclusive tastings and unique date nights with grab-and-go bites, 250 different wines, renowned and unique craft beers, floor-to-ceiling windows and a large U-shaped bar with ample seating.
An Essential 'Third Place'
Locals aims to fulfill a unmet need in Farmers Branch and serve as a vital 'third place' and communal sanctuary where individuals can unwind, celebrate, and create enduring memories in a more relaxed setting.The lounge's laid-back yet refined ambiance provides a respite from the hustle of daily life, encouraging friends and neighbors to come together in an atmosphere that fosters camaraderie and a sense of belonging.
Emphasizing Local
True to its name, Locals places a strong emphasis on sourcing local. The lounge will proudly showcase a diverse array of wines from regional vineyards and a rich selection of craft beers from local breweries. By championing these local gems, Locals not only offers patrons an opportunity to savor the authentic flavors of the area but also contributes to the sustainability and growth of local businesses in Farmers Branch and the greater North Texas region.
About Locals
Locals is a craft beer and fine wine store and lounge located in Farmers Branch, TX. At Locals, we believe that a vibrant community relies on the relationships of friends and neighbors. We celebrate that ideal by offering small production vineyards, wine makers with integrity, locally sourced flavors, naturally-driven and organically-farmed labels that create a thoughtful and dynamic approach to our wine, beer, spirits and charcuterie curation. Our selection is a curated mix of allocated items, limited releases, and our favorite little finds that round out our rotation. Locals embodies not only local flavors, but also global flavors as we celebrate everyone in our neighborhood with every libation. Website / Instagram / Facebook / Images