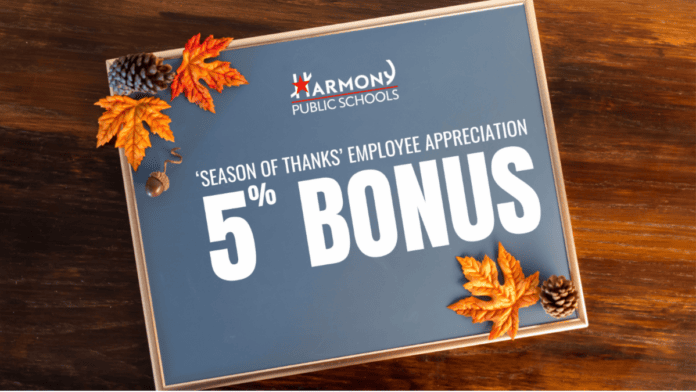 [TEXAS] – To kick off the unofficial "Season of Thanks," Harmony Public Schools began November with a special surprise for its roughly 5,000 staff members across Texas. On Wednesday, the Texas-born, Texas-wide public charter school system announced a 5 percent "Season of Thanks" Appreciation Bonus to be paid to all full-time staff the week before Thanksgiving.
That means all Harmony teachers will receive a minimum of $2,700, with many receiving more based on their step levels.
A $300 flat amount will be paid to all eligible temp workers, including interns, tutors and crossing guards. To be eligible, employees must have received a paycheck at the end of October and remain actively employed as of Nov 10. Substitutes are not eligible for this bonus. Total estimated amount of bonuses to be issued: $13.5 million.
The bonus was approved by the Harmony Public Schools Board of Directors and totals a roughly $13.5 million investment.
"I commend our Board and administrators for being outstanding stewards of our finances and allowing us to show our gratitude to our dedicated staff in this special way," Harmony Chief Executive Officer Fatih Ay said.
Harmony Public Schools is a free, open enrollment public charter school system with campuses serving PreK-Grade 12 students in 23 cities across the state, including Greater Houston, DFW, San Antonio, Austin, El Paso, Waco, Lubbock, Odessa, Bryan, Beaumont, and the Rio Grande Valley. Harmony also has one online-only campus: Harmony Virtual Academy. Additionally, Harmony will be debuting its first Midland, Texas campus in 2024-24: Harmony Science Academy-Midland. Harmony's curriculum places a heavy focus on STEM skills, Character Education, project-based learning, and college readiness.
Harmony Public Schools also is currently accepting applications for the 2024-25 school year for students and team members.
About Harmony Public Schools
Harmony Public Schools is a network of 60 high-performing PreK-12 college preparatory charter schools throughout Texas. Harmony blends the highest standards and expectations with a rigorous math- and science-centered curriculum and dedicated and engaged teachers and families to cultivate excellence and prepare students to succeed in college, careers and life. At Harmony Public Schools, we believe every child can succeed, and we are committed to helping them realize their full potential. To learn more about Harmony Public Schools and our 60 campuses across Texas, please visit: www.harmonytx.org, and follow us on Twitter at @HarmonyEdu and 'Like' us on Facebook: www.facebook.com/HarmonyTexas.