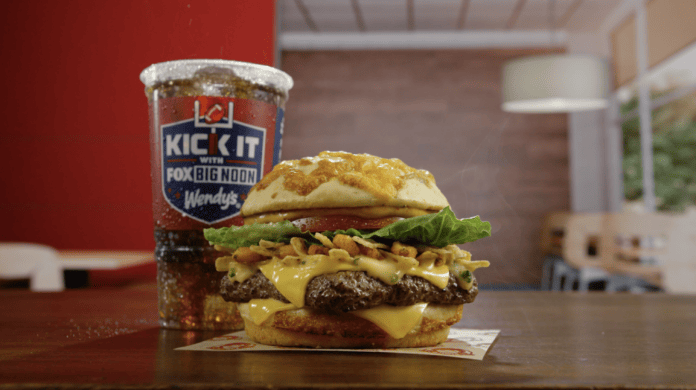 Kick It to #WinIt:
·         We're giving fans even more reasons to cheer this season! Beginning September 1, 2023, fans can score college football experiences money can't buy through Wendy's "Kick It with Fox Big Noon" Cup sweepstakes in partnership with Fox 'Big Noon Kickoff' and Coca-Cola®.*  
o    HOW: Fans can enter the sweepstakes and play the "Kick It Instant Win" game to win additional prizes and score sweet savings from Wendy's mobile offers each week by scanning the QR code on specially-marked Wendy's cups (all 11oz cups or biggier)!  
o    WHY: Prizes include on-site experiences with Fox 'Big Noon Kickoff', such as playing catch with quarterbacks like Matt Leinart and Brady Quinn, or 2024 college football season tickets (two tickets per home game) to the winner's choice of school!  
Check out more on how to play here, and sip, sip and sweepstakes away! 
MORE End Zone Worthy Deals 
F(ry)YI: Excluding the delivery deals, the below offers can be redeemed by visiting the "Offers" section in the app Rewards Store or on the website. From there, simply apply the deal to your mobile/web order or use the offer in-restaurant by adding to your digital rewards card before scanning at the counter or drive-thru. 
·         Pass the Nuggs: From September 4 through September 10, enjoy a 99¢ 4pc Chicken Nuggets with any purchase**. 
·         Football Fry-Lights: From September 11 through September 17, snag a FREE any size Hot & Crispy Fry with any purchase**. 
·         Hydration Station: Get your favorite soft drink FREE with any purchase** from September 25 through October 1. 
Touchdowns for Your Taste Buds All Month Long
·         Get $2 off** ANY Premium Combo: Choose from our new Loaded Nacho Cheeseburger, Ghost Pepper Ranch Chicken Sandwich, Asiago Ranch Chicken Club Combo and more – this offer refreshes weekly so you can mix and match to your heart's (and stomach's) desire! 
·         Enjoy $2 off** ANY Breakfast Combo:  Rise and grind with our new English Muffin Sandwiches, Croissant and Biscuit combos! This offer is refreshed weekly. 
·         Savor $3 off** any order of $15+  and get more for less. This offer is refreshed daily so you can order Wendy's for breakfast, lunch or dinner every day and save! 
Double Down with Deal-ivery Offers
:
·         Every Wednesday from September 6 – November 8: On Wendy's Wednesdays, DashPass members can enjoy FREE Queso Fries with a purchase of $20 or more at Wendy's on DoorDash.*** 
·         Every Weekend from September 8 – October 1: On College Football Weekends, DashPass members can enjoy $5 off $20**** when they purchase either Loaded Nacho Sandwich or Queso Fries at Wendy's on DoorDash. 
·         Every day from September 11 – September 17: Grubhub+ members will receive 30% off orders of $20 or more at Wendy's on Grubhub.***** Game on!