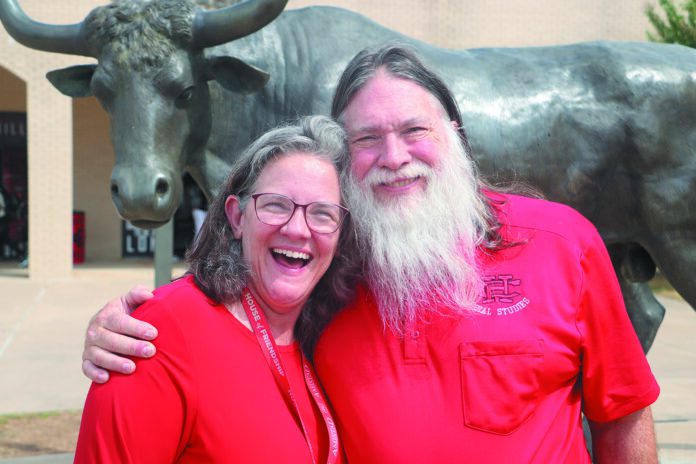 There's an old saying, if you love something let it go. If it comes back, it was meant to be yours.
In the case of Paul and Elizabeth Judd, however, they did both the letting go and coming back.
Elizabeth retired as the orchestra director at Cedar Hill High School in May of 2022 and moved with Paul to Shreveport, Louisiana. She returned in August of that same year.
Paul also retired as social studies teacher from CHHS in May of last year. He returned in August of this year.
And now, they are reunited with their daughter, Meagan Judd, who teaches science at CHHS and the Dr. Peggy M. Wilson STEM Center.
Elizabeth and Paul still own a home in Shreveport, but they reside in Dallas during the week.
"I am beyond blessed to get to teach here at Cedar Hill with two of the most important people in my life," Elizabeth said. "My grandson is at High Pointe Elementary and I feel complete having the people I love right here working alongside me.
"We have an amazing extended family with other teachers who have become great friends. When the decision was made to come back to work, there was nowhere else I wanted to be. I love Cedar Hill ISD, and I love the scholars here."
This school year there are a couple of scholars who have all three of them as teachers, Elizabeth noted.
"That is actually kind of cool," she said. "Cedar Hill has amazing people and I am glad to be back in this community doing what I love with people who are like-minded."
Meagan and Elizabeth started teaching at CHHS in 2018. Meagan taught forensic science her first few years and now teaches a series of STEM courses in the biomedical field. Elizabeth was hired to direct the orchestra program, growing it and expanding into teaching AP music theory and musical theater. Paul came for the 2021–2022 school year, teaching a variety of AP social studies courses and returned to teach financial iteracy and economics.
Elizabeth came out of retirement because a new Orchestra director could not be found, Paul said.
"She loves the program and the people involved so much, she could not stand to see the program falter," he said.
Paul retired for health reasons, and after medical intervention he was healthy enough to return. He also heard many scholars asking him to return.
"So while we do enjoy working together and have a wonderfully strong relationship as a family. It was truly and solely the scholars here at CHHS that called us back and encourage us each day to offer our best to help them succeed," Paul said.
Many years ago in a different school district Elizabeth and Paul taught for years in the same building, yet their schedules were such that they seldom saw each other. At the same time it was convenient for them. Paul said it is the same teaching with their daughter.
"If the need arises we can easily see one another, yet many scholars who have us don't make the connection until something is said about our relationship," he said. "She was the first to accept a job offer at Cedar Hill and quickly encouraged her mother to apply when she learned of the opening for an orchestra instructor. So she was in favor of working in the same place as her mother.
"We really enjoy working together. It allows us to share, commensurate with each other, support each other and celebrate together."
Elizabeth said that while she loves teaching with Meagan and is thrilled they are in the same profession and have been in the same district for five years in the same building, they seldom see each other.
"My first year I would get lost each time I had to try and find her classroom," Elizabeth said with a laugh. "It is fun when scholars realize we are related also."
When Elizabeth came out of retirement, she actually lived with Meagan most of last school year. They talked a lot of shop over the dinner table.
"She is a great sounding board and a level thinker with a scientific mind, whereas I am more emotionally driven. Her reasoning skills were always helpful when I would worry about making the best decisions," Elizabeth said.
Elizabeth chuckled when asked if she and Paul inspired Meagan. Though they obviously did, it still came as a surprise when her daughter followed in their footsteps.
"Meagan was in band with me for four years in high school. I do not believe that inspired her at all," Elizabeth said, smiling. "If anything, I think she thought I was nuts for giving up so much time to everyone else.
"I don't think I inspired her, but I know I treasure those four years I was able to be her mom and her teacher."
And now, fellow teacher, though Paul recalls a time when he did not believe it would ever happen.
"I recall distinctly hearing Meagan, as a teenager, proclaiming she would never be a teacher like her parents," Paul said. "We worked too much and didn't make enough money. Later on, as a parent, she realized the work calendar syncing with her child's school calendar was a great benefit."
Editor's note: Meagan chose not to be interviewed or photographed for this story.