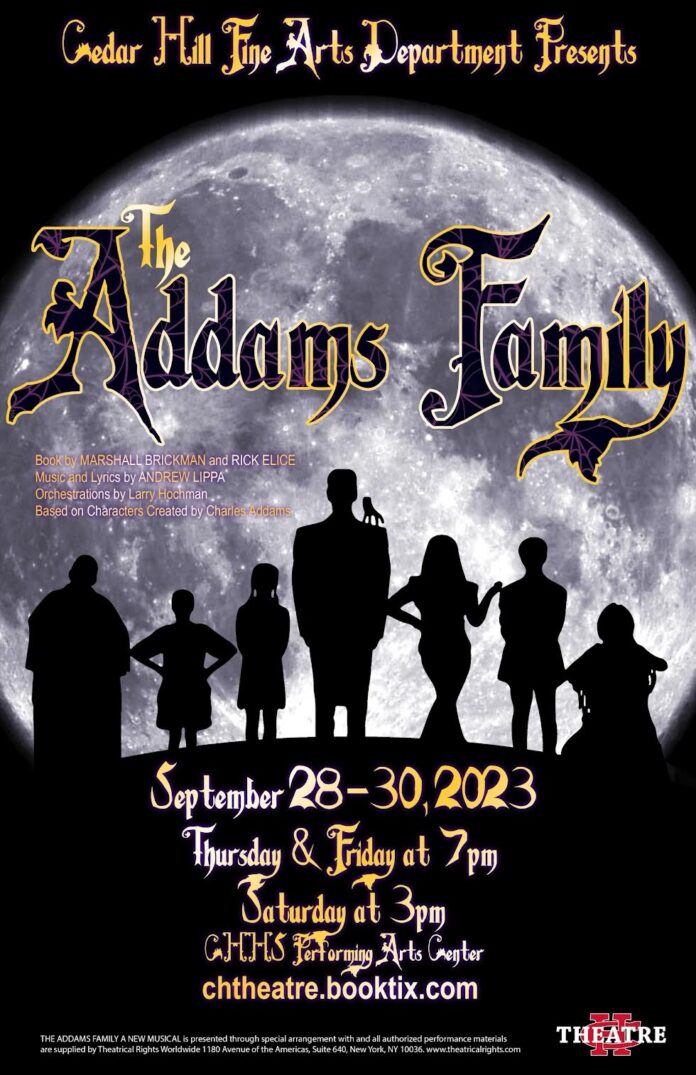 (CEDAR HILL, TEXAS) If Elizabeth Judd hadn't come out of retirement, the Cedar Hill High School Theatre Department might not be performing "The Addams Family" next week.
The CHHS Orchestra Director recommended to Cedar Hill Theatre Director Bethany Kennedy that the scholars perform the musical and submit it to the Texas Thespian Festival later this year. The scholars will perform at 7 p.m. on Thursday, September 28 and Friday, September 29 and 3 p.m. on Saturday, September 30.
Kennedy thought it was a good idea, and for the first time since 2019, Cedar Hill Theatre will perform two musicals in an academic year. They will perform Seussical in January.
They started rehearsing in July, getting the four largest songs in the musical down to perfection. They recently honed in on the famous snapping often associated with the famously spooky family.
CHHS senior Craig Patterson, who played Gaston in "Beauty and the Beast", is back to play another lead role.
While many of his peers were enjoying social media videos and memes over the summer, Patterson was zeroing in on the original 1964 sitcom version on "The Addams Family."
"I did a lot of research on the characters," Patterson said. "They are a regular family, but they just like to do different stuff than most families."
CHHS junior Keiron Gordon plays Fester – a role he has thoroughly enjoyed preparing for over the past couple of months.
"Fester is a really comedic, energetic person so it fits my personality really well," Gordon said.
Gordon credits Addams Family with helping him make the foray into singing.
"I've found a love of singing through Addams Family," Gordon said.
Through his participation in theatre, Gordon has been motivated to excel academically. He's currently ranked 18th in the CHHS Class of 2025.
"Theatre gives me something to work for – if I wasn't doing well in school, I couldn't do theatre," Gordon said.
Kennedy has made some adjustments in order to make two musicals in one year feasible for the first time in the post-COVID era. She delegated the directing role to CHHS Assistant Theatre Director Tianta Harrison and focused on the technical production of the show.
She also gave the costume designers much more reign to work their magic. Part of the reason for that is a successful Costume Design class at CHHS.
"I am the lead on costume design, and I love seeing the work, on stage, that I've put in behind the scenes," CHHS senior Liyel Otomko said.