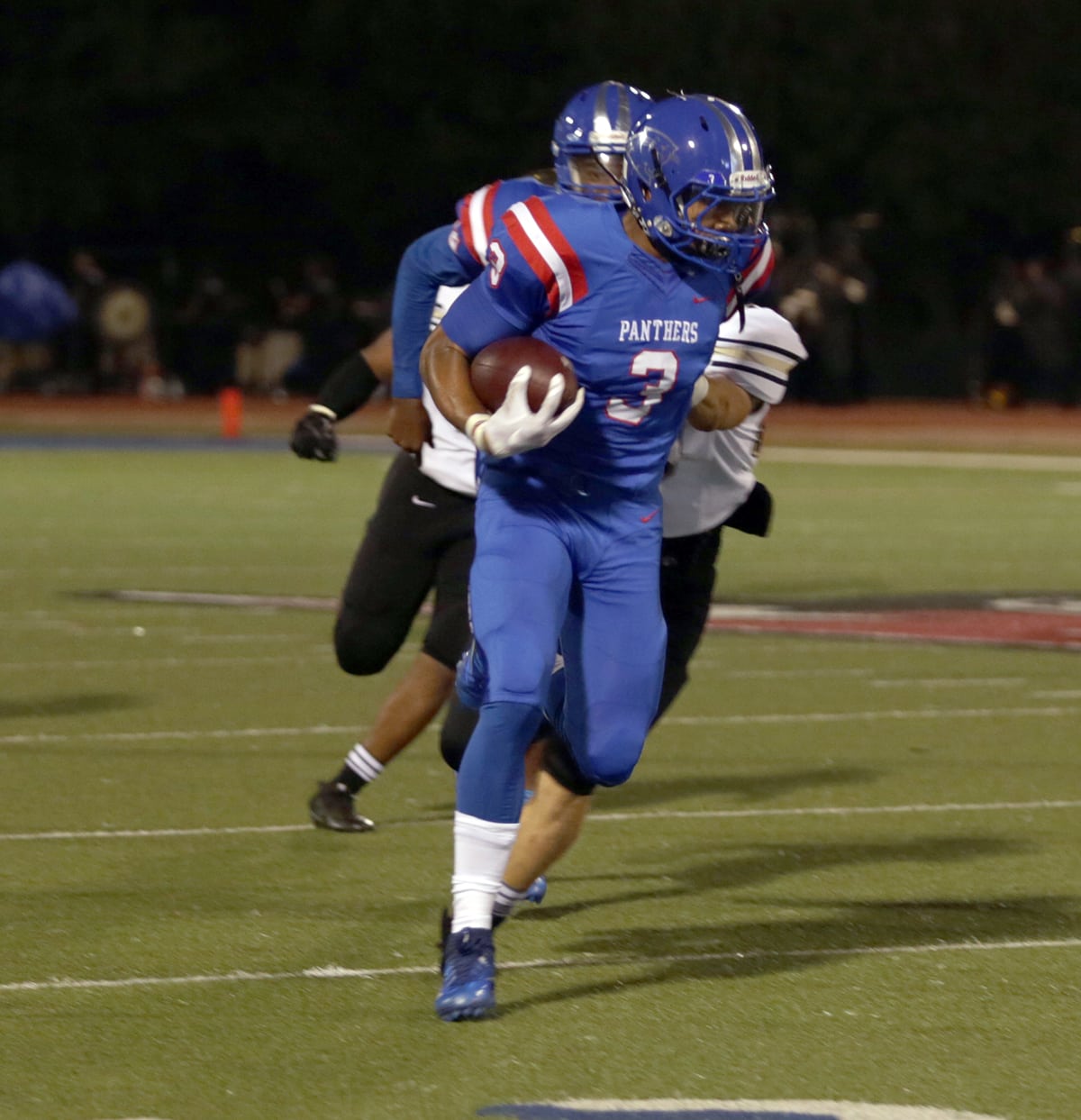 IRVING, Texas—It was all about the Duncanville Panthers Friday night in Irving. Too much stick for a power offense and way too much defense for Irving Nimitz to overcome.
Duncanville racked up nearly 400 yards total offense, while the Panther defense rarely allowed Irving beyond their own 20-yard line.
Quarterback Trazon Connley led the offensive ground assault with 86 yards rushing and a touchdown. He then threw 163 yards in the air for 2 more touchdowns. JaQuinden Jackson had 4 receptions for 113 yards and a touchdown.
The running chores fell to the likes of Karien Howard (4-46) and Warren Callhoun (4-25). Duncanville had a total of 206 yards rushing.
"This is the most important game of the year right now," said Duncanville Coach Reginald Samples before the game. "Because it is right now."
Duncanville appeared to be able to score at will. With less than two minutes in the opening quarter Duncanville scored on a one-yard plunge by Kelion Elder that was set up by a series of passes from Connley to Gyasi Smith. PAT by Josh Delgado was good.
Five minutes later Duncanville scored again on a 22-yard keeper by Connley. PAT by Delgado was good for a 14-0 lead with 5:51 left in the first quarter.
Duncanville scored a safety when an errant snap went over the head of the Nimitz quarterback out of the end zone. With 1:27 left in the first quarter Kelion Elder high-stepped for 11 yards and a touchdown. PAT was good. Duncanville lead 23 -0 at the end of the first quarter.
Duncanville took control of the ball at the beginning of the second quarter. With the ball resting on the Irving 47 yard line Connelly hit Jackson for another score. PAT was good. Duncanville had scored in only eight seconds.
A pass for 4 yards and a run of 6 yards for TDs added 21 points to the first half, giving Duncanville a 44-0 lead at the half.
The only scoring left in the game was a 39-yard field goal by Delgado for Duncanville and a late fourth quarter score by Irving on a Duncanville fumble. The final score was 47-7 Duncanville.
Samples started subbing late in the second quarter and continued throughout the game.
The defensive line for Duncanville was outstanding. They held Irving to only 139 yards in total offense. DeMarcus Blanton, Bryce Walker and Devin Martin either flushed the QB out of the pocket or sacked him.
Irving receivers caught only three passes in the entire game. When Duncanville kicked off there were Irving players down all over the field as the Panthers charged the ball carrier.
"I am not going to talk about games down the road," said Samples. "I do my talking on the field when I get there. I want to improve with every game."
When asked if there had been losses due to grades, Samples replied he had lost one starter at defense. "We have counseled with him and helped him to study. I can promise he will be back soon."
Next Friday, October 20, the Panthers will be at home against South Grand Prairie. Game time 7 p.m. at Panther Stadium.
October 27 brings DeSoto to Panther Stadium for the big shoot out of the season.