Check Out Artists Work at Inner.space In Duncanville On Saturday
Inner.space Project will present a Salon Show at their 100 S. Main Street studio in Duncanville from 7-10 p.m. March 10. Established by artist-art curator-musician Scott Tucker in 2017, Inner.space hopes to represent "the best emerging and established artists from around the world."
A sequel to Tucker's popular Blow-Up Gallery (2010-2014), Inner.space represents the emerging South Dallas Contemporary Art scene with works that are predominantly sculptor/painter-based.
Quoted in a "Patron Magazine" interview, Tucker said "My mission for Inner.space is to show some of the coolest, boldest and purest forms of artwork I can find. I only show artists that I sincerely believe in and enjoy their work. Public space art, murals, bronze sculptures and site-specific happenings will all be features."
Well-known artists who have exhibited with Inner.space and Blow-Up Galleries include the late Ali Akbar from Bangladesh; Legend D'Oro from New York City; Roberto Mungia, Arthur Pena and Toni Martin from Dallas; and Kiki Ishihara from Tokyo, Japan.
Along with opening two art galleries, Tucker also played in two bands: The Orange and Special Edward, during the past 15 years. His sister Melissa, a talented artist and musician who is also involved in Inner.space Project, played in The Orange as well. While Scott played guitar and sang, Melissa says she played "clarinet and sometimes tambourine."
Tucker curated a show for Dallas Mexican American Historical League that showcased over 100 years of photographs of local Mexican American musicians. In 2015 he had a solo art exhibition at Circuit 12 Contemporary. Working together, Scott and Melissa painted one of Stella McCartney's Dallas fashion shows for Neiman Marcus last year. The versatile duo also does artwork for old Parkland Hospital, saying the Crow family, behind the renovations, has been "really great to work with."
Tucker says Duncanville Design Group, an organization that represents talented local artists, and visionary developer Monte Anderson spurred his interest to open Inner.space gallery in the southern Dallas community where he lived as a child. Duncanville artist Elizabeth Schalling has exhibited at the gallery. Scott and Melissa also show some of their artwork at Inner.space gallery. While Duncanville is known as the City of Champions, Tucker says few people realize that Elliot Smith and Tim Delaughter were also from here.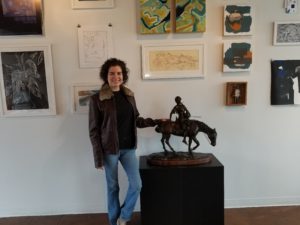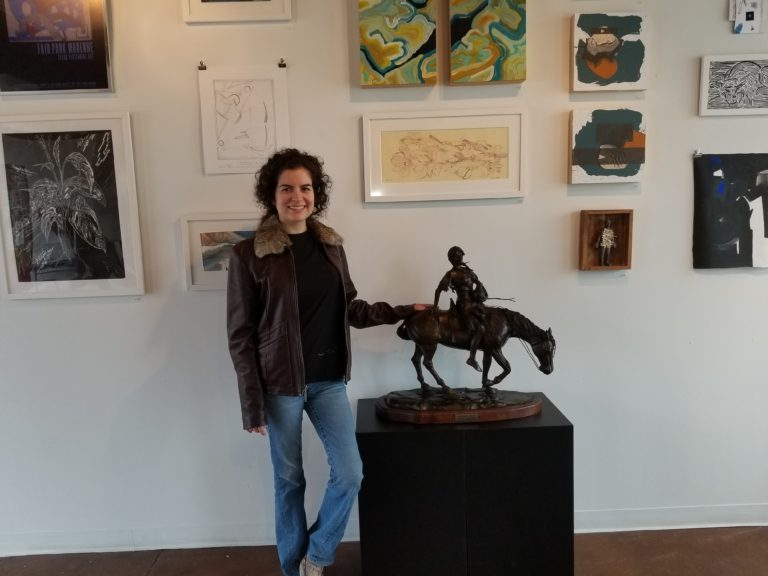 A beautiful and obviously very expensive bronze sculpture that immediately draws the eye was created by their father, Scott Tucker Sr., who still lives in Duncanville. The piece sold to a collector some years ago, but the Tucker children, heirs to their father's creative talents, were able to buy it back for display in the new gallery.
"We have taken the best of both Blow-Up Gallery and Inner.space Projects to create an affordable small works salon style art show March 10," Tucker said. "Our lineup is sure to rock you! The pieces generally start around $100 and go from there. Bring your cash, credit card or check book and take home something unique and beautiful to be enjoyed for many years."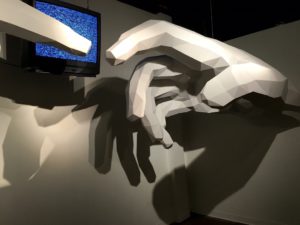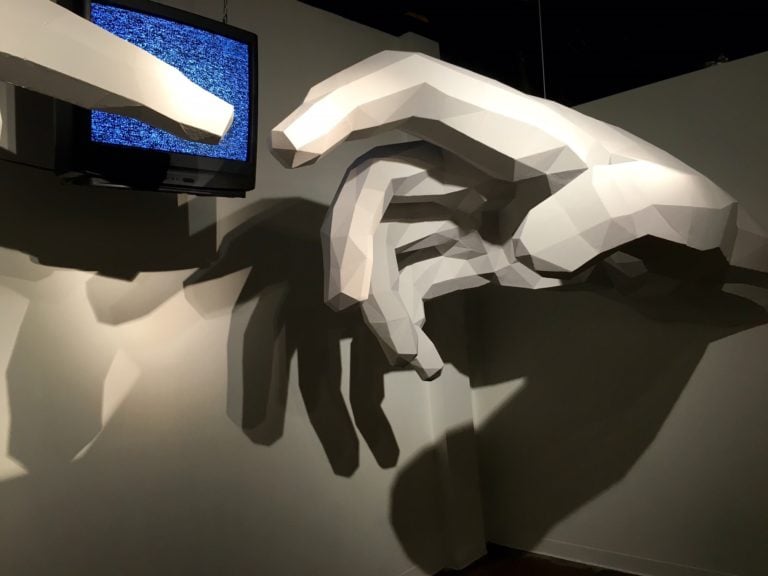 Tucker says (TV IS GOD), the imposing sculpture of giant hands by artist Ben Hoggett, is scheduled to leave Inner.space March 24 so everyone is invited to come and see this amazing art installation one last time.
For more information about Inner.space Projects or the Salon Show March 10, please contact Scott Tucker at 817-932-2056.