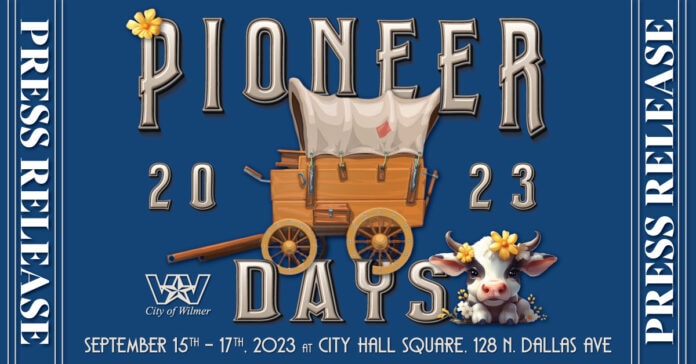 WILMER, TEXAS — The City of Wilmer is marking its Annual Pioneer Days which will be held on September 15th through 17, 2023 at City Hall Square located at 128 N. Dallas Avenue.
As in years past there will be three (3) fun-filled days and nights including carnival rides, live musical entertainment, and with a wide range of food and good vendors, that are sure to have something for everyone.
Each day of the event will feature different and exciting entertainment and will be hosted by DJ K-Sprinkles:
Friday, September 15, 2023 from 5pm-10pm:
6:00 pm – Grace Hula Performance;
7:30 pm – Randall Armstrong; and
9:00 pm – Antarez Musical
Saturday, September 16, 2023 from 10am-10pm:
10:30 am – Tenochtitlan Ballet Folklorico Co. Mexican Dance School;
12:00 pm – Landon Blake;
1:30 pm – Kaba Rios;
4:30 pm – Jade Flores;
6:00 pm – Los Komandantes;
7:30 pm – Mr. Taylormade and the Taylormade Band; and
9:00 pm – Quimikoz.
Sunday, September 17, 2023 from 11am-6pm:
1:30 pm – Andrew Miller;
3:00 pm – The Merseymen; and
4:30 pm – Bobby Falk
It will be a weekend filled with non-stop fun, so bring your lawn chairs and blankets and get ready for family friendly fun!
Carnival rides will require four tickets per ride, with the exception of the Ferris Wheel which will require five tickets.
Ticket Information:
• $25 per Wristband for Friday and Sunday ONLY
• $1 for 1 ticket
• $20 for 22 tickets
• $35 for 40 tickets
• $10 for 125 tickets
"We are ready for another exciting Pioneer Days celebration," said Wilmer Mayor Sheila Petta. "The family-friendly festival is for all ages making it an ideal destination for all visitors to enjoy the carnival, listen to a fantastic music line-up, and the many vendors who will be on-hand during the three days. It is sure to be an event that the family will remember all year."
For additional information, please visit the www.cityofwilmer.net or contact Sarah Wainscott, Special Events Coordinator at 972-441-6373 or 214-412-7978.