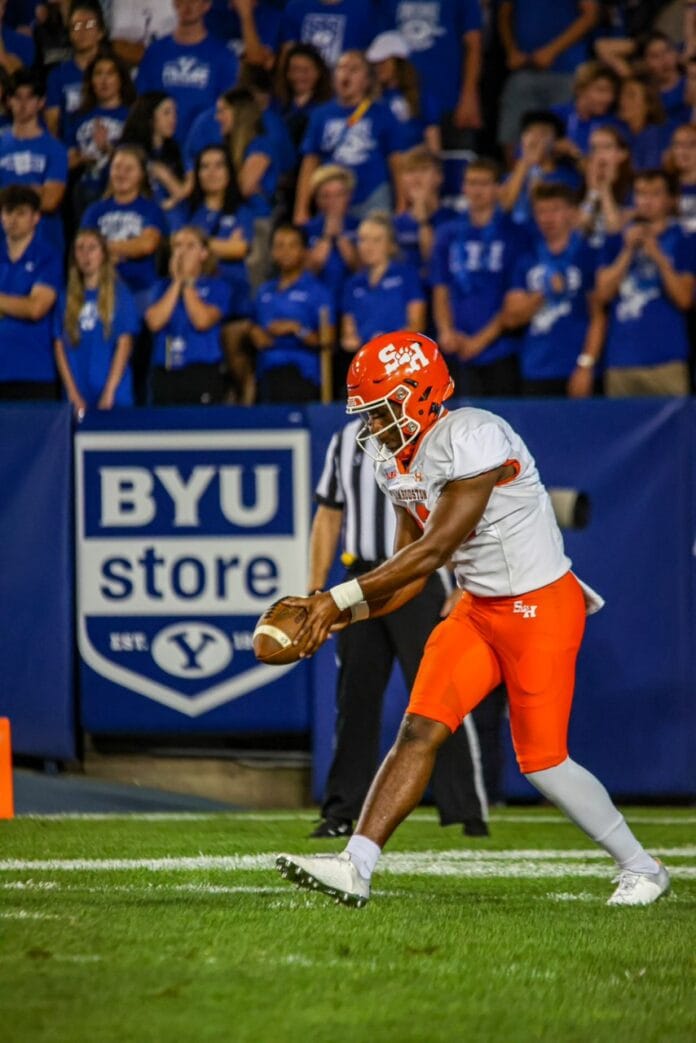 Not too long ago, they were battling together for a state championship as members of the Cedar Hill football team. Now, four former Longhorns will square off on opposite sides of the field Thursday night when the Liberty Flames host the Sam Houston State Bearkats at 6 p.m. on CBS Sports Network.
Playing for the Flames (4-0) will be sophomores Kaidon Salter at quarterback along with cornerback Amarian Williams. On the Sam Houston (0-4) roster are sophomores Jadon Cardell at punter/kicker and defensive lineman Matthew Aribisala.
Three of the quartet were part of the 2020 Longhorns team that advanced to the Class 5A Division II state championship game. Aribisala came to Sam Houston via Air Force Prep, though he is also a former Cedar Hill student, helping the Longhorns reach the playoffs in 2018.
"It's exciting to see you lifelong brothers succeeding and doing well at the highest level, so this is a big opportunity for us to show the world what's coming out of Cedar Hill," Cardell said.
What's coming out of Cedar Hill is making an impact. Salter made headlines recently when he accounted for ten touchdowns in a two-game span for the Flames. For the season, he is 53-of-92 passing for 919 yards with 11 touchdowns and just one interception while rushing 47 times for 268 yards and five more TDs.
Salter transferred from Tennessee and played eight games for the Flames in 2022, starting four. He passed for 1,088 yards with eight TDs, five interceptions, and two rushing touchdowns. He led the Flames to a victory over Alabama-Birmingham in his first career college start.
"I hope to make Kaidon's life as hard as possible on Thursday," said a smiling Cardell, among the nation's leading punters with a 40.9-yard average this season.
Cardell has a long punt of 60 yards, and four of his kicks have traveled more than 50 yards. Nine have landed inside the opponents' 20-yard line.
Williams has 13 tackles, including two for a loss this season. He had six in a win over Bowling Green. He is well on pace to surpass last season when he finished with 20 tackles and one for a loss.
Aribisala has three tackles in four games this season.
"In high school, I made plays and got the ball back to Kaidon plenty of times, but now I'm looking forward to making plays and taking the ball away from him come Thursday," he said.
While the foursome has gone in different directions, they stay in touch as much as their busy schedules allow. Plus, they keep up through social media.
"I'm proud of what they've accomplished and what they're going to accomplish in their careers," Aribisala said. "It's amazing, for real. We won many games together back in high school, and they're people I will always consider my brothers.
"It's a great opportunity to play against them now and show the talent that comes out of Cedar Hill. And what better stage than national TV?"
Efforts to reach Salter and Williams through the Liberty Sports Information Department were unsuccessful.