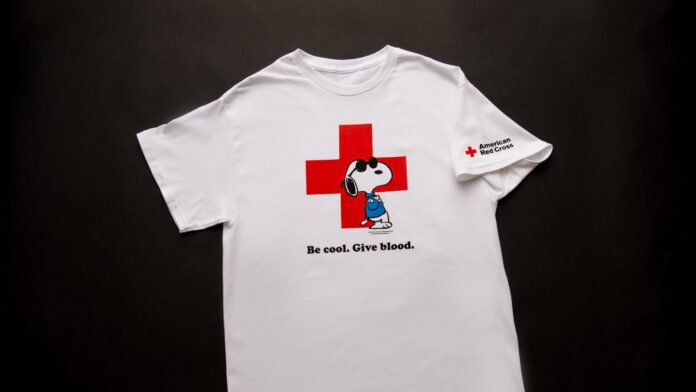 Red Cross and PEANUTS®: Be Kind, Give Blood in April
DALLAS, APRIL 5, 2023 — April is National Volunteer Month, and the American Red Cross is celebrating the millions of people who volunteer to give blood, platelets and plasma throughout the year. This month, the Red Cross and PEANUTS® are joining forces as a reminder that it's cool to be kind and help save lives.
Don't wait until there's a crisis to give – donors of all blood types, especially type O blood donors and those giving platelets – are needed now to keep the blood supply strong enough to support critical patient care all season long.
People coming together to care for one another is the humanitarian spirit shared by the Red Cross community and PEANUTS. Donors are encouraged to take a page from the comic strips that have charmed generations and take care of one another by making a blood donation.
Book a time to give by visiting RedCrossBlood.org, downloading the Red Cross Blood Donor App, or calling 1-800-RED CROSS.
As a thank-you, all who come to give April 1-23 will receive an exclusive Red Cross and PEANUTS T-shirt featuring Snoopy as the coolest beagle in town, Joe Cool, while supplies last.* Those who come to give April 1-30 will be automatically entered for a chance to win a three-night trip for two to Sonoma County, California. This getaway includes flights, hotel, a $1,000 gift card and special tours of the Charles M. Schulz Museum and Snoopy's Home Ice, courtesy of Peanuts Worldwide.​​​​​
Upcoming blood donation opportunities April 5-17
Arlington
4/15/2023: 9 a.m. – 3 p.m., Abundant Life Church of Arlington, 4600 W. Bardin Rd., Arlington, TX 76017
Dallas
4/5/2023: 10 a.m. – 4 p.m., Dallas Community, 2055 Kendall Dr., Dallas, TX 75235
4/13/2023: 12 p.m. – 6 p.m., YMCA Park S., 2500 Romine Ave., Dallas, TX 75215
Fort Worth
4/14/2023: 11 a.m. – 5 p.m., Fort Worth Community, 6000 Western Pl #6000, STE. 100, Fort Worth, TX 76107
McKinney
4/11/2023: 12 p.m. – 5 p.m., McKinney Community, 2660 S. Central Expy., McKinney, TX 75070
Richardson
4/12/2023: 10 a.m. – 4 p.m., First Baptist Richardson, 1001 N. Central Expy., Richardson, TX 75080
Rockwall
4/8/2023: 9 a.m. – 3 p.m., Church of Latter Day Saints – Heath, 6819 South Fm 549, Rockwall, TX 75032
The Colony
4/6/2023: 12 p.m. – 5 p.m., Nebraska Furniture Mart, 5600 Nebraska Furniture Mart Dr., The Colony, TX 75056
Waxahachie
4/7/2023: 12 p.m. – 6 p.m., Waxahachie Family YMCA, 100 YMCA Dr., Waxahachie, TX 75165
Blood Donation Centers
One of the easiest ways to give is to schedule an appointment at a blood donation center. There are two Red Cross blood and platelet donation centers in the North Texas Region. They are in Irving and Plano.
Irving Blood and Platelet Donation Center
2511 West Lyndon B. Johnson Freeway
Monday – Wednesday: 11 a.m. – 7 p.m.
Thursday: Closed
Friday – Sunday: 7 a.m. – 3 p.m.
Plano Blood and Platelet Donation Center
741 N US-Central Expressway, Suite 1000
Monday – Wednesday: 11 a.m. – 7 p.m.
Thursday: Closed
Friday – Sunday: 7 a.m. – 3 p.m.
How to donate blood
Simply download the American Red Cross Blood Donor App, visit RedCrossBlood.org, call 1-800-RED CROSS (1-800-733-2767) or enable the Blood Donor Skill on any Alexa Echo device to make an appointment or for more information. All blood types are needed to ensure a reliable supply for patients. A blood donor card or driver's license or two other forms of identification are required at check-in. Individuals who are 17 years of age in most states (16 with parental consent where allowed by state law), weigh at least 110 pounds and are in generally good health may be eligible to donate blood. High school students and other donors 18 years of age and younger also have to meet certain height and weight requirements.
Blood and platelet donors can save time at their next donation by using RapidPass® to complete their pre-donation reading and health history questionnaire online, on the day of their donation, before arriving at the blood drive. To get started, follow the instructions at RedCrossBlood.org/RapidPass or use the Blood Donor App.
About the American Red Cross:
The American Red Cross shelters, feeds and provides comfort to victims of disasters; supplies about 40% of the nation's blood; teaches skills that save lives; distributes international humanitarian aid; and supports veterans, military members and their families. The Red Cross is a nonprofit organization that depends on volunteers and the generosity of the American public to deliver its mission. For more information, please visit redcross.org/northtexas or CruzRojaAmericana.org, or visit us on Twitter at @RedCrossNTX.
*Terms apply. Visit rcblood.org/cool.
About Peanuts:
The characters of Peanuts and related intellectual property are owned by Peanuts Worldwide, which is 41% owned by WildBrain Ltd., 39% owned by Sony Music Entertainment (Japan) Inc., and 20% owned by the family of Charles M. Schulz, who first introduced the world to Peanuts in 1950, when the comic strip debuted in seven newspapers. Since then, Charlie Brown, Snoopy and the rest of the Peanuts gang have made an indelible mark on popular culture. In addition to enjoying beloved Peanuts shows and specials on Apple TV+, fans of all ages celebrate the Peanuts brand worldwide through thousands of consumer products, as well as amusement park attractions, cultural events, social media, and comic strips available in all formats, from traditional to digital. In 2018, Peanuts partnered with NASA on a multi-year Space Act Agreement designed to inspire a passion for space exploration and STEM among the next generation of students.