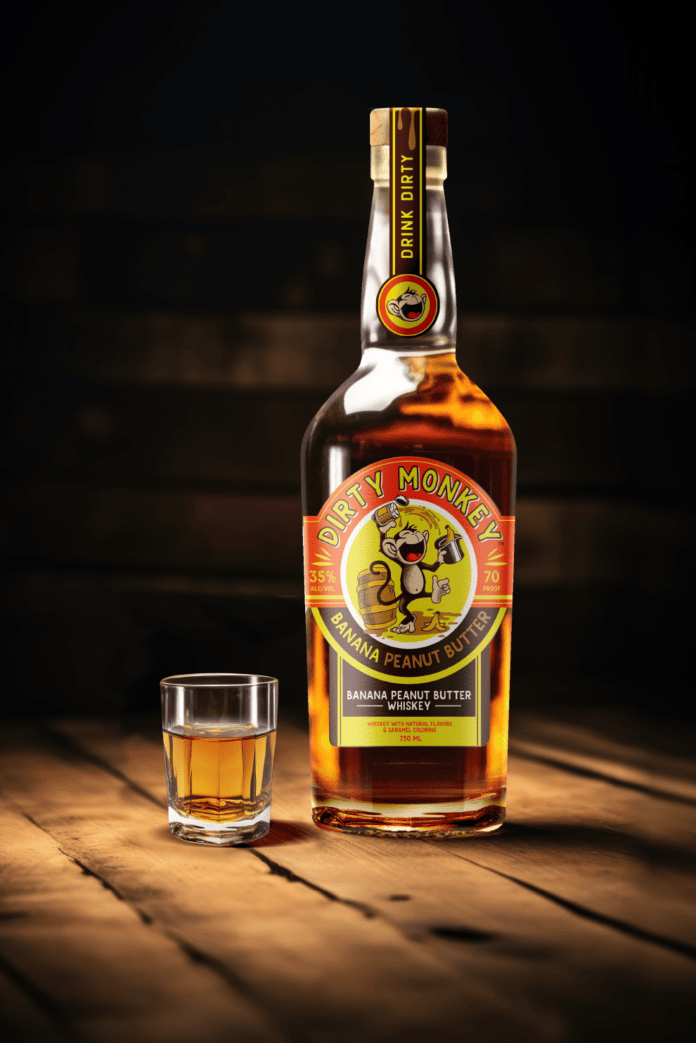 AUSTIN, TEXAS  – Milestone Brands, known for thier innovations in the spirits category, has introduced a fun, adventurous new whiskey, featuring peanut butter and banana flavors. The free-spirited Dirty Monkey Banana Peanut Butter Whiskey is crafted with real whiskey, all-natural peanut butter and banana flavors blended to ignite your sense of adventure and have your taste buds swinging with delight.
In addition to being all-natural, Dirty Monkey is allergen-free and contains absolutely no high-fructose corn syrup. Dirty Monkey is the perfect bottle to keep in your freezer for game night or a night of catching up around the fire pit.
Dirty Monkey Banana Peanut Butter Whiskey is embodied by Dirty Monkey himself, a carefree and fun-loving character who's charming, irreverent and a little mischievous. He's the ultimate companion for a high-energy night out with friends—he never rests in the pursuit of good times!
Try as a chilled shot, alongside your favorite beer, or as a deliciously fun spin on a classic whiskey cocktail.
"Dirty Monkey is all about fun—we are so excited to launch this incredibly playful brand, grounded in key insights about the flavored whiskey consumer," said Eric Dopkins, Milestone Brands CEO and Chairman. "We can't wait for everyone to discover the one-of-a-kind flavor and embrace the don't-have-a-care-in-the-world attitude of Dirty Monkey!"
Flavored whiskey stands out as one of the most popular category segments in the industry, boasting an impressive 10-year volume CAGR of 23% per year (Market Watch 2023). This growth is driven by consumers looking for new experiences and innovative flavors, particularly those that have a nostalgic appeal, which are interesting to 71% of millennial and Gen Z LDA consumers (2021 Mintel Study).
These consumers also want products that are inclusive and can be enjoyed by everyone in a group. Dirty Monkey perfectly embodies these trends, combining popular peanut butter and beloved banana flavors with an incredibly smooth taste, encouraging consumers to grab a round and toast their troop.
Dirty Monkey Banana Peanut Butter Whiskey is bottled at 35% ABV, in a 750ml bottle.
Available now nationwide for an SRP of $25.99.