As the wife of a Vietnam veteran, and the mother of a Marine, I'm always eager to support products either owned by veterans, or that contribute to veteran causes. 22 Salute Coffee checks both boxes. The company is owned by military veterans, and also contributes a portion of their proceeds to help treat Post Traumatic Stress Disorder (PTSD).
PTSD, depression, and anxiety greatly impact the lives of Veterans and first responders. 22 Salute™ is a social enterprise that offers Veteran-crafted spirits and South Texas Mesquite Smoked coffee. They are dedicated to giving back to the Veteran and first responder communities by donating a portion of our profits to The Veterans Connection™, a 501(c)(3) nonprofit organization that focuses on mental health and suicide prevention for Veterans and first responders.
22 Salute Supports Veterans
The company's press materials add, "We proudly collaborate with American-made, Veteran-owned suppliers, and are committed to hiring Veterans whenever possible, reinforcing our dedication to those who have served our country. Untreated mental health conditions such as Post Traumatic Stress Disorder (PTSD), depression, and anxiety are a significant disabler for the Veteran and first responder population. Raising awareness to these epidemics is important. Finding ways to stem the tide is even more important."
I recently tried a 12 oz. bag of 22 Salute's 1776 dark blend, dark roast Specialty Arabica Coffee ($13.99) with a special appeal for me. As a member of Old Chisholm Trail, NSDAR (National Society of Daughters of the American Revolution), the description of this ground coffee won me over.
"Embrace the spirit of freedom and resilience with our 1776 Dark Roast Coffee. Crafted to echo the strength and determination of our founding fathers, this blend delivers a powerful coffee experience. The 1776 embodies a rich, deep darkness, offering a bold cup that is unapologetically robust. Its compelling finish is as enduring as the legacy of the year it's named after. When the pursuit of happiness leads you to a no-nonsense, vigorous, and flavorful coffee, the 1776 blend stands ready. Savor a taste of the American Dream in each bold sip."
Patriotic Billing
The 22 Salute Dark Roast lives up to its patriotic billing by producing a bold, flavorful morning brew. Along with the South Texas Mesquite Smoked Coffee, 22 Salute also produces Veteran Crafted Spirits. These include their Gold Medal winning vodka "handcrafted in America using locally sourced natural ingredients. It is filtered more than 22 times for smoothness as well as in remembrance for the 22 Veteran lives lost on average per day. For every bottle sold, we donate directly to Veteran and First Responder Communities."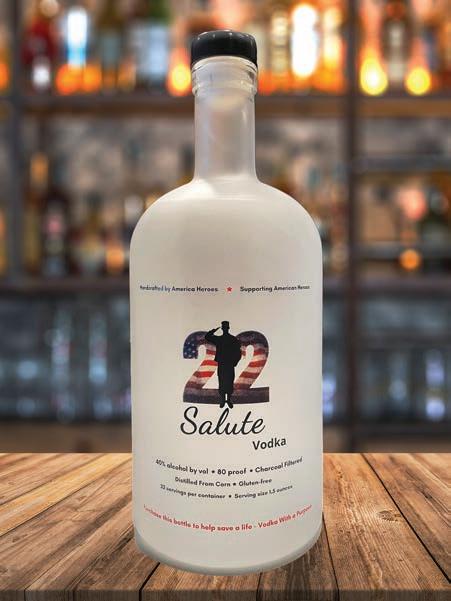 The company also features a small batch, limited edition Vanilla Fig Bourbon with only 150 numbered bottles available. For more information about 22 Salute Coffee or spirits, visit them online at 22Salute.com. Their coffees range in price from $13.99 to $22, and can also be ordered through Amazon or Walmart for free.