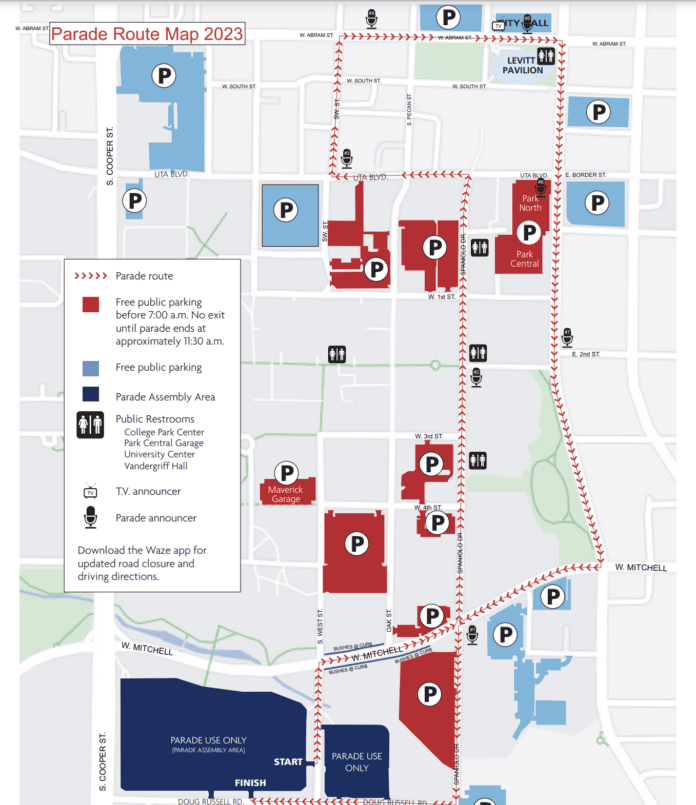 ARLINGTON, TEXAS – The 2023 Arlington Independence Day Parade will return to downtown Arlington on July 4, 2023 at 9 a.m for its 58th year. With over 120 entries in this year's parade, and a new mascot you'll want to be there early for a great spot along the route.
The 2023 Parade will be preceded by the new Firecracker 5k at 7 a.m. in Downtown Arlington, followed by the parade at 9 a.m. The inaugural event will be a certified 5k that is expected to draw several hundred participants. After many months of planning with the Parade Committee and the City of Arlington, we are excited for this new tradition to add to the excitement of Independence Day in the American Dream City.
The 2023 Parade will also feature the newly adopted Independence Day Parade Mascot, Sparky, who is the only legal firework in the City of Arlington. We want to have fun celebrating Independence Day in the American Dream City and also remain safe. The new Mascot will make his appearance during the Parade, and he will be ready to take selfies. He is sure to become a crowd favorite.
Special entry in the 2023 Parade will be the 2023 XFL Champions – The Arlington Renegades!
Our Grand Marshal is Arlington's own Allan Petsche – we are grateful for his love and commitment to Arlington.
"We're excited to have such a full line-up this year as we celebrate Independence Day in the American Dream City," said Parade Communications Director, Will Busby. Together with the Inaugural Run, our new Mascot, the Arlington Renegades, and Grand Marshal Alan Petsche, the community is sure to experience joy, pride, and a winning spirit as we celebrate our nation and all that unites us! "
The theme for the 2023 Independence Day Parade is "Let Freedom Sing!" We can't wait to see the community show up in support for the "biggest and best" Independence Day Parade in Texas – and we hope to sing Freedom loud and proud as we celebrate our nation and all that unites us.
To sign up for the Parade or Firecracker 5k, visit https://arlington4th.org
2023 Arlington Parade Schedule
7:30 a.m POLICE CLOSE PARADE ROUTE
7:45 a.m. Scout Color Guards deploy along route
9:00 a.m. National Anthem
9:03 a.m. Parade Steps Off at Intersection of West St. and Mitchell St.
11-11:30 a.m. Parade Ends
Shuttles will be running from 6:30 a.m. to 1:00 p.m. and are available for parade participants and spectators.
Want to avoid heavy traffic and the hassle of finding a parking spot on Parade morning? UT ARLINGTON will be providing free shuttle service between Maverick Stadium, 1307 W Mitchell St., and the Parade Assembly Area located at the corner of Cooper St. and Mitchell St.