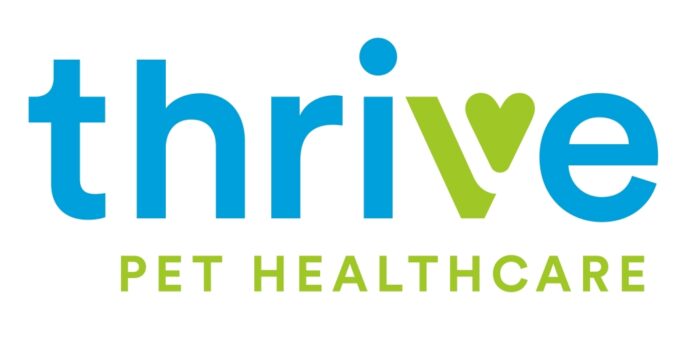 Expanding Pet Care Network to 20 in the Metroplex
July 11, 2023 (Wylie, Texas) – Thrive Pet Healthcare, a first-of-its-kind veterinary healthcare network with 400 locations across the U.S., is proud to announce the opening of its first hospital in Wylie, Texas.
"We are excited to bring our exceptional veterinary services to the vibrant community of Wylie," said Thrive Pet Healthcare Wylie Interim Practice Manager Cody Boyd. "With our skilled team and the support of the Thrive Pet Healthcare network, we are dedicated to providing personalized, accessible care to every pet that walks through our doors."
Located at 2588 W. FM 544, Suite 200, Thrive Pet Healthcare Wylie offers comprehensive veterinary services for dogs and cats, emphasizing wellness and preventative care, spay and neuter surgeries, illness exams, vaccinations, nutrition and weight management, advanced imaging/radiology and diagnostic testing. The state-of-the-art hospital is open Monday through Friday from 8 a.m. to 5 p.m. and features six exam rooms, a large treatment and hospitalization area, and a double surgery suite for performing medical procedures.
Through September 30, new clients can receive a free wellness exam. Mention the coupon code FREE100 during your appointment. Clinic fees apply. The free wellness exam is valid for new clients only, one pet per household.
The hospital is staffed by Texas natives Drs. Amanda Taylor and Kelly Stickney.
To make pet healthcare more accessible and affordable, Thrive Pet Healthcare offers the Thrive PlusTM membership program at the new Wylie location and eligible primary care locations in the Dallas/Fort Worth area.
With prices starting at $14.95 per month, the Thrive Plus membership program includes free unlimited pet wellness exams, 10% off additional services like routine bloodwork and urine testing, and unlimited nail trims for only $5. Pet owners with a Thrive Plus membership can save an average of $300 per year, making it easier to prioritize pet wellness and early detection.
Thrive Pet Healthcare Wylie is part of a network of 20 Thrive Pet Healthcare hospitals throughout the Dallas/Fort Worth area. This network ensures seamless collaboration among hospitals, enabling quick sharing of medical records and patient referrals to meet every healthcare need throughout a pet's life.
To discover the nearest Thrive Pet Healthcare location in the Dallas/Fort Worth area offering primary, specialty, urgent and emergency veterinary services, as well as participating Thrive Plus membership hospitals, or to book an appointment online at the new Wylie location, visit www.ThrivePetCare.com.
About Thrive Pet Healthcare
Thrive Pet Healthcare is a leading veterinary service network that uniquely delivers a continuum of care to pet families and services to veterinary hospitals. With an industry-first membership program and over 350 acute, primary, and specialty providers, Thrive Pet Healthcare offers personalized, accessible care through every stage of a pet's life and health. The veterinarian-founded organization provides premier benefits for practice staff while elevating privately held veterinary hospitals with innovative service and technology solutions. By focusing on the needs and aspirations of veterinary care providers, Thrive Pet Healthcare is supporting the well-being of the industry and raising the national bar for veterinary excellence. To learn more about Thrive Pet Healthcare, please visit www.thrivepetcare.com