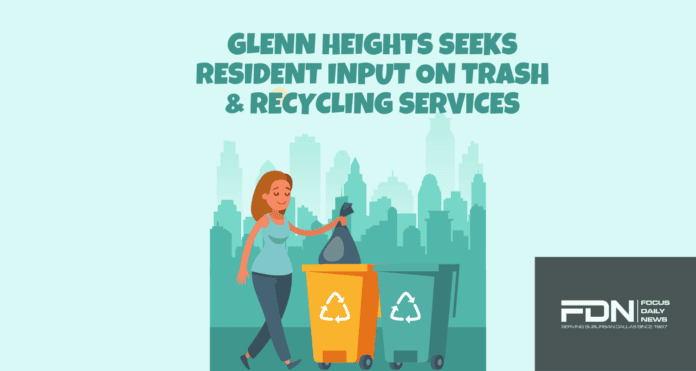 Everyone feels the crush of rising prices in all areas of life. We're receiving price increases for every service used from water, electricity, trash and more. One place all cities currently need help with is finding and maintaining reasonable rates for residential and commercial trash and recycling pick-up without reducing frequency.
Arlington has made the decision to transition to automated trash cart service beginning in February of 2024. Once trash carts have been delivered to residents, Arlington residents will transition to once-per-week service for trash, recycling, brush and bulk. This has led to many Arlington residents concerned about the reduction in service, with trash collection reduced from trice a week to once per week.
Glenn Heights Seeks Input From Residents
In Glenn Heights, the City entered into a contract with CWD for waste removal and recycling services on June 1, 2022. The initial term of the contract is for five (5) years.
If the City chooses to terminate the contract prior to the end of term, the City would be financially responsible for the remaining amortized value of all the equipment purchased on its behalf (currently valued at over $1 million). Therefore, the measure to switch would be cost prohibitive. * Per the contractual agreement, CWD's annual rate adjustment, based on the following criteria, went into effect June 1, 2023: – Consumer price index change (March 22' – March 23') – Natural gas cost changes – Disposal Fee cost changes The Solid waste charge went from $15.11 to $15.97. This rate, pending Council action, may change.
However, Council expressed their displeasure regarding CWD's service level to CWD President Greg Roemer during their May 16, 2023 meeting. Council also requested if the quality of the service levels could be enhanced. The answer was yes, but not without additional costs.
City Of Mansfield Contracts With Frontier Waste Solutions Effective October 1, 2023
City of Mansfield announce on Facebook: Starting this fall, the City of Mansfield has signed a contract with Frontier Waste Solutions to provide residential and commercial trash and recycling services.
The company will begin operations on Oct. 1, when the current contract with Republic Services ends. The company will provide the same level of service residents are accustomed to, including twice-a-week by-hand curbside trash pickup and once-a-week curbside recycling.
Before Oct. 1, businesses can expect to receive mailings, email notifications, phone calls, and/or a visit from Frontier Waste representatives.
"This partnership will allow Mansfield residents to continue to receive the same level of service they've come to expect at a more economical rate," Mayor Michael Evans said. "We know change can be difficult, but I encourage folks to stay up to date on the transition information that will come out throughout the process."
By switching providers, the city is able to maintain twice-a-week hand pickup at a more economical rate. The City of Mansfield has worked with Republic Services for 20 years, but the company's latest services proposal included going to once-a-week, automated trash cart residential pickup with significantly higher fees.
As part of this transition, Frontier will provide residents with new recycling bins in September, and Republic Services will collect its recycling carts from homes at September's end. More information about the transition process will be provided later.
"We aim to make this change as seamless as possible and encourage community members to be on the lookout for upcoming informational opportunities," said Howard Redfearn, Environmental Services manager.
The city will share information online, at city facilities, and through various communications channels.
Frontier Waste Solutions was founded in 2017. The Dallas-based company is committed to quality, customer service, safety, and environmental responsibility. It believes in becoming a part of the communities we serve, and we take great pride in doing so.