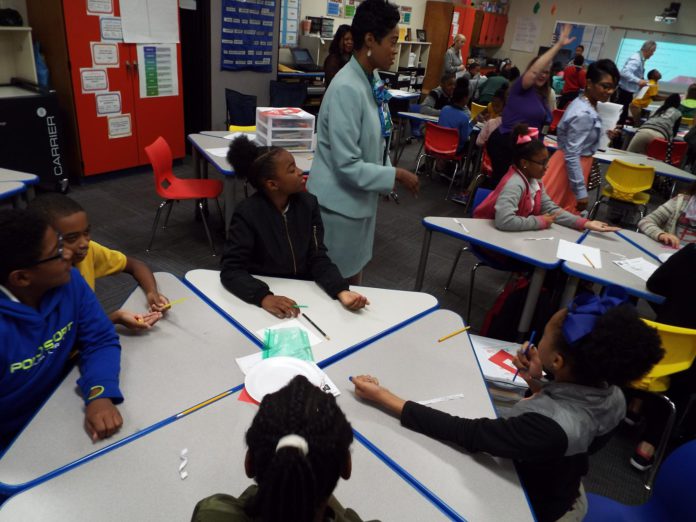 DESOTO—The newest DeSoto ISD campus may have some unexpected changes for area students and parents. The Katherine Johnson Technology Magnet, currently under construction means students throughout the district could be relocated next term.
As a result of a recent demographics study, district officials are now reviewing a rezoning idea.
"To date, the district has been in collaboration with a demographer working on a study of the district to inform rezoning as we prepare to open the Katherine Johnson Technology Magnet Academy," said Levatta Levels, Assistant Superintendent of Secondary Schools and Student Support Services. "We want to ensure that we are evaluating every possible option and consideration to make the best decision possible for the students and families of DeSoto ISD."
Tiffanie Blackmon-Jones, Director of Communications, says though the district cannot speak to the city's need to undergo rezoning, DeSoto ISD, like many districts constantly reviews existing zones with the goal of leveling attendance at campuses. This effort primarily seeks to address the threat of overcrowding and improving the student to teacher ratio within the district.
Currently, the district is working to estimate the actual number of residents that rezoning will affect.
Blackmon-Jones added "DeSoto ISD wants to balance schools, but we also want to be mindful of how these changes will impact traffic flows, parents' and families' ability to transport students and the district's ability to transport students as we work to further develop plans for a school transportation alternative for students in DeSoto for the upcoming school year."
Rezoning Benefits
With the addition of the Katherine Johnson Technology Magnet Academy, DeSoto ISD has the ability to rezone to possibly better serve all the students regardless of what campus. The Johnson campus has the capacity to serve roughly 810 students, which will reduce class sizes while also providing additional teachers to serve district students.
Blackmon-Jones said the goal is to level campus student populations to alleviate overcrowding at some campuses and fill vacant seats at others.
With regard to transportation, rezoning will support development of more efficient routes.
DeSoto ISD has been working with the demographer to conduct the assessment of building capacities, enrollment trends and other data the district should be aware of in working to better serve students and families.
"Overall, we aim to level each campus around 80 percent of the building's capacity in order to ensure that students are getting the individual attention they deserve in a classroom," says Blackmon-Jones. "The rezoning will help us accomplish this on a wider scale so that we can best serve all district students."
As for the timing of the rezoning idea, currently, the board has two zoning options that are under review. As they, alongside, district leadership, continue to discuss each option available, DeSoto ISD aims to have a plan in place by fall 2018 when the Katherine Johnson Technology Magnet Academy opens.
The district also plans to hold public meetings for citizen input and to provide updates for the community.
"We want to ensure that our parents, families and community are informed and aware of the changes and will communicate that through public meetings as well as through a number of other channels to create as widespread an awareness as we can leading up to the 2018-2019 school year," Blackmon-Jones said.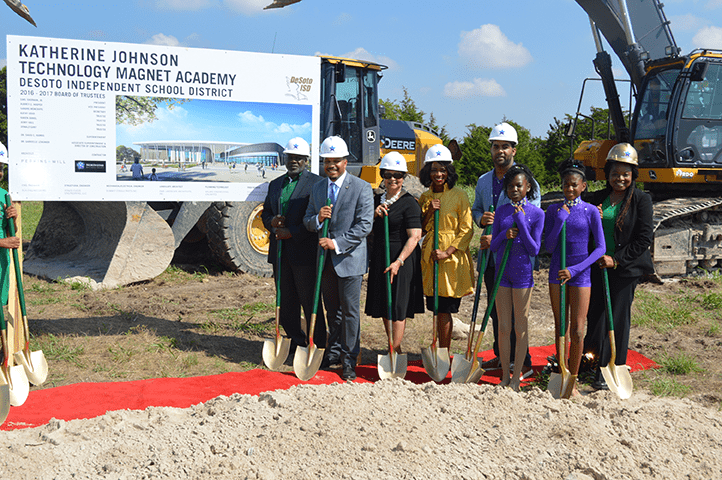 Determining Demography
When all is complete the rezoning will be a compilation of data assessment and evaluation, enrollment trend analysis and a number of other considerations in order to forecast options that ultimately serve to inform the board and the district of information needed to make decisions to redraw attendance lines.
The district's Student Support Services office is now spearheading the effort and working with a demographer to provide reports to the board and district leadership.
"Anytime that a district is experiencing growth, makes an effort to expand options or programs or opens a new campus, a rezoning is a necessary consideration that is part of the work we do to ensure that we are giving students every possible opportunity to receive the attention and education they need in the best setting possible," Superintendent Dr. David C. Harris.
"While we have some schools that are nearing capacity, we want to ensure that we do not approach conditions of overcrowding. We are fortunate that, with the opening of the Katherine Johnson Technology Magnet Academy, DeSoto ISD will have the necessary classroom and campus space to address student population growth and program expansion with the addition of the technology magnet, providing additional choice options for parents and families in DeSoto ISD."