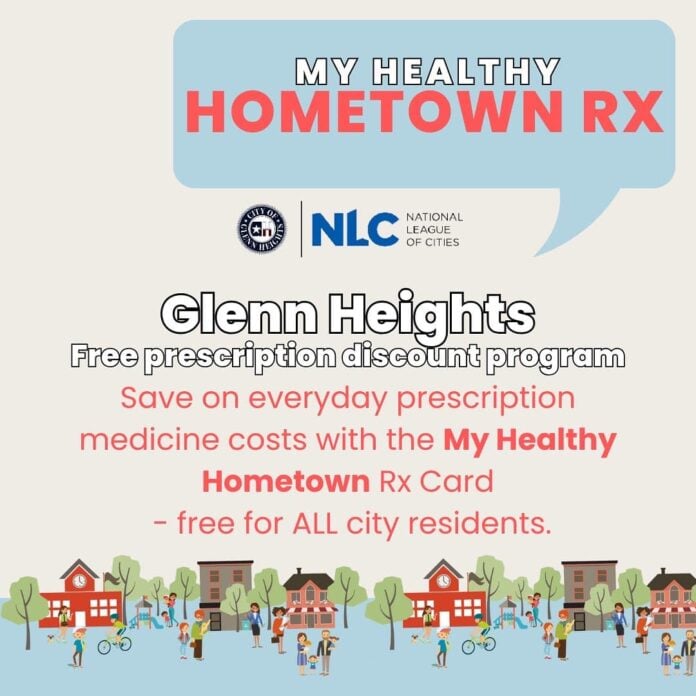 GLENN HEIGHTS – The City of Glenn Heights along with the National League of Cities (NLC) announced this week the My Healthy Hometown Prescription Discount Program for all residents.
Spearheaded by Glenn Heights City Council Place 3 Travis Bruton he said "I'm excited about the opportunity to bring a new program and partnership to the city.  We are the first and only city in the Best Southwest region with a program like this."
The National League of Cities was equally excited to partner with Glenn Heights "NLC is thrilled to collaborate with the city of Glenn Heights by extending support to its residents through our My Healthy Hometown Prescription Discount Program," said Clarence Anthony, CEO and Executive Director of the National League of Cities. "By delivering significant cost savings, this valuable initiative will help alleviate the financial burden of high prescription expenses for residents in Glenn Heights and across the country."
The Rx Prescription Discount Program is free to all residents allowing them the opportunity to save money on everyday prescription medicine costs. And, while the My Healthy Hometown Free Prescription Discount Program is not insurance, residents who do not have insurance can also show their card to save on the cost of all prescription purchases. Those who do have insurance can show the card when their prescription medicines are not covered by their insurance plan.
Residents just need to show their My Healthy Hometown Prescription Discount Card at a participating retail pharmacy and receive up to 80% on generics and up to 40% on brand name medications at more than 65,000 participating pharmacies. There are no annual limits placed on use, no forms to fill out, no waiting periods, no age or income requirements, and no medical condition restrictions.
"Rising Healthcare costs in Texas can be daunting, but this new program offers savings without any extra effort," Bruton concluded.  "This new program is completely free for both residents and the city, making it an incredible opportunity for those looking at ways to save on prescription medication cost for all, including furry friends." 
Residents can obtain their no-cost My Healthy Hometown Prescription Discount Card at City Hall, download a card online at www.caremark.com/nlc or obtain a card by calling 1-888-620-1749.