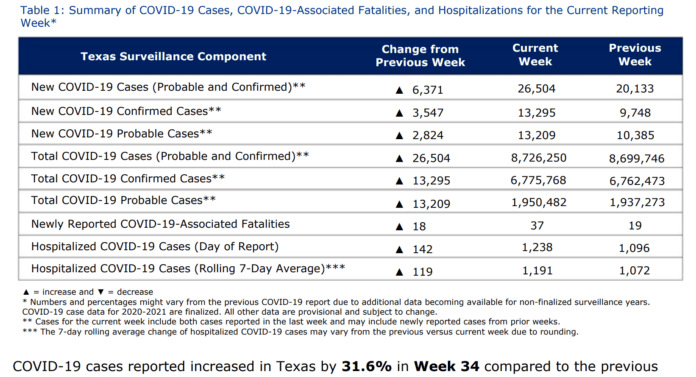 DESOTO – Less than a week ago, hospitals in North Texas were reporting COVID-19 hospitalizations are becoming more frequent. In mid-August, Dallas County reported 626 new COVID cases, up from the 400s a month before. Just last week, the World Health Organization named EG.5, a descendant of Omicron, a variant of concern.
Director of Dallas Health and Human Services, Dr. Philip Huang, acknowledged cases had increased. However, he said hospitalizations are still low.
If COVID's new variants return and create havoc on the state's healthcare system, the Texas Legislature 88th Session passed Senate Bill 29, and Texas Governor Greg Abbott signed it. SB29, which goes into effect Sept. 1, prohibits local governments from requiring COVID-related masks, vaccines, or business shutdowns. The Senate Bill does not cover private entities in their decisions for mandates.
State Rep. Brian Harrison (R-10) said not enough was done for Texans wanting to keep their freedoms from mask and vaccine mandates, and he didn't think SB29 was enough.
"Anyone who tells you that the Texas legislature did enough to fight COVID tyranny is misinformed or possibly lying," Harrison said. "Texas should lead the fight against all COVID mandates, but we aren't even following.  Despite Gov. Abbott demanding action, a majority in the House wanting to ban COVID mandates, and the Senate passing the Texas COVID Vaccine Freedom Act, why did the House Calendars Committee shockingly decide to allow unvaccinated Texans to be fired? Texans are starving for bold conservative leadership, and I will not stop fighting until all COVID mandates are banned in Texas."
Abbott took a beating when the pandemic began in 2021 regarding private and public mandates.
Things went so awry with to mandate or not to mandate, Abbott has had to continue declaring COVID-19 disaster declarations since he issued his first one in March 2020 as the basis for his executive orders preventing mandates on vaccines, masks, and business closures. He had said he would keep declaring these disasters because the Texas Legislature would not codify his executive orders. SB29 may be enough to end the executive orders because Abbott's last 30-day disaster declaration was on May 15.
For the moment, some universities, hospitals, and film studios outside Texas have put requirements into place to mandate masks be worn. Still, Dallas and Ellis County have yet to comment on the future officially.
Just last week, Runge ISD, a school district 70 miles outside San Antonio, had to cancel classes because 20% of its staff had COVID-19.
Ellis County Not Tracking COVID-19 Cases At The Moment
Michaela Sandefer, Ellis County Emergency Management Coordinator, said, "At this time, we have no reason to be concerned about COVID presence in Ellis County and are not tracking cases. However, we are maintaining an open line of communication with our Local Health Authority and private partners to remain informed of any changes and will adjust our protocol if necessary."
With cooler temperatures, kids back in the classroom and flu season around the corner, we'll watch and see how our local cities adapt to whatever challenges COVID may bring.
"We've all learned a great deal about the CDC and government's role in public health over the last three years, including how it can be misused or biased from one community to the next," said Ellis County Judge Todd Little. "There is no one-size-fits-all solution. Should the need arise, however, we have the track record to prove we can deliver for our citizens once again."