Midlothian TX – This past Saturday, families flocked to the annual Mayor's Back to School Bash! Organized by Manna House and sponsored by local Midlothian businesses and organizations, the event serves to kick off the new school year and help families by providing school supplies to Midlothian ISD students. Thanks in large part to a generous $140,000 grant from the Midlothian Community Development Corporation, over 500 students received much-needed school supplies while at the bash.
"Thank you for the heart you have for our kids and teachers," said MISD School Board President Tami Tobey to kick off the Mayor's Back-to-School Bash last Saturday.
In addition to school supplies and haircuts, there were many activities for families to experience. Kids enjoyed water inflatables, a climbing wall, and carnival games while being treated to free hot dogs and popcorn. Families visited the exhibit booths to learn about school programs, activities, and community services.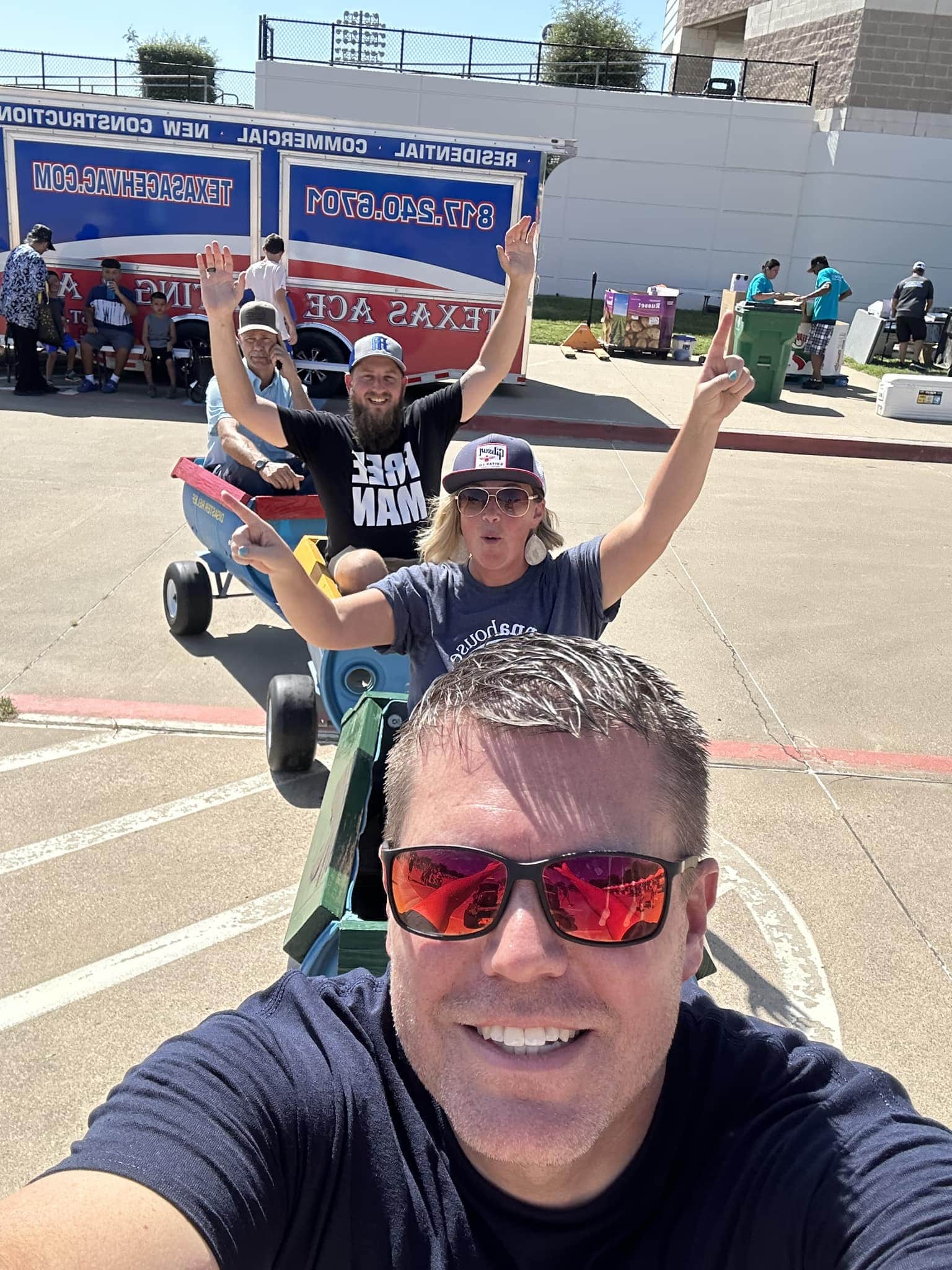 Leaders from the school district, city and community also supported and participated in the event. City business leaders were victorious over school district administrators in a very messy hot-wing-eating contest. Midlothian's Police Department fell to the Midlothian Fire Department in a "Guns versus Hoses" tug-of-war. City council members and school board trustees took turns dunking each other in the dunk tank
"As goes the ISD, so goes the community," said Mayor Coffman during opening ceremonies. "That is why it is so important that we support our teachers, staff, administration, school board, and students because it is all connected," he continued.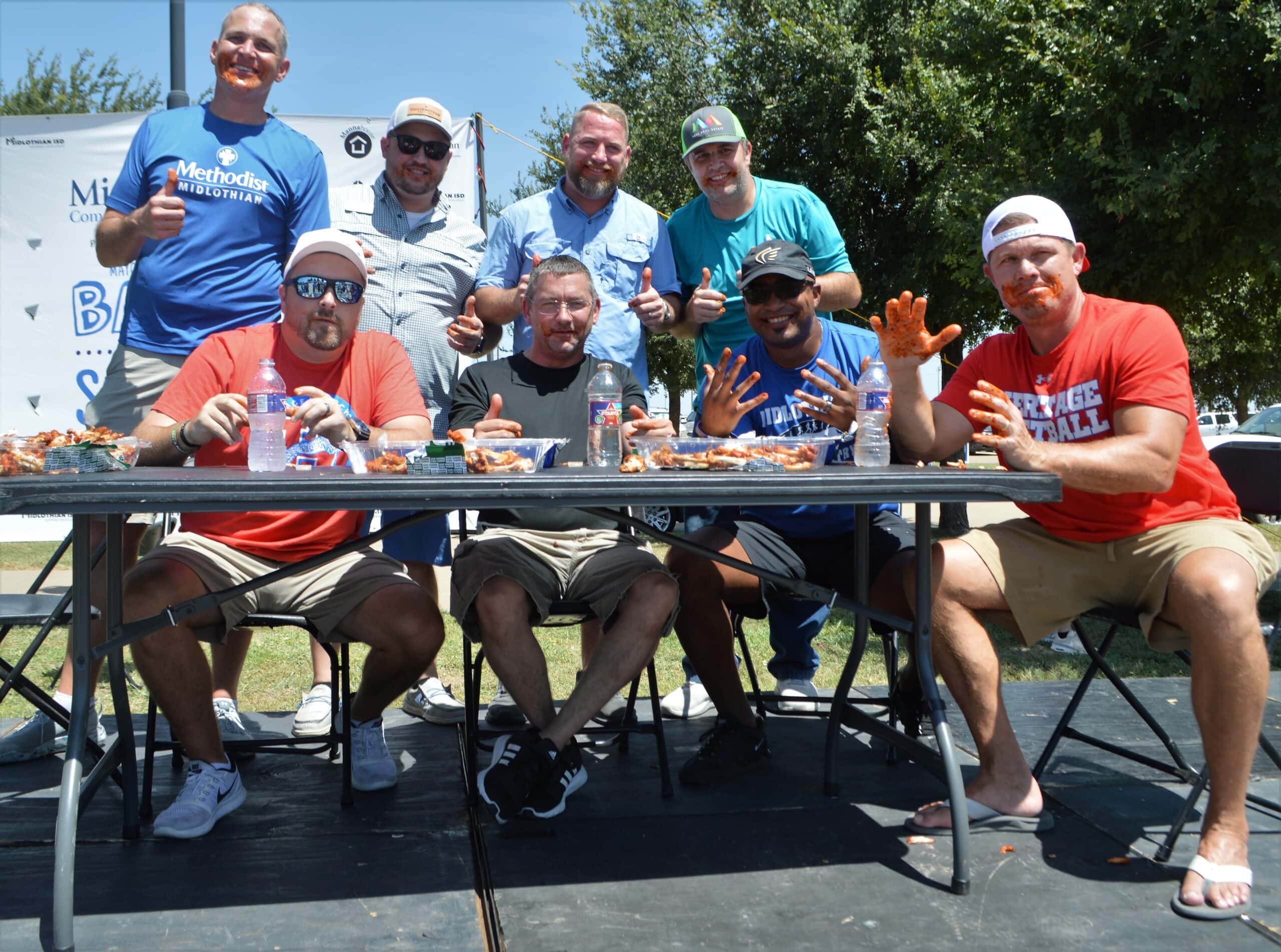 Other sponsors included Ash Grove Cement, Altus Emergency Centers, Atmos Energy, Baylor Scott & White, Ellis County Title, Gerdau, Jerry's J& W, Jyro Signs, PNC Bank, Methodist Midlothian Medical Center, Midlothian Rotary, Rally Sportswear, Rush Creek Church, Stonegate Church, TXU, and Waste Connections.
Students still needing school supplies may call or visit Manna House at (972) 775-1800 or visit in person at 3241 Robinson Rd., Midlothian. Additionally the Midlothian Lions Club and Manna House will be hosting a Vision and Immunization Clinic on Tuesday, August 8th from 4-7PM at the Midlothian Civic Center, 224 S. 11th Street. This event is open to the public and is first come first serve.
About Manna House
Created in 1992, Midlothian, Texas-based Manna House is a non-profit organization dedicated to serving the physical, emotional, and spiritual well-being of people in crisis across Ellis County. The Manna House organization consists of two food pantries, located in the cities of Midlothian and Italy, as well as Heaven's Attic, Manna House Resale, at both locations, which offer new and gently used clothing for the whole family, as well as a wide variety of household goods, small appliances, books, toys, furniture, and more. All proceeds from Heaven's Attic resale boutiques support up to 75% of Manna House's outreach efforts and operations.
Manna House would not exist without the people in the community who donate their time, goods, and finances. The support of the community is what allows Manna House to serve so many and do whatever is necessary to help someone who is struggling.
For more information, please visit www.mannahouseoutreach.org.
About Midlothian Community Development Corporation
The Midlothian Community Development Corporation is made up of board members appointed by the City Council to administer local sales tax to fund projects that positively affect the quality of life for citizens.
For more information, please visit Midlothian Community Development Corporation.