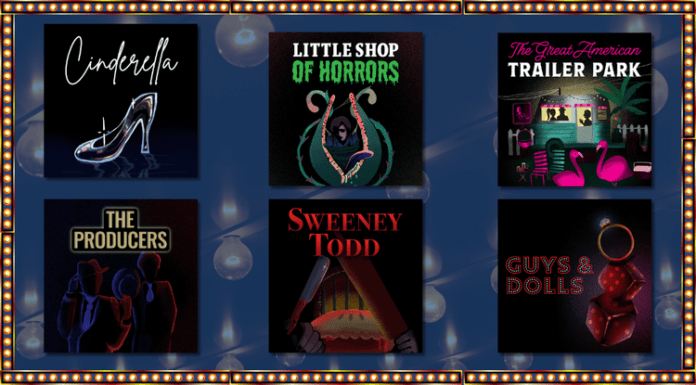 Lyric Stage will produce four hit Broadway shows for their 30th season, with music direction by Bruce Greer at the historic Majestic Theatre. The shows are Cinderella in August, Little Shop of Horrors on Halloween weekend, The Producers in February, and Guys & Dolls in May. All evening shows will begin at 7:30 p.m., and matinees will begin at 2:30 p.m. Single tickets start at $50, and season tickets start at $162 for all four shows.
In addition to these four Broadway-style musicals, Lyric Stage will also produce two shows at its new Design District Studio. The shows will have month-long runs at the studio, 1170 Quaker Street in Dallas. Shows are The Great American Trailer Park Musical in the fall and Sweeney Todd in the spring. All tickets will cost $50, and will include a token for a snack or a beverage. Extra food and drink can be purchased at the event with special food elements at each show. Season ticket holders will receive a 10% discount off Studio show tickets.
Lyric Stage's 30th Season
"Cinderella" Aug. 24-27 at Majestic Theatre, rated G. Lyric Stage opens its 30th Season with Rodgers and Hammerstein's Cinderella (Broadway Version). Rodgers and Hammerstein's enchanting adaptation of the timeless fairytale brings new spirit to the story of a young woman forced into servitude who dreams of – and achieves – a better life. Cinderella features some of Rodgers and Hammerstein's most beloved songs, including "In My Own Little Corner," "Impossible," and "Ten Minutes Ago." Bring the whole family to enjoy this magical fairytale.
"The Great American Trailer Park Musical" Sept. 8–Oct. 8, Design District Studio, Rated R. There's a new tenant at Armadillo Acres—and she's wreaking havoc all over Florida's most exclusive trailer park. When Pippi, the stripper on the run, comes between the Dr. Phil–loving, agoraphobic Jeannie and her tollbooth collector husband—the storms begin to brew. Join Lyric Stage at their first ever production in their brand new Studio Space in the Design District! Weather permitting, Lyric Stage will grill burgers and hot dogs in the Studio's backyard for Trailer Park for the featured food element.
LITTLE SHOP OF HORRORS
Lyric Stage gets spooky Theatre Oct. 26-29 with Little Shop of Horrors, just in time for Halloween. Celebrate Halloween weekend at the historic Majestic Theatre in Downtown Dallas! Little Shop of Horrors is a delectable sci-fi horror musical with an electrifying 1960s pop/rock score by Alan Menken and Howard Ashman. Seymour is a meek and dejected assistant at a floral shop who happens upon a strange plant. Little does Seymour know that this strange and unusual plant will develop a soulful R&B voice, a potty mouth, and an unquenchable thirst for Human Blood. Rated PG-13.
The Producers at Lyric Stage
A down-on-his-luck Broadway producer and his mild-mannered accountant come up with a scheme to produce the most notorious flop in history in "The Producers" Feb. 8-11, 2024. They plan to bilk their backers (all "little old ladies") out of millions of dollars. Only one thing goes awry–the show is a smash hit! The Producers arrived on Broadway at the St. James Theater on March 22, 2001, where it began previews leading up to its official opening on April 19, 2001. Starring Nathan Lane and Matthew Broderick, The Producers quickly became the hottest ticket in the history of Broadway, hailed by critics and audiences alike. The show dominated the awards season that year, winning a record twelve Tony Awards. The Producers is rated PG-13.
Sweeney Todd
From March 15-April 20, 2024, Sweeney Todd enjoys a month-long run at the Design District Studio. Exiled barber Sweeney Todd returns to nineteenth century London seeking vengeance against the lecherous judge who framed him and ravaged his young wife. The road to revenge leads Todd to Mrs. Lovett, a resourceful proprietress of a failing pie shop, above which he opens a new barber practice. Mrs. Lovett's luck sharply shifts when Todd's thirst for blood inspires the integration of an ingredient into her meat pies that has the people of London lining up… and the carnage has only just begun. Lyric Stage's intimate studio space will be transformed into Mrs. Lovett's Pie Shop. Meat pies will be available for purchase as the featured food element at this show. Rated PG-13.
Guys & Dolls May 9-12, 2024
Catherine Carpenter Cox and Andy Baldwin will reprise their roles as Adelaide and Nathan Detroit in Guys and Dolls at the Majestic Theatre. Set in Damon Runyon's mythical New York City, Guys and Dolls is an oddball romantic comedy. Gambler Nathan Detroit, tries to find the cash to set up the biggest craps game in town while the authorities breathe down his neck; meanwhile, his girlfriend and nightclub performer, Adelaide, laments that they've been engaged for fourteen years. Nathan turns to fellow gambler, Sky Masterson, for the dough, and Sky ends up chasing the straight-laced missionary, Sarah Brown, as a result. Guys and Dolls takes us from the heart of Times Square to the cafes of Havana, Cuba, and even into the sewers of New York City, but eventually everyone ends up right where they belong. Frank Loesser's brassy, immortal score makes Guys and Dolls a crowd pleaser. Rated PG-13.
Lyric Stage, a Dallas-based 501c3 not-for-profit professional musical theatre company, was established in 1993 by Founder Steven Jones with the mission of developing and preserving the musical, a uniquely American art form. In its 25+ year history, Lyric Stage has produced over 125 productions, which includes 21 world-premiere musicals and 2 Off-Broadway shows. For more information, visit lyricstage.org.