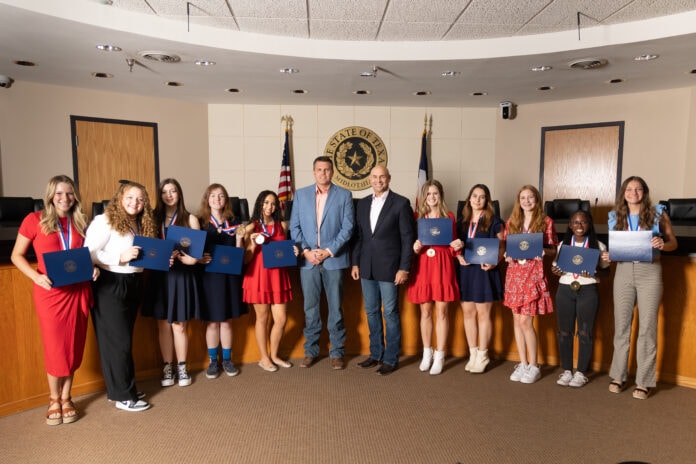 On Tuesday night at Midlothian City Hall, ten girls from the Southern Star National Charity League Chapter were recognized for receiving the Presidential Volunteer Service Award. Congressman Jake Ellzey and Midlothian Mayor Justin Coffman presented the girls with a special Congressional Certificate of Recognition in honor of the award. PVSA are recognized with a silver, bronze, or gold medal, certificate, and congratulatory letter from the President of the United States. Southern Star is proud of their service hearts and the legacy of philanthropy they have helped create in our community.
In August, NCL, Southern Star had a busy month! They worked with Paws for Reflection Ranch for their annual corn hole fundraiser, helping with set up and tear down as well as checking in and welcoming guests
They helped the Sims Library with their outdoor end-of-summer carnival and getting their reading prizes ready. Members also volunteered at Succeed Forever in Midlothian as well as afternoons with the Bridges Training Foundation, where they helped host social events for their Intellectually Disabled students. Plus, they found time to paint nails at a local nursing home. This is just one of the many ways Southern Star gives back to the community and continues growing in leadership, culture, and philanthropy.
In 2003, President Bush founded the President's Volunteer Service Award to recognize the vital role of volunteers in America's strength and national identity. This award recognizes outstanding individuals committed to a high level of volunteering whose service positively impacts communities and inspires those around them.
The PVSA has continued under each administration, honoring the volunteers who are using their time and talents to solve some of our nation's toughest challenges.
Led by the AmeriCorps and the Points of Light Foundation, this program allows Certifying Organizations to recognize their most exceptional volunteers.
NCL, Inc., Southern Star Chapter is a group of mothers and daughters who have come together in a commitment to community service, leadership development and cultural experiences.
Membership, for Mothers and Daughters in Ellis county in grades 7th-10th is now open!
Members shall reside in or attend school in Ellis County, TX. Like all NCL, Inc. Chapters, Southern Star aims to foster the mother-daughter relationship by serving its communities together.
Pictured are From left to right:
Elizabeth Powell Ovilla Christian 56.5 hours bronze
Samantha Lord Ovilla Christian 80.75 hours Silver
Aubrey Chandler Heritage High School102.75 hours Gold
Zoe Chandler Heritage High School 101 hours Gold
Olivia Brening Heritage High School 109 hours Gold
Mayor Coffman
Congressman Ellzey
Claire Heisel Heritage High School 140.5 Gold
Giana Schmidt Heritage High School 77 hours Silver
Hailey Hollaway Heritage High School 100.75 Gold
Makayla Kapito Heritage high School 50 hours Bronze
Brenlin Garlitz Ovilla Christian 76.5 hours Silver