Still searching for somewhere special to take the family on Thanksgiving Day? Look no further than the lavish Thanksgiving Brunch for dine-in customers at Blue Mesa Grill at the Boardwalk in Plano.
Blue Mesa Grill's seatings are from 9 a.m. to last seating at 3 p.m. on Thanksgiving Day Nov. 23. Price: $35 a person; $10 for kids 6-11 years old; and 5 or younger eat for free. Reservations are recommended; call 214-387-4407.
For those who prefer to pick up their Thanksgiving feast, Blue Mesa Grill offers a Family Pack that serves 6-8 people for $175. Pre-order by Nov. 19 at bluemesagrill.com for pick-up Nov. 21 or 22. Includes Roast turkey breast, cranberry-jalapeño relish, southwest stuffing and gravy, cheese enchiladas, redskin mashed potatoes, green beans, honey chipotle glazed carrots, sweet corn cake, holiday salad, dinner rolls, and a choice of whole pie: pumpkin, apple, or pecan. (also Includes chips and salsa).
Truluck's Thanksgiving Offers
This year, Truluck's is giving diners the opportunity to spend more time with family and less time in the kitchen. In addition to their regular menu of delicious seafood entrees, Truluck's will offer a traditional three-course Thanksgiving feast of turkey with everyone's favorite sides and a selection of desserts. Cost for the 3-course Thanksgiving menu will be $59 for adults and $29 for young adults (12 and under).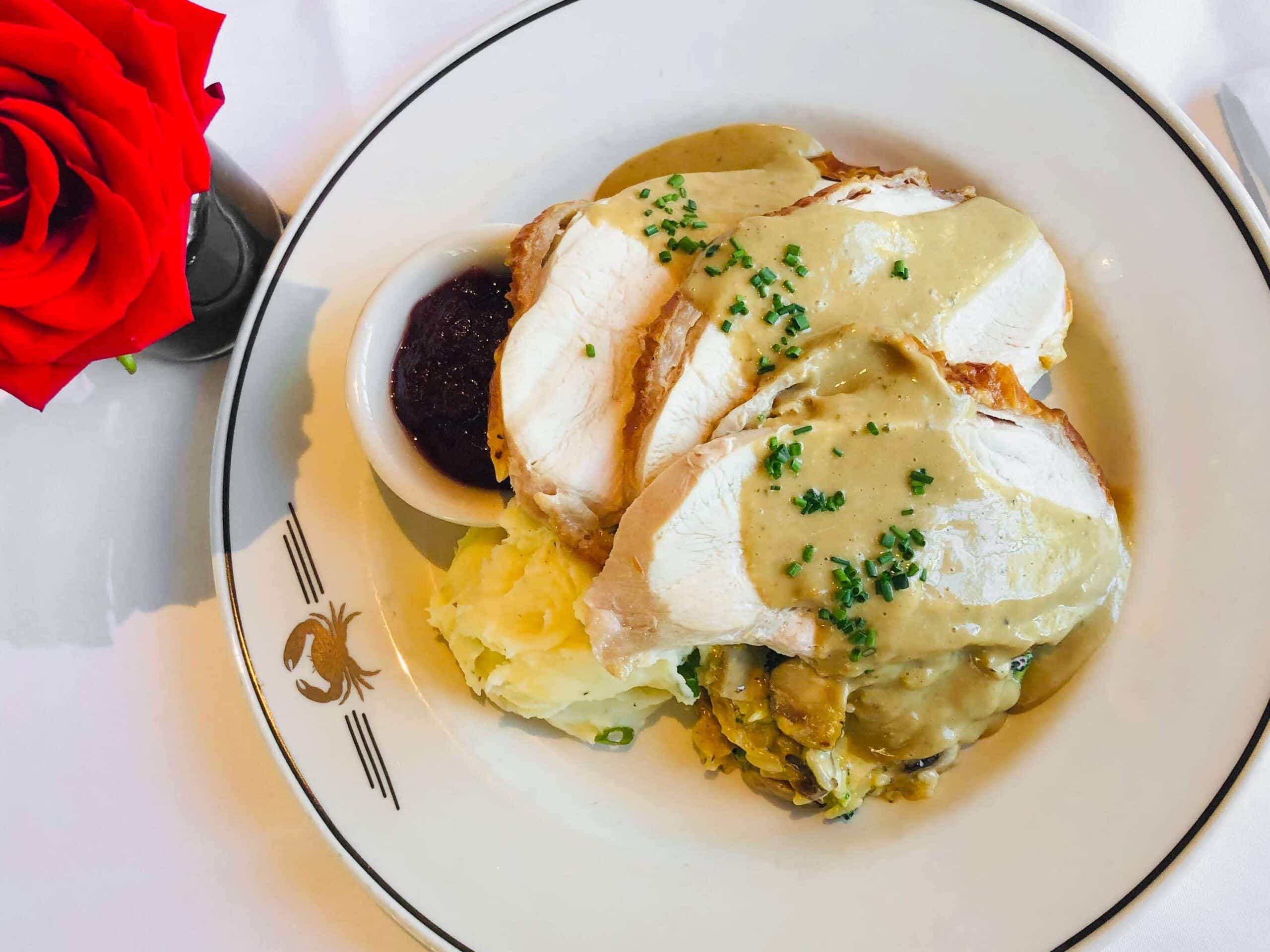 For those who'd like to spice up the traditional holiday offering, complement the delicious bounty of the land with the treasures of the sea – Florida Stone Crab claws. Truluck's is also known for their delectable Carrot Cake, but dessert lovers will be tempted this year by the addition of a new dessert. Pumpkin Spice Mousse Cheesecake* made with a Brown Sugar Whipped Cream, Pecan-Gingersnap Crumble & Gingersnap Crust ($12/slice or $70/whole/8 slices).
For those who prefer to drink their calories, two holiday specialty cocktails are on the menu: Holiday Nog ($17) and a Hearthside Old Fashioned ($16.50) made with Wild Turkey bourbon in honor of the big day with our famous house spiced orange syrup, angostura, and orange bitters to make this an old-fashioned to remember. Truluck's in Dallas is open from 11 a.m. to 4 p.m. Reservations are recommended and can be made online at trulucks.com/reserve or through OpenTable.
Black Tap Craft Burgers & Beer
The renowned craft burger and crazy shakes joint with 19 locations around the world, recently opened their first Texas restaurant in Victory Park. Their November holiday menu items include a Fried Turkey & Brie Sandwich (fried turkey, melted brie, pecan & cranberry stuffing, roasted garlic mayo, watercress-$21); and Sweet Potato Pie Classic Shake ($11). For more information, please visit blacktap.com.
The Fund Supports Veterans
For the 12th consecutive year, Semper Fi & America's Fund (The Fund) is partnering with The Bob & Renee Parsons Foundation (The Foundation) and PXG for the Double Down for Veterans match campaign. Through the end of the year, The Foundation, with support from PXG, will generously match up to $10 million in donations made to The Fund. Bob Parsons, founder of PXG and a fellow Purple Heart Recipient, spearheads this initiative to express gratitude and support the men and women serving our country.
Each state contributes greatly to the campaign, but Texas takes the lead, raising over $30 million and helping over 3,260 heroes alone over the past 12 years. PXG Dallas proudly participates in the "Heroes Program," a program also developed by Parsons, ensuring that all veterans receive a well-deserved 30% discount on apparel and a 15% discount on accessories, available every day, not just on Veterans Day.