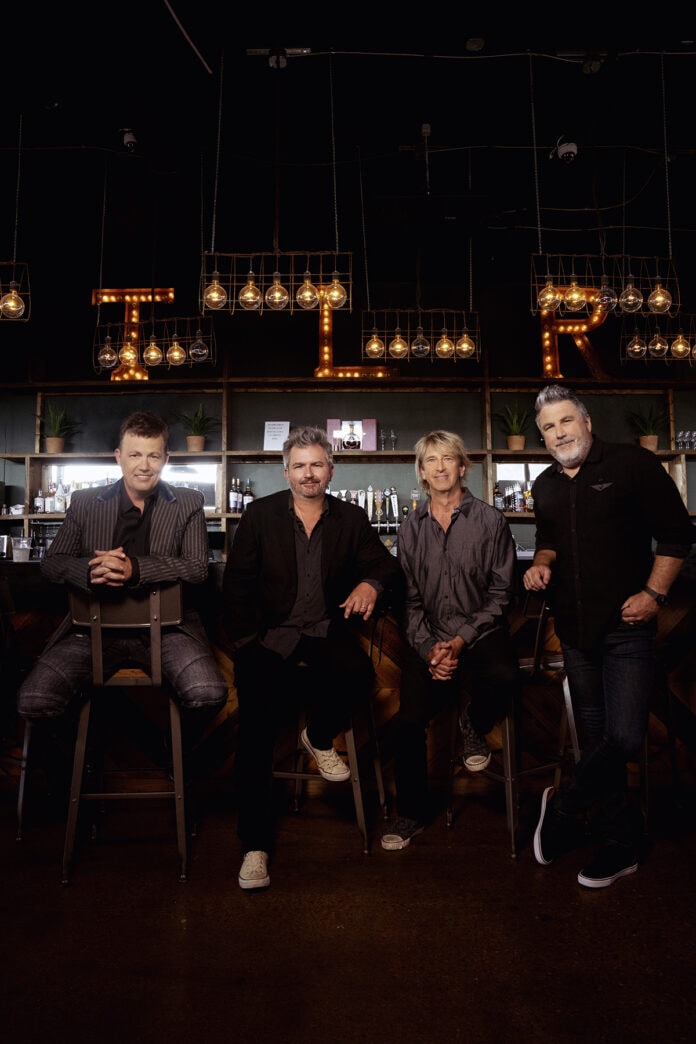 RICHARDSON, TX – Eisemann Center Presents continues the 2023-2024 Season with the award-winning band Lonestar in Christmas & Hits on Tuesday, December 12 at 7:30 pm in the Hill Performance Hall. Tickets go on sale to the public Friday, October 13 at www.eisemanncenter.com or 972.744.4650.
Lonestar has amassed sales in excess of 10 million albums since their national launch in 1995 and achieved 10 #1 country hits including "No News," "Come Crying to Me," "I'm Already There," "What About Now," and their crossover smash "Amazed" (which was also #1 on the Billboard Hot 100, the first record since 1983's "Islands in the Stream," to top both charts). The band's awards include 1996 ACM "Top New Vocal Group," 1999 ACM "Single of The Year" for "Amazed" (the song also won "Song of the Year"), 2001 CMA "Vocal Group of the Year" and 2002 ACM "Top Vocal Group." With an average of 80 dates worldwide per year, they are celebrating over 25 years together.
In early 2021, Lonestar, one of country music's most celebrated groups, announced the addition of Brownwood, Texas native, and multi-award-winning, singer/songwriter Drew Womack as the group's lead singer. Dean Sams, Michael Britt, and Keech Rainwater, the remaining three principals of the ACM, CMA, and Billboard award-winning group are looking forward to continuing the next chapter of the band as they continue to record and tour nationally.
On the recently released TEN to 1 record, the award-winning band Lonestar— Dean Sams (keyboards, acoustic guitar, background vocals), Michael Britt (lead guitarist, background vocals), Keech Rainwater (drums) and Drew Womack (lead vocals, guitar)—are taking a fresh look at all 10 of their chart-topping country songs. This streak started in 1996 with the band's second single, "No News," which describes a man left bereft (and confused) when his girlfriend suddenly disappears, and the following year's tender "Come Cryin' to Me" and "Everything's Changed."
The band's quadruple-platinum 1999 album Lonely Grill spawned four No. 1 hits (including the beloved global smash "Amazed") and established Lonestar as music's preeminent pop-country band—a status they'd maintain through the 2000s and beyond, thanks to songs full of energy and creative lyrics ("What About Now" and "Mr. Mom"), along with heartfelt messages and soaring melodies ("I'm Already There"). The changes to "Amazed," meanwhile, reflect the power ballad's status as an exclamation mark during concerts.
"Since it's usually the biggest part or finale of the show, we've made it a little bit more bombastic," Britt says. "We didn't want to change it so much as just to make it more epic." TEN to 1 reflects the ways Lonestar's hits have evolved over the years during the band's rousing, high-energy concerts.
Tickets are $62-$72 and are available for purchase online at www.eisemanncenter.com or by calling the Eisemann Center Ticket Office at 972.744.4650 starting Friday, October 13. Group discounts are available for 10 or more persons. Lobby and Ticket Office hours are 10 am – 6 pm Monday through Saturday and during all public events.
About the Charles W. Eisemann Center for Performing Arts: The Center, a City of Richardson facility, is a hub for arts and culture, dedicated to presenting exceptional and innovative artistic experiences. The center hosts a diverse range of performances, exhibitions, and educational programs, aiming to enrich the community through artistic expression. The Eisemann Center is in the Galatyn Park Urban Center at 2351 Performance Drive in Richardson, Texas. The Eisemann Center is easily accessible from Highway 75 North taking the Galatyn Parkway/ Renner Road exit going north and the Galatyn Parkway/Campbell Road exit going south or from the DART light rail station at Galatyn Park.