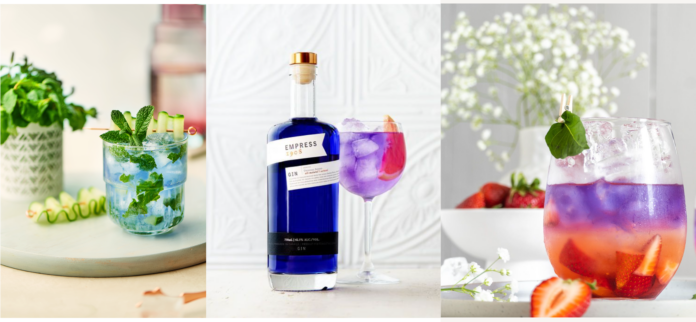 In recent years gin has evolved has craft distillers have added more botanicals and variations with premium gins becoming more popular. Empress 1908 Gin is
handcrafted in small batch copper-pot stills. This spirit is made by Victoria Distillers and inspired by the legendary Fairmont Empress Hotel in Victoria, British Columbia.
It's beautiful indigo color is created by adding a signature blend of black tea served at the Empress Hotel and butterfly pea blossom, a natural herb that balances the traditional citrus notes of gin with a warm herbal earthiness. Empress 1908's combination of exquisite taste, delicate aroma, soft texture, and remarkable presentation provide the perfect base for a new aesthetic of cocktail creation and enjoyment.
The Unique Indigo Color
The deep indigo color in Empress 1908 Gin ranges to bright lavender, soft pink, or fuchsia depending on the mixer, adding to the rich sensory experience of enjoying an Empress 1908 cocktail. Since no artificial coloring or stabilizers are used, the color may fade over time, but the flavor will last forever. Empress 1908 Gin sets your cocktails apart with its color and pleases your tastebuds with its flavor.
Hand Crafted With Eight Unique Botanicals
Butterfly Pea Blossom: This flower gives Empress 1908 its distinct indigo hue and imbues the gin with a distinctive earthy note that balances traditional citrus notes and yields a rich pigmentation. This deep indigo hue changes to bright lavender, soft pink, or fuchsia depending on the mixer
Fairmont Empress Tea: The signature tea at the Empress Hotel, this blend is a selection of seasonal, quality teas from Assam, Kenya, South India, Ceylon, and China, created exclusively by the Metropolitan Tea Company. At once floral, fruity and oaky, it is one of the finest blends in the world.
Juniper: The classic taste found in most gins, it provides a complex flavor with notes of pine and citrus. And while London Dry Gins like a big juniper burst, our Pacific Northwest style gin uses a subtle varietal that isn't too pushy, and balances nicely with the other less traditional botanicals.
Grapefruit Peel: While lemon and orange are fairly traditional gin botanicals, Empress uses grapefruit for its unique citrus flavor that's both slightly bitter and suggestively sweet. It provides an aromatic, lively bright note that pairs very well with tonic.
Coriander Seed: A traditional gin botanical, coriander has hints of nut and spice that brings some warmth to the palette. Empress sources Coriander Seed from India for added notes of citrus.
Cinnamon Bark: The essential oil from cinnamon bark provides a warm, spicy note that serves as a complement to the citrus and floral elements, and works with the ginger to provide a full spice element.
Rose Petal: A traditional element, the sweet flavor of rose contributes to the softness and warmth of our gin, providing a nuance that balances out the spices with an elegant floral note.
Ginger Root: Ginger is incredibly aromatic, with a peppery, slightly lemony flavor. Fragrant and spicy, ginger is another component in the balancing act of botanicals that gives Empress its unique profile
EMPRESS LAYOVER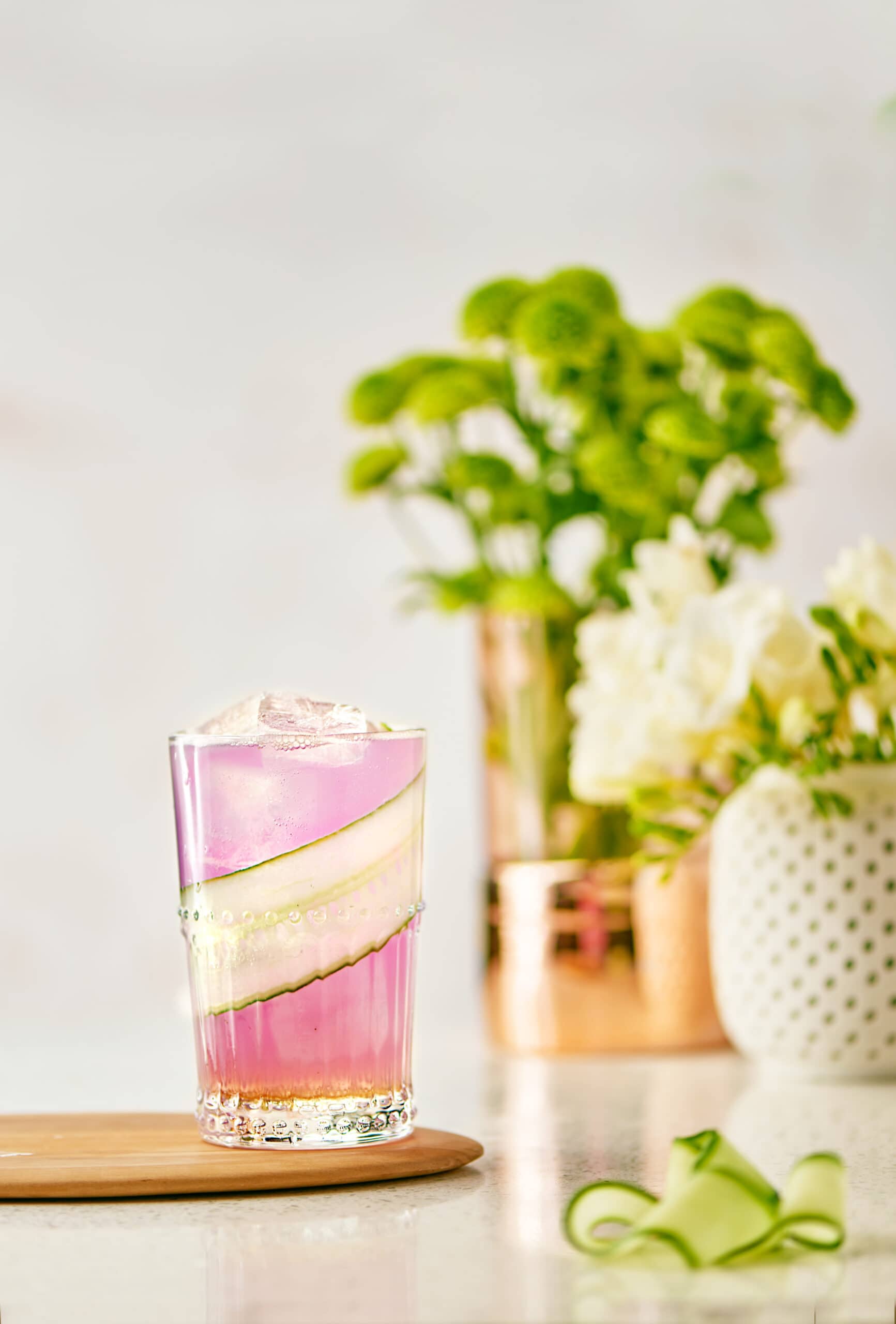 Description: Take a break with this delightful and delicious cocktail. Hints of cucumber and rosemary make the Layover a perfect drink to sit back and relax with.
Ingredients: 
1 1⁄2 oz Empress 1908 Gin 

1 oz Fresh Lemon Juice

1 oz Elderflower Cordial Soda 

Cucumber & Rosemary 
Method:
Muddle cucumber and then add rosemary. Shake ingredients on ice, strain into a chilled collins glass. Top with fresh ice, soda and garnish with a cucumber ribbon.
EMPRESS & TONIC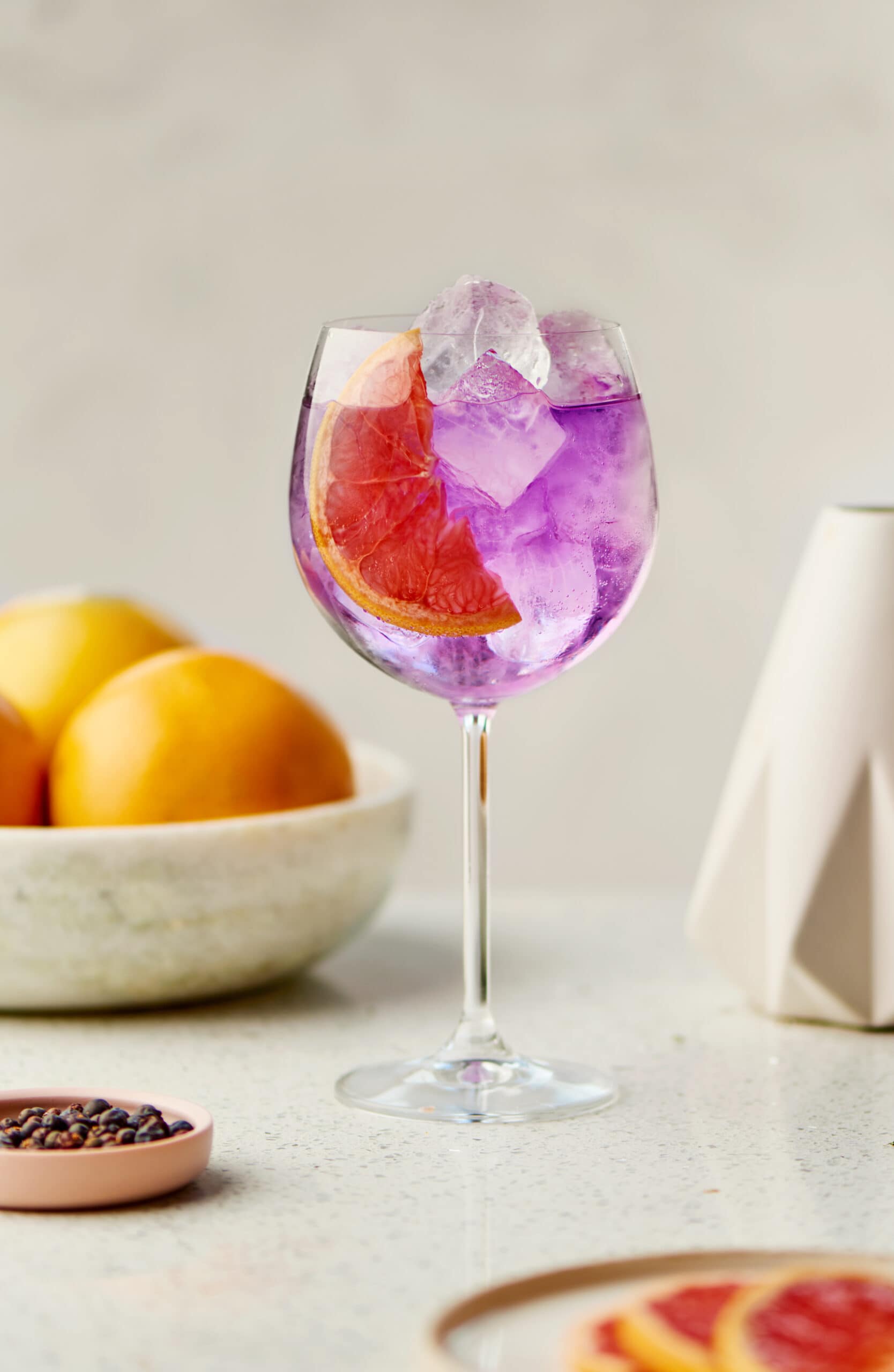 Description: A match made in heaven – and it also happens to be our signature drink! Tart, refreshing, and effortlessly delicious, the Empress and Tonic is an elevated take on a classic favorite.
Ingredients: 
2 oz Empress 1908 Gin 

3 oz Premium Tonic Water or Soda Water

1 Grapefruit Slide 
Method: Build on ice in a rocks glass. Garnish with a grapefruit slice.
EMPRESS 75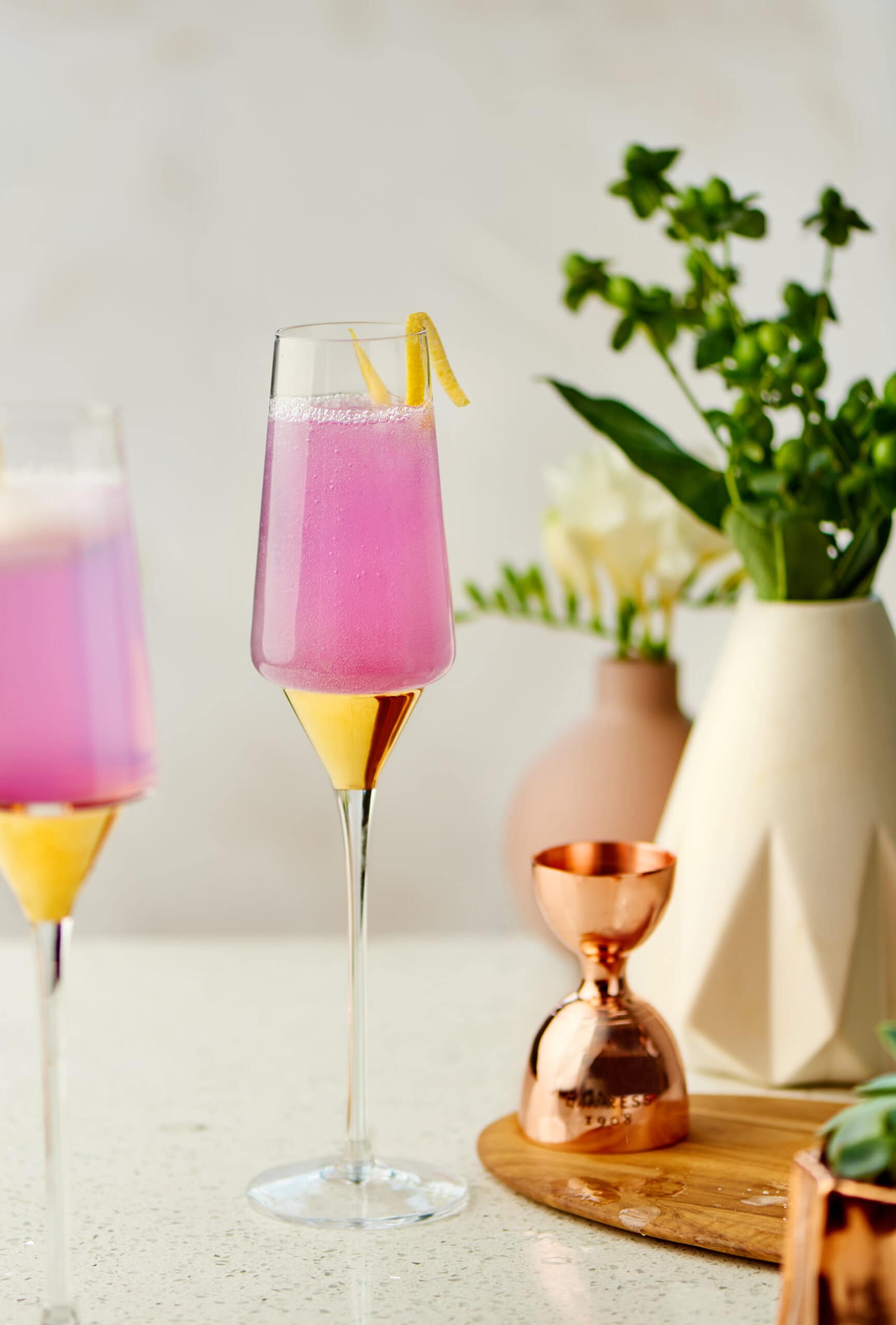 Description: A cocktail made for celebration, the Empress 75 is sparkling, effervescent, and deliciously sippable. Think of it as a graduated mimosa.
1 1⁄2 oz Empress 1908 Gin 

3⁄4 oz Fresh Lemon Juice

1⁄2 oz Simple Syrup

Sparkling wine 

Lemon Twist 
Method: Shake on ice, fine strain into a chilled flute, top with    sparkling wine. Garnish with a lemon twist.
EMPRESS MARTINI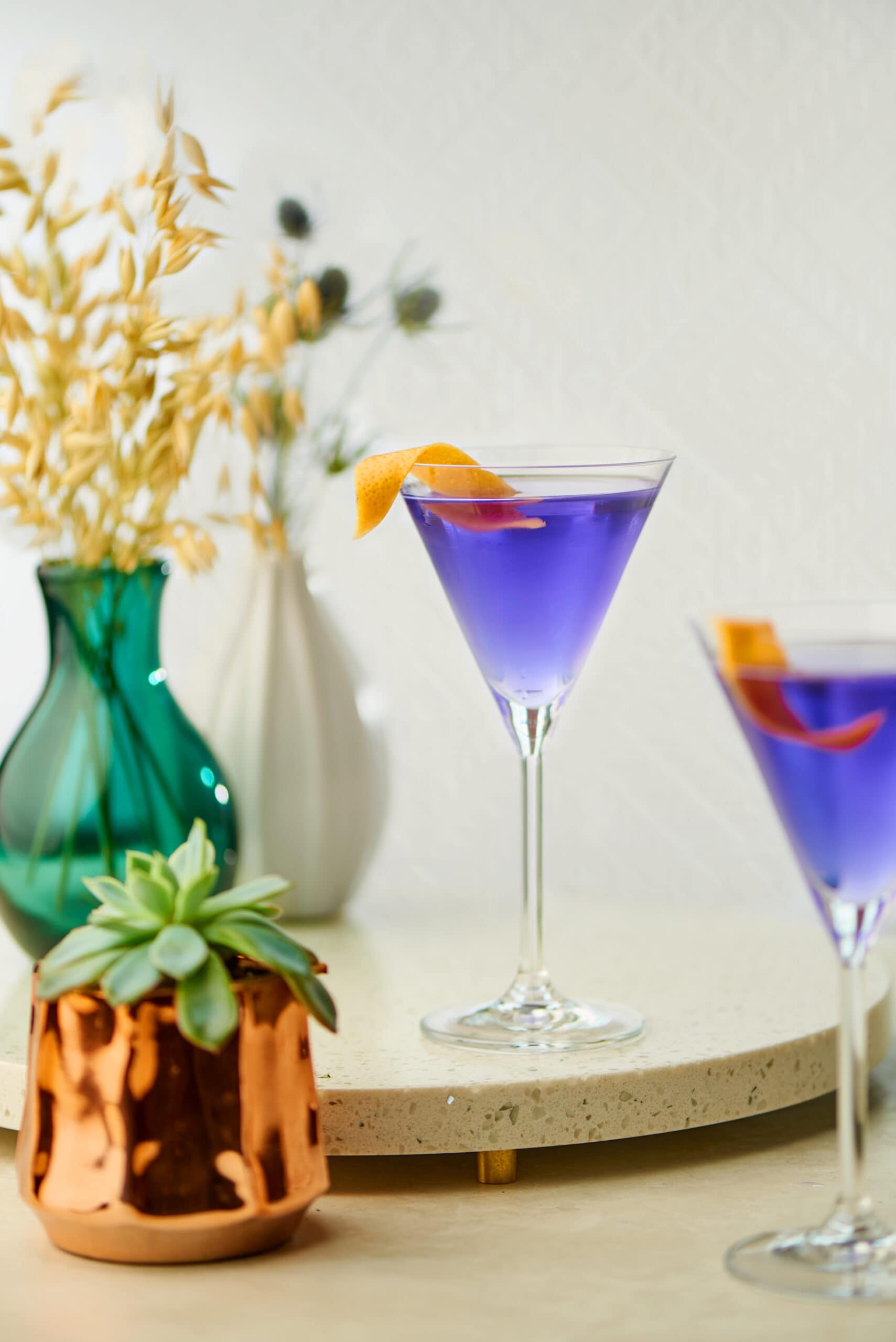 Description: Regal, dry, and fit for royalty. The Empress Martini is a spirit-forward, crisp classic bound to satisfy any cocktail connoisseur.
Ingredients: 
2 oz Empress 1908 Gin

1⁄2 oz Lillet Blanc 

Grapefruit Twist 
Method: Shake and strain into a chilled martini glass. Garnish with a grapefruit twist.